Oleksandr - Fotolia
S/4HANA Cloud integrates Qualtrics for continuous improvement
The latest version of SAP S/4HANA Cloud embeds Qualtrics XM capabilities that provide a way for users to give direct feedback about the product. Analysts say it could be a differentiator but may take time.
SAP is focused on better understanding what's on the minds of their customers with the latest release of S/4HANA Cloud.
SAP S/4HANA Cloud 1911, which is now available, has SAP Qualtrics experience management (XM) embedded into the user interface, creating a feedback loop for the product management team about the application. This is one of the first integrations of Qualtrics XM into SAP products since SAP acquired the company a year ago for $8 billion.
"Users can give direct feedback on the application," said Oliver Betz, global head of product management for S/4HANA Cloud at SAP. "It's context-sensitive, so if you're on a homescreen, it asks you, 'How do you like the homescreen on a scale of one to five?' And then the user can provide more detailed feedback from there."
The customer data is consolidated and anonymized and sent to the S/4HANA Cloud product management team, Betz said.
"We'll regularly screen the feedback to find hot spots," he said. "In particular we're interested in the outliers to the good and the bad, areas where obviously there's something we specifically need to take care of, or also some areas where users are happy about the new features."
Because S/4HANA Cloud is a cloud product that sends out new releases every quarter, the customer feedback loop that Qualtrics provides will inform developers on how to continually improve the product, Betz said.
"This is the first phase in the next iteration [of S/4HANA Cloud], which will add more granular features," he said. "From a product management perspective, you can potentially have a new application and have some questions around the application to better understand the usage, what customers like and what they don't like, and then to take it in a feedback loop to iterate over the next quarterly shipments so we can always provide new enhancements."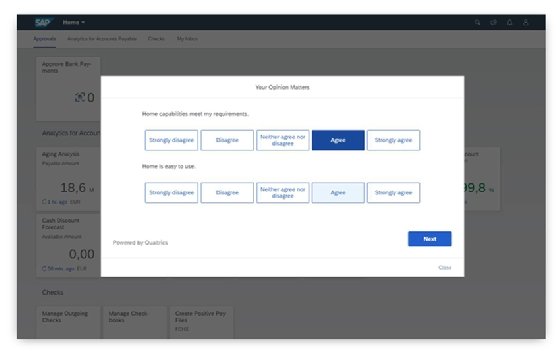 Qualtrics integration may take time to provide value
It has taken a while, but it's a good thing that SAP has now begun a real Qualtrics integration story, said Jon Reed, analyst and co-founder of Diginomica.com, an analysis and news site that focuses on enterprise applications. Still, SAP faces a few obstacles before the integration into S/4HANA Cloud can be a real differentiator.
"This isn't a plug-and-play thing where customers are immediately able to use this the way you would a new app on your phone, like a new GPS app. This is useful experiential data which you must then analyze, manage and apply," Reed said. "Eventually, you could build useful apps and dashboards with it, but you still have to apply the insights to get the value. However, if SAP has made those strides already on integrating Qualtrics with S/4HANA Cloud 1911, that's a positive for them and we'll see if it's an advantage they can use to win sales."
The Qualtrics products are impressive, but it's still too early in the game to judge how the SAP S/4HANA integration will work out, said Vinnie Mirchandani, analyst and founder of Deal Architect, an enterprise applications focused blog.
"SAP will see more traction with Qualtrics in the employee and customer experience feedback area," Mirchandani said. "Experiential tools have more impact where there are more human touchpoints -- employees, customer service, customer feedback on product features -- so I think the blend with SuccessFactors and C/4HANA is more obvious. This doesn't mean that S/4 won't see benefits, but the traction may be higher in other parts of the SAP portfolio."
SAP SuccessFactors is also beginning to integrate Qualtrics into its employee experience management functions.
It's a good thing that SAP is attempting to become a more customer-centric company, but it will need to follow through on the promise and make it a part of the company culture, said Faith Adams, senior analyst who focuses on customer experience at Forrester Research.
Many companies are making efforts to appear to be customer-centric, but aren't following through with the best practices that are required to become truly customer-centric, like taking actions on the feedback they get, Adams said.
"It's sometimes more of a 'check the box' activity rather than something that is embedded into the DNA or a way of life," Adams said. "I hope that SAP does follow through on the best practices, but that's to be determined."
Bringing analytics to business users
SAP S/4HANA Cloud 1911 also now has SAP Analytics Cloud directly embedded. This will enable business users to take advantage of analytics capabilities without going to separate applications, according to SAP's Betz.
It comes fully integrated out of the box and doesn't require configuration, Betz said. Users can take advantage of included dashboards or create their own.
"The majority usage at the moment is in the finance application where you can directly access your [key performance indicators] there and have it all visualized, but also create and run your own dashboards," he said. "This is about making data more available to business users instead of waiting for a report or something to be sent; everybody can have this information on hand already without having some business analyst putting [it] together."
The embedded analytics capability could be an important differentiator for SAP in making data analytics more democratic across organizations, said Dana Gardner, president of IT consultancy Interarbor Solutions LLC. He believes companies need to break data out of "ivory towers" now as machine learning and AI grow in popularity and sophistication.
"The more people that use more analytics in your organization, the better off the company is," Gardner said. "It's really important that SAP gets aggressive on this, because it's big and we're going to see much more with machine learning and AI, so you're going to need to have interfaces with the means to bring the more advanced types of analytics to more people as well."