SAP's future hinges on opening up its IT stack
SAP's first 50 years centered on core ERP systems for internal business operations, but the years ahead must focus on extending functionality outside of the enterprise.
SAP marked 50 years as a company in 2022, celebrating its innovation and longevity in the software world. But observers noted that continued success in the next 50 years is not certain.
The economic forces that drove SAP's growth in the previous decades either don't exist in the new century or have become less relevant. Further, the IT landscape has evolved to a point that may relegate legacy enterprise systems like those built by SAP to back office irrelevance.
SAP established itself as a full-stack IT provider, building technology for integrating processes from across the enterprise. But in the years ahead, SAP will have to extend this functionality and collaboration beyond the enterprise, according to industry observers.
The company must also manage the transition of its customer base around core ERP products, from the legacy SAP ECC to S/4HANA, which continues to be a daunting task.
SAP at a crossroad
SAP is at a crossroads, according to Jon Reed, co-founder of Diginomica, an enterprise industry analysis firm. One path leads to becoming a go-to vendor for companies that want to transform business operations; the other leads to gradually shrinking into back-office software.
For SAP to thrive in the years ahead, it should strive to be a significant player in companies' efforts to become more networked and embed more intelligence into business processes, he said. SAP is making a concerted effort to do this by trying to move customers to the core of SAP S/4HANA. But this alone won't be a fully successful transformation.
"Just because they're on S/4HANA is no guarantee of anything. SAP has to get those customers fully into cloud operations and whatever new technology that comes next," Reed said.
SAP can take some comfort in that it appears many customers will move to S/4HANA, he said. But there remains a significant number that won't until they have a compelling business case.
Reed also believes that the SAP Business Network, which bundles together SAP's networks for supply chain, transportation management and logistics, and digital assets as well as integrated supply chain offerings must be the backbone of the evolution of SAP from back-office ERP to operations extended outside the enterprise. Supply chains are going to be a dominant preoccupation for global companies. It can become a sweet spot for SAP to bring together use cases for issues like sustainability and supply chain disruptions.
"SAP can position the Business Network assets to make a difference there," he said. "There's a long way to go. But if SAP can become the ERP and supply chain backbone, that can redefine how people think of SAP rather than being their general ledger or how they process payables or expenses."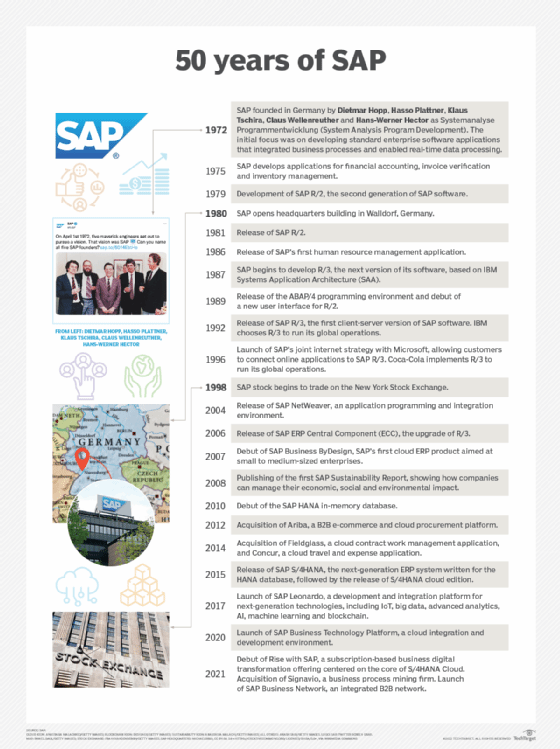 Business Network key component to SAP's future
SAP's center of gravity going forward must revolve around its SAP Business Network strategy and offerings, according to Joshua Greenbaum, principal at Enterprise Applications Consulting.
Greenbaum believes that this "network of networks," as SAP calls it, can redefine B2B commerce the way ERP redefined commerce 50 years ago. However, success of the SAP Business Network is by no means a sure thing. SAP still has a lot to do to make it work, and there are a burgeoning number of competing B2B networks. This includes cloud goliaths AWS and Microsoft Azure, which introduced supply chain-focused B2B platforms in November.
"AWS and Azure entering into supply chain is the first salvo in the battle of who's going to run these business networks," Greenbaum said. "They are vertically integrated, so it's going to be very complicated for SAP to fight all of these multiple battles. But the Business Network is where they need to be."
Industry focused networks the way of the future
SAP must extend and enhance ERP functionality outside of the enterprise through platforms like the Business Network if it is to succeed in the years ahead, said Vinnie Mirchandani, founder of Deal Architect, an enterprise applications industry blog.
ERP grew in the last 50 years because it promised integration across organizations. But now issues like supply chain disruptions are requiring companies to collaborate and share data with customers and even competitors in new ways, he said.
One manifestation that points to this new networked environment is the Catena-X Automotive Network, a Germany-based consortium of SAP, automotive manufacturers like BMW and Mercedes-Benz and their suppliers, and other related companies. One aspect of the Catena-X network, founded in 2021, is to provide manufacturers a way to share data and implement standards and processes that can mitigate issues like the electronics supply chain disruption.
"People are seeing that just focusing on the enterprise exposes you to a lot of unknowns because you don't have access to the whole network," Mirchandani said. "Consortiums like Catena-X are going to be the next evolution, moving beyond the enterprise to networks, and SAP is preparing for this."
The fundamental value of SAP's core ERP products -- which increasingly run on S/4HANA -- is not going to go away, Mirchandani said. But this functionality will be focused on cloud-based extensions for specific industries, facilitated by the SAP Business Technology Platform development environment. One of these is cell and gene therapy functionality for the life sciences industry, which targets new forms of personalized medicines.
"SAP doesn't want to make that part of the core because it's not applicable to everybody. But they're packaging more and more incremental point solutions in the cloud," he said. "The S/4HANA core will continue to have most of the master data. But each individual cloud applications have some master data."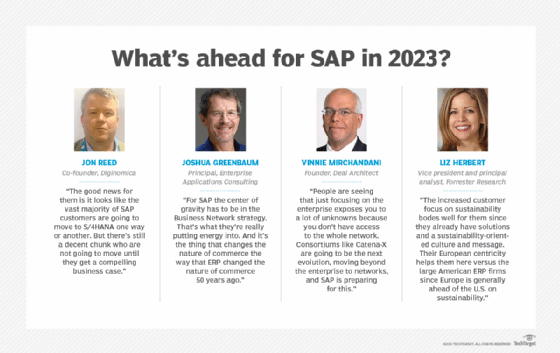 SAP must handle S/4HANA migrations
Ultimately, SAP is a dominant worldwide ERP provider, and the market is theirs to lose, said Liz Herbert, vice president and principal analyst at Forrester Research.
Given this current market leading position and investments in future-facing technologies, SAP will likely be around for years to come, Herbert said. However, the company needs to keep shifting to the cloud, which has been a struggle. And it needs to move away from the old "wall-to-wall SAP" mentality and become more ecosystem friendly.
SAP will also need to convince customers that its culture, approach and software fit modern requirements and that it's worthy of the hefty prices' customers pay, she said. She also noted that the applications to help customers deal with sustainability -- an area SAP has made a priority in messaging and application development -- is a plus.
"The increased customer focus on sustainability bodes well for them since they already have applications and a sustainability-oriented culture and message," Herbert said. "Their European centricity helps them here versus the large American ERP firms since Europe is generally ahead of the U.S. on sustainability."
But for SAP to make it to its centennial celebration, it must navigate the next five years leading up to the 2027 sunsetting of ECC, said Eric Kimberling, CEO and founder at Third Stage Consulting Group.
This forced migration has undermined customer trust in SAP, he said. Its future success will likely be determined by how well it manages mass migrations of large S/4HANA installations.
"We haven't seen this sort of mass transition among any vendor customer base since Y2K," Kimberling said. "So it will be interesting to see how SAP and its ecosystem of partners manage this transition."
Jim O'Donnell is a TechTarget senior news writer who covers ERP and other enterprise applications for TechTarget Editorial.