Getty Images
Jabil's S/4HANA Cloud move: Shift now, transform later
When it came time to move from SAP ECC to S/4HANA Cloud, Jabil chose to lift-and-shift systems in stages. Business transformation will come after the cloud migration.
An S/4HANA Cloud migration can be complex and time consuming. But global firm Jabil Inc. found success with a measured step-by-step process.
Jabil, one of the world's largest contract manufacturers, found that the best way to S/4HANA Cloud was to first lift-and-shift to the cloud and worry about business process transformation after settling in the cloud.
The company, which is based in St. Petersburg, Fla., had been an SAP customer since 1998 beginning with SAP R/3, going through several upgrades until SAP ECC 6 enhancement package 7 in 2016, according to Cynthia Kendall, director of IT at Jabil.
The SAP ECC environment was on premises and managed in Jabil's data center. But by 2017 the hardware was beginning to age out, and the company was looking at a capital expenditure to upgrade and refresh the servers, Kendall said.
It also became time to look at upgrading the software. However, Kendall found that new capabilities from SAP were absent from ECC and becoming standard functionality in S/4HANA.
Jabil's CIO had, at the same time, implemented a cloud-first strategy. So Kendall and her team focused on a move to S/4HANA Cloud.
"[Moving to S/4HANA Cloud] would provide more flexibility -- more maneuverability -- to be able to flex up, flex back and spin up servers as needed for testing and specific projects and then back out again," she said. "We wanted to be a little nimbler than we could be in a bare-metal data center scenario."
A staged lift-and-shift
Knowing that the migration from SAP ECC to S/4HANA Cloud was complex and carried both risks and challenges, Jabil decided to move to the cloud in stages and lift-and-shift systems rather than conduct a business process transformation before getting to the cloud.
Jabil had a large on-premises ECC environment, encompassing about 67 TB of data, Kendall said. But it also had a supporting landscape, including SAP Business Warehouse (BW), SAP Global Trade Services, SAP Governance Risk and Compliance, SAP Secure Network Communication (SNC) and SAP Solution Manager.
To make the cloud move more manageable, the team decided to move the supporting applications to the cloud first.
"We moved the BW and SNC environment to the cloud to see what we were in store for," she said. "We got our chops in during our fiscal year 2019 on those two environments, then took our lessons learned and moved more environments."
Changes to business processes came after the move to the cloud mainly to preserve business continuity during the migration, according to Kendall.
"Because the company was growing at such large leaps and bounds, we didn't want to do any more disruption than possible for the business because we wanted to continue to allow for that growth," she said. "There wasn't an appetite for a lot of transformation and change while still trying to grow at our growth rate."
These decisions kept the project's scope from getting out of hand, she said.
"[If you try to do too much,] pretty soon it becomes more than you can manage, and the project becomes either a lot more dollars, a lot more time, a lot more resources or all of the above," Kendall said. "You want to land the plane and then figure out some of the upgrades and adjustments that you need to do so that you can take off to the next destination."
Surviving COVID-19
Project scope control was one thing, but no one had put "global pandemic" in the project plan when it was drawn up. In early 2020 the COVID-19 pandemic hit and threatened the project's go-live date of October 2021.
Fortunately, technologies like Microsoft Teams and SharePoint helped Jabil's global project team continue working through restrictions, lockdowns and illness, Kendall said. The project's go-live date did slip, going live in January 2022. But Jabil's IT team does not attribute the delay to the pandemic.
It's like any fancy car. You still have to do your maintenance and make sure you're tuning and tweaking it.

Cindy KendallDirector of IT, Jabil
Another challenge for the project's success was a familiar one for many longstanding SAP customers: customizations that had to be dealt with while moving from ECC to the more standardized S/4HANA Cloud.
Jabil had built up about five million lines of custom code over the years. The migration project became an opportunity to review and retain only the customizations still in use, according to Kendall.
The team subsequently worked with SmartShift to go through its custom code and focus on the functions that could be transformed for S/4HANA Cloud, she said. SmartShift's automated tool helped Jabil find and delete 1.5 million lines of code in just a few weeks. The code set was also included in all testing cycles, providing confidence that bits of problem code wouldn't surface after the go-live.
"If we had tried to do this manually on our own, it could have taken up to 10 months or more," Kendall said. "I also would have been really nervous going live because I wouldn't have known if all of that code set would cause a problem."
A couple of other resources helped Jabil's cloud project. The team worked with Infosys to identify and resolve functional gaps between the ECC system and S/4HANA Cloud. To deal with the critical process of switching the systems over, it employed SAP Near Zero Downtime through the SAP MaxAttention support service to perform the cutover within a 67-hour timeframe.
Cloud benefits now, more transformation to come
Jabil's SAP landscape now encompasses S/4HANA Cloud on a major cloud hyperscaler, which Jabil did not disclose. It includes peripheral-managed services from DXC Technology, including cloud infrastructure, OS, database and basic SAP support.
"We own it and we're managing it," Kendall said. "In essence it's the same as being on premises, except it's just now residing in that cloud's location."
The migration to S/4HANA Cloud has so far provided more flexibility, better business redundancy and a significant increase in system speed, according to Kendall.
For flexibility, Jabil's IT team can now quickly spin up small environments to do proofs-of-concept and testing and then spin those back down, she said. For business redundancy, the company moved from two data centers to three.
"In the on-premises environment, you had to acquire a server, configure it and get it in the landscape," she said. "The cloud is definitely more nimble, [is] more flexible and provides a lot quicker response to what our needs are. You can do it with on premises, but it takes longer."
Increased processing speed has been the biggest functional improvement. For example, inventory costing updates are 20 times faster in S/4HANA Cloud versus the on-premises system, and transaction times have been reduced by 50% to 60%, according to Kendall.
However, Jabil will not be able to set the system and forget it if it wants to maintain these functional gains, she said.
"It's like any fine machine. You want to make sure that it's adjusted and running with optimal performance," Kendall said. "It's like any fancy car. You still have to do your maintenance and make sure you're tuning and tweaking it."
Going forward, Jabil will focus more on the business transformation possibilities. It is evaluating technologies that can be integrated into S/4HANA Cloud to improve business process efficiencies, including SAP Integrated Business Planning for process integration, SAP Signavio for process mining and Tricentis for continuous testing.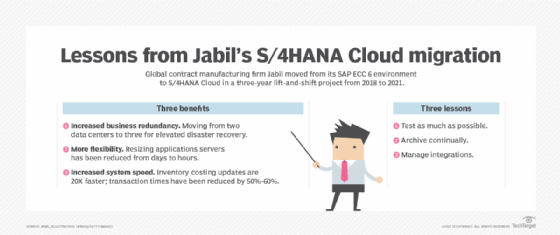 Lessons from an S/4HANA Cloud migration
One of the keys to a successful S/4HANA Cloud migration is to manage the scope and risks of the project, Kendall said.
There are a few specific areas to pay attention to, she said: managing integrations, continuous archiving, and testing.
Knowing the status of integrations is critical; they must be ready and upgraded to move to the new S/4HANA Cloud environment. This can be difficult in some cases because the companies that developed and supported third-party applications may be defunct, Kendall said.
Archiving is important because it reduces the overall size of the environment, which can reduce the time and the cost of the project.
But constant testing is the biggest lesson of a successful S/4HANA Cloud move, Kendall said.
"You have to be aware that no amount of testing can truly simulate a real, live production environment, but test as much as possible," she said. "Be prepared to make those tunings and tweakings after go-live because they're going to be there. It's just the nature of the ballgame."
Jim O'Donnell is a senior news writer who covers ERP and other enterprise applications for TechTarget Editorial.
Dig Deeper on SAP ERP software and modules