Inside SAP CoPilot for SuccessFactors, a digital assistant for HR
SAP's digital assistant, CoPilot, can now be put to use by human resources. Here's a look at how the technology can enable better service delivery through conversational AI.
As enterprise software development is increasingly focused on AI and machine learning, SAP has used these technologies to develop the SAP CoPilot application. It's potential to help HR improve service delivery and, in turn, employee experience is promising.
SAP CoPilot, the vendor's digital assistant for the enterprise, is available on S/4HANA -- both cloud and on-premises versions -- and is being rolled out to other SAP applications, including SAP SuccessFactors HCM Suite. It forms part of SAP's intelligent enterprise strategy.
Inside SAP's enterprise digital assistant
SAP CoPilot is built on SAP Fiori technology. Its primary function is to enable employees to interact with SAP systems in an easier and more intuitive way, including through conversational AI that uses natural language processing (NLP) capabilities. NLP analyzes the conversation -- including contextual, informal and unstructured speech patterns -- and uses the analysis to provide the employee with a conversational response.
As part of the response, SAP CoPilot also provides recommended links, so employees can navigate to the right place in the system to perform an action or get the required information, depending on what their conversation entails. Users can take screenshots without leaving the chat and highlight or annotate the screenshot, allowing users to provide the enterprise digital assistant with additional information to help with the query.
Through machine learning, SAP CoPilot works to understand how the software is used and to provide more specific and wide-ranging answers over time. The AI component is meant to help it make use of what the system has learned and be able to dig deeper through your system, particularly if your system has been enhanced.
How SAP CoPilot works with SuccessFactors
Within the SuccessFactors HCM Suite, CoPilot provides HR-specific conversational functionality that adds a dimension to self-services. While the Action Search provides a search engine-like search capability for features, CoPilot takes searching to a new level, with question- and-answer-based discussions with the system.
Some employees don't access the HR system often, so making rarely performed tasks easier and more intuitive can save time and frustration across your organization, which, in turn, may contribute to better employee experience.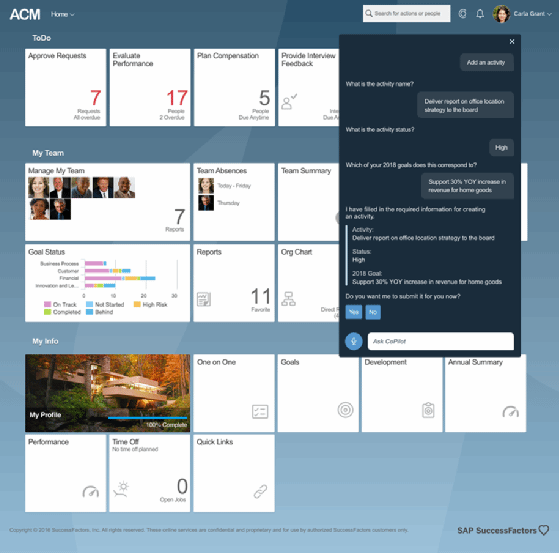 Common HR service delivery tasks CoPilot executes
Two common examples of how HR can use CoPilot are related to booking a vacation. The simpler example is an employee asking SAP's enterprise digital assistant how much vacation they have left and getting the answer.
A slightly more complex example is an employee asking to book a number of days' vacation starting on a particular day. The CoPilot needs to understand the request, ensure the system correctly executes the task and provide a confirmation to the employee, all while providing the trust that the activity has actually been performed.
Making rarely performed HR tasks easier and more intuitive can save time and frustration across your organization.
Other common HR service delivery questions and tasks CoPilot can handle for employees include the following:
checking on development goals;
getting a list of benefits;
confirming a particular form -- e.g., W9 tax withholding or a residency verification -- was filled out;
sending a grievance complaint to HR;
understanding what suitable vacant position openings exist that would constitute a promotion; and
requesting a specific report be delivered.
SAP CoPilot's benefits for HR include a reduced administrative burden and faster service delivery. Employees also gain from a more intuitive and positive experience with HR and potentially more time to devote to work. For enterprise-level organizations, the improved productivity can add up substantially and may lead to real bottom-line profitability increases.