Getty Images Plus
Recorded Future launches OpenAI GPT model for threat intel
The new OpenAI GPT model was trained on Recorded Future's large data set and interprets evidence to help support enterprises struggling with cyberdefense.
Recorded Future added an AI component to its threat intelligence platform that generates fact-based analysis on a wide range of data points, from vulnerability patching recommendations to current active threat groups.
The cybersecurity company launched what it called the "world's first AI for threat intelligence" on Tuesday to help enterprises further navigate a rapidly evolving threat landscape. Available to Recorded Future clients only, the OpenAI GPT model was trained on more than 40,000 analyst notes from Insikt Group, the company's threat research division.
The new offering, dubbed Recorded Future AI, aims to improve enterprises' ability to sort through overwhelming amounts of data and help offset a cybersecurity skills shortage. In addition to Insikt Group threat analysis, the model was trained on Recorded Future's proprietary data set and includes text, images and technical data pulled from the clear web as well as the dark web.
Now, when clients conduct a Recorded Future threat intelligence search, a more in-depth summary will be provided. Enterprises can submit queries to the OpenAI GPT model and see what an analyst would recommend based on the details of that query. For example, it could aid in vulnerability management, which is an ongoing problem for enterprises of all sizes.
While the introduction of ChatGPT has sparked the launches of several automated AI security offerings to assist with threat detection, Craig Adams, chief product and engineering officer at Recorded Future, said there are some problems with current OpenAI-based tools. One concern, he said, was how some tools can invent answers.
"If you ask it a question and it doesn't know an answer, it feels the pressure to make up something," Adams said. "Everyone understands the power of AI -- the ability to ask a question and get an answer. What everyone has been eagerly anticipating is the ability to ask a question, get my answer and have confirmation [that it's] fact-based, with the ability to click into evidence details."
Adams believes Recorded Future AI stands out because of the vendor's vast threat intelligence data set. Researchers are constantly scanning the open web, dark web forums and technical indicators to update what Recorded Future calls the Intelligence Cloud, containing more than 100 terabytes of text, images and other technical data.
The consistent and real-time updates make it easier for users to submit questions to the OpenAI GPT model based on new and emerging information. Another important aspect of Recorded Future AI, according to Adams, is that it sticks to the facts.
"The second thing is the ability to create an automated fact-based analyst report based on that instantly. I am not aware of any other offering that does that as well," he said.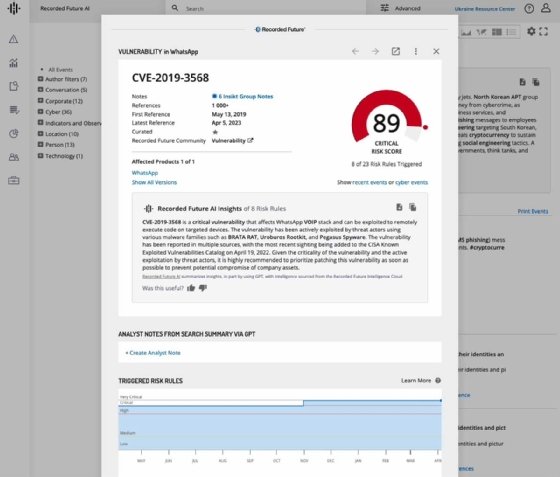 In addition to the summary analysis, Adams believes the most important takeaway for companies is that Recorded Future AI provides actionable intelligence that helps to address three primary security problems enterprises face: overwhelming amounts of data, a well-documented cybersecurity skills shortage and innovative threat actors.
Security teams are inundated with questions from executives on how a threat is or will affect the company. Getting an answer can take hours or days, Adams said. Customer feedback from an earlier stealth launch of the AI model was positive, he said, with customers viewing it as a timesaving tool.
"One of our fundamental beliefs is what we're doing with this announcement is actually enabling organizations to get fact-based security insights without having to significantly increase the size of the security team," Adams said.
Recorded Future AI is now available for all customers across the globe.
Arielle Waldman is a Boston-based reporter covering enterprise security news.
Dig Deeper on Threat detection and response