adam121 - Fotolia
3 key identity management tips to streamline workflows
Organizations must audit IAM processes to ensure that opportunities to streamline workflows are not missed. Use these identity management tips to get started.
Identity management is one of the most complex activities undertaken by any IT organization. The nature of the work requires close collaboration with other technology functions, HR teams, and business and functional leaders. When identity management processes function effectively, they largely remain transparent to those not directly involved in managing the processes. But, when things go wrong, identity management may be suddenly thrust into the spotlight after crippling operational functions.
The crucial nature of identity management practices merits careful attention from technology leaders. It also requires the dedication of skilled team members who serve as caretakers of the processes and agents of continuous improvement. It is important for an organization to take stock of its identity management lifecycle to make sure it is not missing opportunities to streamline and optimize workflows.
Learn how implementing automation, emergency workflows and audits can help get the job done securely, safely and efficiently.
Automate to improve efficiency and reduce error
The vast majority of the work performed by identity management teams is routine. Each day, new employees are hired, users change roles in the organization and employees leave the organization for various reasons. The workflows for identity management tasks in response to those changes should be standardized, and this standardization lends itself to automation.
The vast majority of the work performed by identity management teams is routine.
Organizations should consider integrating their identity and access management (IAM) system with their HR management (HRM) systems if they have not already done so. This integration enables the organization to automate the creation, modification and disablement of user accounts. In doing so, new employees might join the organization, switch job roles a few times and eventually depart without any identity management staff manually interacting with their account in the IAM system.
Implement emergency workflows
Because emergencies may arise that require manual intervention in the identity management lifecycle, it is crucial to plan for them. For example, an employee might suddenly quit or be terminated under adverse circumstances. These cases require the immediate revocation of access privileges. It might take hours or days for normal HRM processes to reflect this change, requiring the identity management team to manually intervene and disable the account promptly.
Though IAM challenges like this do happen, it does not mean emergency workflows cannot be standardized or automated. Identity management teams should create standard processes to handle emergency requests. If these requests occur frequently enough, scripting and other automations can be implemented to improve the efficiency of processing the emergency workflows.
Conduct audits to detect IAM errors
IAM is error-prone work. Unfortunately, IAM processes do malfunction, and accounts that should be revoked often remain active on the system after an employee departs. Privilege creep also may occur, where users are granted new privileges when they transition to a new role in the organization but their old privileges are never revoked.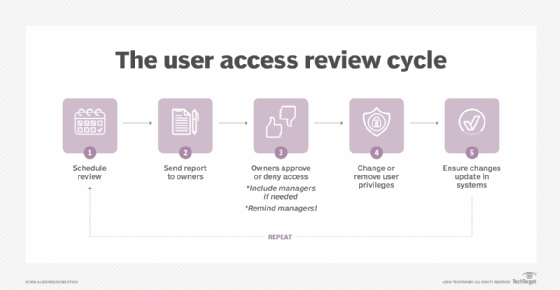 User access reviews and audits can help prevent these situations that invite risk. IAM teams should implement standard review processes that occur on an annual basis, at minimum. During each periodic review, managers will receive a listing of access privileges for each of their employees and sign off that the privileges are necessary and appropriate for their current job role.
Automating and auditing identity management workflows promise to increase the efficiency of IT staff and also improve security. When workflows are supplemented with emergency procedures and routine audits to detect errors, an organization's security posture will be much improved.
This was last published in
June 2020
Dig Deeper on Identity and access management