Share this item with your network:
Managing and protecting all enterprise data

freshidea - Fotolia
Data governance best practices exploit big data
Emerging technologies, such as AI and IoT, in the age of big data mean there's more data than ever to benefit from and for data governance policies to manage and secure.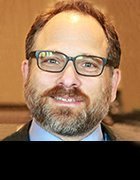 By
Compliance requirements and privacy concerns have long placed data governance at the forefront of IT initiatives...
Continue Reading This Article
Enjoy this article as well as all of our content, including E-Guides, news, tips and more.
for tech staff and business executives alike. Data governance best practices are more important than ever for companies around the world following passage of the European Union's General Data Protection Regulation. GDPR, which went into effect May 25, 2018, includes strict rules to protect data privacy and huge penalties for noncompliance.
It doesn't matter if your company is based in an EU country or not. As long as you handle personal data of EU citizens, you're on the hook to comply with GDPR. Furthermore, big data and newer technologies such as the IoT and AI have placed a premium on the accumulation of data like never before.
All raw data in today's corporate IT environment can have strategic value and comes under the purview of data governance initiatives. And effective data governance best practices help businesses make sense of all this data, so they can convert it into actionable insights that benefit business operations.
The Economist Intelligence Unit (EIU) surveyed more than 500 business executives across industries, including financial services, healthcare and life sciences, manufacturing, retail and consumer packaged goods, telecommunications and technology, in early 2018. It presented the results in a report titled "Transforming data into action: the business outlook for data governance," last spring.
Here are some of the highlights of that whitepaper.
Data governance best practices awareness
Ninety percent of those surveyed said their businesses have acquainted themselves with data governance technologies and associated data-related risks. They have instituted needed data governance best practices, data-related policies and procedures and strengthened required privacy and data protection procedures.
Legal issues were the most popular reason for adopting data governance best practices, cited by more than half of those surveyed. Next highest was compliance and the need to manage data from a technology standpoint, cited by 44%. A third of respondents said focusing on line-of-business usage drove their data governance approach, and a quarter cited security issues.
Companies measure data governance success several ways. About half said they use data accuracy and compliance as metrics, and about 40% said they look at how well data governance contributes to strategic goals and makes data available throughout the organization. About a third measure data governance success by how well data is used, accessed and understood by employees, and whether they've met data governance ROI expectations.
Most respondents claimed they've been successful at various data governance best practices and capabilities. For example, more than 90% were keen on their organization's ability to both secure data and remain abreast of compliance requirements. More than 80% answered favorably when asked about gaining beneficial business insights from data, dealing with interoperability issues inside IT infrastructure, educating workers on data regulation compliance, fostering collaboration among different parts of the organization, hiring people with data governance know-how and preparing for emerging technologies.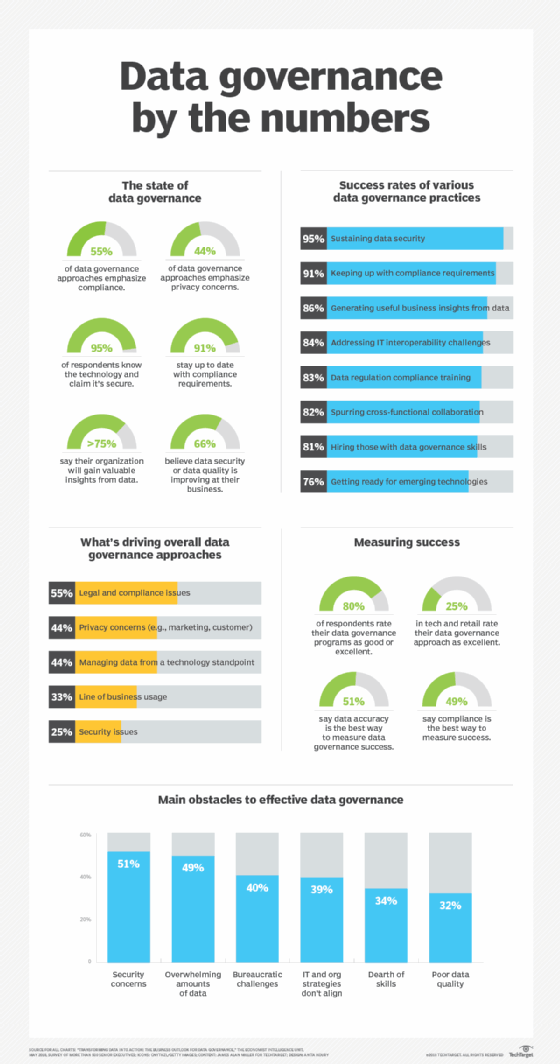 Data governance and emerging technologies
The strategic importance of these emerging technologies, such as AI, blockchain, cloud computing and IoT, to data governance is expected to grow as they cause businesses to massively increase the amount of data they generate every day.
This wasn't lost on the executives that EIU surveyed. Seventy-nine percent of respondents expected cloud computing to successfully or somewhat successfully affect their organization's data governance capabilities going forward. The same was true of 70% for AI, 69% for IoT and 59% for blockchain technology.
The vast increases in the amount of information emerging technologies are producing also means there will be that much more organizational pressure on IT to ensure data is effectively managed and analyzed. Implementing data governance best practices will help ensure, among other things, that your organization stays in line with data compliance, data integrity and privacy standards and regulations. Not doing so could become expensive, especially for any organization that runs afoul of GDPR.
Dig Deeper on Storage management and analytics