Oleksiy Mark - Fotolia
Mobile unified communications market has growing pains
The mobile UC market needs to offer products that make access to voice, text and video platforms simple, which means enterprises will rely on native device apps in the meantime.
Odessa Medical Health Center in Odessa, Texas, has a 2019 deadline for replacing its legacy Nortel/Avaya phone system for its hospital and health clinics. The organization is already evaluating established and newer telephony and unified communications vendors' options so a new system can be tested and in place in time.
One thing is certain. Brad Shook, the West Texas 28-location medical center's director of IT operations, wants the new telephony system and additional UC features to live in the cloud so he can use his Opex budget to pay for it monthly rather than tax his Capex budget. A cloud-based system would also make it easier to add UC features and capabilities for both mobile and wireline networks.
While end-of-life for Odessa's legacy PBX is the driver for the replacement, other UC capabilities including secure messaging and video conferencing are also on the table because the mobile unified communications market no long offers just a communications application. "You get one technology, and all of a sudden you find out that it does other things and you can reduce other contracts," Shook said.
Vendors have struggled to unlock a mobile unified communications market where users launch enterprise applications to call, message or video conference, because most users -- expecting a poor and cumbersome experience on those apps -- prefer their phones' native apps.
Mobile UC applications have become key when looking for a new system for the entire company. "Our mobile phones are becoming our most-used computer. That's what everybody lives on," Shook said. So whatever Odessa chooses, the availability of mobile UC applications and ease of use are high on the list.
Mobile devices are the next -- and perhaps most critical -- frontier for the extension of unified communications in the enterprise.
Enterprises understand that every time the user opts for the native or "easier" applications like WhatsApp Messenger for texting or Apple FaceTime for video telephony, they are losing an opportunity to capture, record, log, secure and perhaps audit business-critical communications. Odessa's Shook said reporting capabilities, along with other calling features, are extremely important in his organization.
But mobile UC applications -- which would help solve some of those business concerns -- have two main issues, according to Irwin Lazar, vice president and service director at Nemertes Research.
First, many mobile UC applications do not support enterprise mobile device management platforms, which means enterprises can't manage the apps and can't apply security policies to them.
Second, mobile UC apps may not integrate with mobile operating systems to support key features. In these cases, users can't call via voice prompts (e.g., Siri), receive notifications on locked screens, answer a call received on a mobile UC client when the phone is locked or make calls via the mobile UC client from the native contacts app. In some cases, mobile UC calls drop when the phone receives a cellular call.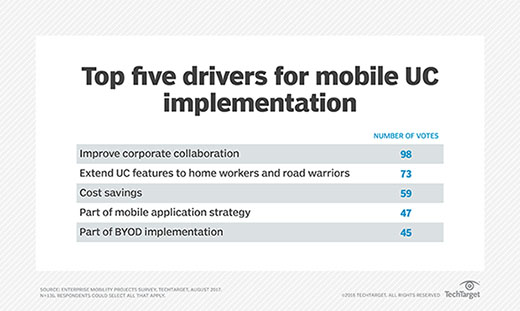 The mobile unified communications market is growing. In its "2016-17 Unified Communications Benchmark" study, Nemertes found that 38% of organizations have deployed mobile UC applications and another 14% are planning to deploy them by the end of 2017. But Lazar said businesses tell him "the apps are generally difficult to use so people just resort to using their native dialers and texting applications."
Vendor collaboration
Mobile devices are the next -- and perhaps most critical -- frontier for the extension of unified communications in the enterprise. Yet organizations have been incredibly underwhelmed by their UC providers' capabilities. Analysts and UC vendors say this is about to dramatically change as the largest mobile device makers, including Apple and Google, step up to offer more UC collaboration options.
"It has now become table stakes for UC vendors and mobile device manufacturers to provide integration with one another," Lazar said, adding that users who don't want their desk phone to be their primary UC tool are pushing organizations and vendors toward this holy grail of true UC to the mobile endpoint. Apple CallKit and Android APIs address these issues. CallKit -- a framework that enables software developers to integrate their VoIP calling services with other call-related applications on the system -- isn't yet supported by all mobile UC apps.
You will not be able to prevent the user from using the tools that work best for them.

Jens Meggerssenior vice president of cloud collaboration, Cisco
Odessa Medical's Shook said his organization plans to consider UC platforms from established vendors including Avaya, Cisco and Fusion. But Microsoft's Skype for Business may emerge as a main contender, too, because many Odessa staffers already use it for secure messaging and video calling. "As fast as Microsoft is moving services to the cloud and combining them, they shouldn't be counted out," Shook said.
"Skype for Business is easy to use, and we've added the app for many of our employees," Shook said. "We've even started replacing our WebEx with Skype for Business Web. But we haven't looked at its [Microsoft's] PBX piece for a couple of years, so I can't say that its capabilities for telephony are there yet."
Cisco, a potentially large beneficiary of a more open mobile device platform, has found Apple highly cooperative because Apple "wants to be more attractive and relevant to the enterprise," according to Jens Meggers, senior vice president of cloud collaboration at Cisco. Recently, Cisco announced its own effort to attract highly regulated industries like healthcare and financial institutions by adding content protection and other enterprise-class controls to the Cisco Spark app for mobile devices. The more integrated Cisco Spark -- a collaboration platform for meeting, messaging, and calling -- can be with the mobile device, the better for security, privacy and compliance.
"We have worked with Apple the past two years to create APIs that were needed to get into the operating system," Meggers said. The goal of this partnership is to integrate Cisco Spark into the native dialer and to integrate it with Apple's Siri voice recognition platform.
"You will not be able to prevent the user from using the tools that work best for them," Meggers said. "For us, to be successful in the enterprise, we have to be one of the best apps. We really need to give them a really great user experience."
For example, he said recent updates to Cisco Spark and Apple iOS, as well as Apple's introduction of CallKit, have resulted in users being able to launch a Cisco Spark interaction (call, chat, message, conferencing, etc.) using their mobile phone's native address book and calendar and to voice activate Spark actions via Siri. Also, business-critical activities like screen-sharing during a conference call can be prioritized, even on congested networks.
APIs in the mobile unified communications market
That type of seamless experience is the target of Revation Systems as well. Perry Price, founder and CEO of Minneapolis-based UC application platform maker Revation, said he and his developers are fully focused on making the most of the device manufacturers' APIs to improve the company's application, which is used in healthcare, banking and other industries that are heavily regulated and have compliance and privacy demands.
Devices, he said, are not designed in a way to create mobile fluidity for communications outside the enterprise. "Moving onto a device for a mobile healthcare professional is a difficult proposition," he said, although his company is working toward it by integrating its platform with the devices for geolocation codes, emergency communication services and dispatch services. "We're not there yet but will be by the end of this calendar year."
Avaya, another big player in the mobile unified communications market, also is touting its stepped-up efforts to improve the iPhone experience for its users and to attract new customers.
Avaya vice president in the office of the CTO, David Chavez, who is responsible for architecture and business evolution at the company, said Avaya is evolving "to be as mobile-centric a company as anyone in our space has ever aspired to be." Avaya in August reached a deal with creditors to exit Chapter 11 bankruptcy.
Organizations should expect to see tremendous advancements in the mobile unified communications market in the next few years, according to Chavez. He credits two key technologies: Rich Communication Services, a protocol that moves voice and SMS capabilities from traditional technology to an IP network, and Voice over Long-Term Evolution, a standard for high-speed wireless communications that enables calls to be placed over 4G LTE networks. He also anticipates much tighter security frameworks between the application and mobile phone so that enterprises can trust sensitive data like their contacts to be protected.
Avaya, in addition to features that Cisco Spark touts like collaborative browsing and screen sharing, plans to introduce a UC environment where the Avaya application coupled with iPhones create tighter integration that support trusted and secure environments. For instance, members of a trade association would be able to create a trusted space where, using Avaya's UC application, they could securely collaborate and communicate, according to Chavez.
Regardless of this work toward mobile UC, complexity will continue to challenge UC vendors and third-party application providers with fewer resources, he added. While the device manufacturers are offering help through tools such as CallKit, there is still a tremendous amount of complexity to make sure everything is well integrated and performance is optimal. "CallKit is not complete, and more innovation is required," he said. "All these independent software companies aren't going to want to independently solve these problems."
As for Odessa Medical's next communications system, Shook said the organization will probably end up with two systems. "We'll probably keep Skype [for Business]. And who knows about a new PBX system. We'll just have to see because everything is moving so fast."
Next Steps
Guide to deploy mobile UC
Creating effective video conferencing
Steps to use Skype for Business in your enterprise
Dig Deeper on Communications platforms and integrations