iStock
Workplace by Facebook app finds its enterprise footing
The Workplace by Facebook app is starting to make serious inroads in the enterprise as large organizations look to unify disparate workers and enhance employee communication.
When a big company changes direction or evolves its strategy, communicating that new vision to all the staff is key to making sure everyone's on board. That's exactly the scenario Mindy Grossman faced when she became CEO and president of WW (formerly Weight Watchers) in 2017.
It was especially important that staff be kept up to date as WW realigned its mission to include not just diet, but also healthy lifestyles. The communication challenge was that 16,000 of the 18,000 staffers were coaches or guides in the field who weren't in regular touch with the home office or other branches.
"The communications team came back to me with Workplace, and I decided in about five minutes that it was the platform we should utilize," Grossman said.
Grossman was one of several Workplace by Facebook customers who spoke earlier this month at Facebook's Flow conference, which focused on the communications and collaboration service for the enterprise.
The Workplace by Facebook app reached 96% adoption within two weeks of its launch at New York-based WW near the end of 2017, Grossman said. "It tells you how hungry people were for a connection," she added.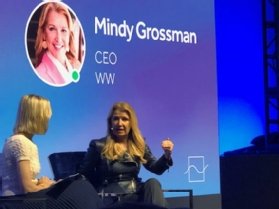 WW also took advantage of video and translation features in Workplace. "We're going to be able to launch things globally for the first time, where, before, we were a company that threw things across the pond," Grossman said.
At Flow, Facebook announced automatic video captioning in 14 languages. Users can also get transcripts of the session that can be edited and shared.
"This is also going to affect frontline workers who watch on their mobile devices with the sound turned off," said Karandeep Anand, vice president and head of Workplace at Facebook.
Connecting frontline workers
The flexibility of Workplace was appealing to Roopa Shah, director of internal communications for Maple Leaf Sports & Entertainment, the Toronto-based parent company of several sports teams, including the Toronto Maple Leafs and Toronto Raptors.
We needed a tool that would unite the full-time, part-time and union workers.

Roopa ShahDirector of internal communications, Maple Leaf Sports & Entertainment
"The challenge we had was that our frontline employees didn't have access to computers or the corporate intranet on a daily basis," Shah said. "We needed a tool that would unite the full-time, part-time and union workers."
The decision to adopt the Workplace by Facebook app took a bit of selling because IT had concerns about the platform's security. But Workplace launched to the whole company in April 2017. Results so far have been stellar, she added.
"Now, we have seven different departments, like retail and food services, working together on projects that we hadn't even planned," she said. "At the beginning, I stayed up at night worried about what people would do, but there have been only a handful of minor issues. People self-monitor content, which is fantastic. When someone sees something inappropriate, it gets taken down quickly."
Workplace by Facebook app energizes Chevron employees
One of the biggest Workplace deployments is at energy giant Chevron, based in San Ramon, Calif., where 70,000 employees -- more than three-quarters of the total workforce -- use the service worldwide.
"I didn't anticipate it would become a platform that would help people bring their true selves to work and voice their opinions," said Rachel Setton, manager of employee engagement and corporate responsibility communications at Chevron. "There's a feeling that, if someone has an issue, they now have a way for it to be heard."
Setton said one employee posted an issue regarding equal pay that was reported directly to the head of HR. Another employee used the app to bring attention to an employee with mobility issues who was having a hard time getting to the office. Within 48 hours, the company found better parking for the employee.
Nestle connects global employees
Nestle, the world's largest beverage company with 2,000 brands and 320,000 employees worldwide, deployed Workplace in November 2018. Nestle ran its initial Workplace pilot in Mexico before the global launch. More than 210,000 Nestle employees use Workplace today.
Workplace has helped the global company do more on a local level, according to Cristina Macina, global internal communication and engagement strategy lead manager at Nestle.
"We have some very geographically disperse teams that were feeling isolated," she said. "Now, they have a lot more visibility."
For Switzerland-based Nestle, the video and language translation features of the Workplace by Facebook app have been an asset.
"You see the inspiration come from people who don't speak the same language and have never interacted," Macina said. "Before, you get hired in Italy, and you never get to speak to your colleagues on the other side of the world. Now, you can share your passion for products."