Jumbo2010 - Fotolia
Microsoft Teams media bypass comes with limitations
Microsoft Teams media bypass for direct routing customers is now available, but the configuration may be less beneficial to enterprises than an equivalent feature in Skype for Business.
Microsoft added support for a networking configuration that lets enterprises better manage voice traffic flowing through Microsoft Teams. Some customers, however, may find the setup more difficult to implement and less beneficial than an equivalent feature in Skype for Business.
Microsoft Teams media bypass is a setup that lets voice traffic flow directly between Teams users and a company's session border controller (SBC). This avoids sending voice traffic over the internet to the Microsoft cloud.
The configuration could be useful in large offices with an SBC on site, improving audio quality and safeguarding against overburdening a company's network by needlessly sending voice traffic to the cloud only to return to the SBC.
Enterprises familiar with the media bypass feature in on-premises Skype for Business, however, may find the Teams version trickier to navigate. The constraints of the cloud version are causing some businesses to reconsider whether it is worthwhile to use.
"In the server world, it was a very common feature to turn on," said Tom Arbuthnot, principal solutions architect at Modality Systems, a Microsoft-focused systems integrator. "In cloud , it's not quite the same feature."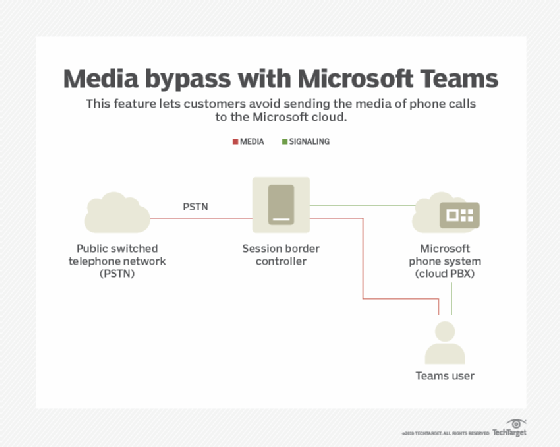 Microsoft Teams media bypass differs from Skype version
Because the configuration relies on WebRTC, Teams users need to have access to the public IP address of their SBC. This is an unusual firewall configuration that could make media bypass harder to implement. Microsoft recommends hairpinning the voice traffic through a Network Address Translation server.
"For some enterprises that could cause a bit of a problem, because you're traffic is going out of the firewall and immediately coming right back in," said Matt Ellis, unified communications architect at Atkins, a global design and engineering firm based in the United Kingdom. "I think people kind of expected it to not have to go to the public IP."
What's more, the setup does not work with the web-based Teams client or with Skype for Business phones, which connect to Teams through a cloud gateway. Microsoft Teams phones became available in January. Microsoft said it had no plans to support media bypass for web clients.
Microsoft Teams media bypass is available to only customers using direct routing, a setup that links third-party calling services to Teams. The SBC vendors Ribbon Communications, AudioCodes and TE-SYSTEMS support media bypass; products from Oracle and ThinkTel are pending approval from Microsoft.