Getty Images/iStockphoto
Compare Microsoft Teams Operator Connect vs. Direct Routing
As more companies migrate their telephony to Microsoft Teams, IT departments have two options to bring their current PSTN provider to the Teams platform.
As more organizations adopt Microsoft Teams for messaging and collaboration, many IT departments are looking at ways they can migrate their existing public switched telephone network, or PSTN, connectivity into the Teams platform.
Consolidating voice services into Teams improves management and streamlines onboarding and offboarding processes for IT, as well as enhances resiliency and provides more advanced capabilities, like direct inward dialing. Microsoft offers two options to businesses looking to bring their existing PSTN service provider into the Teams fold: Operator Connect and Direct Routing.
Let's examine the differences between Operator Connect vs. Direct Routing and determine when one calling plan might be preferred over another in certain use cases.
Microsoft Teams Direct Routing explained
When Teams first launched PSTN connectivity services, Direct Routing was the only option available to companies that wished to retain and integrate their existing carrier into the Teams ecosystem. This method requires the businesses use and maintain their own session border controller (SBC) as a bridge between the PSTN and Teams platform. Once the SBC and Teams are linked, businesses maintain their existing PSTN plan as an independent entity that's tied into Teams.
The existing PSTN Session Initiation Protocol trunk is still in place, terminated between the SBC and PSTN carrier. This enables more flexibility in terms of media bypass and local media optimization, both of which are important for organizations with a global presence and require availability in nearly every country in the world.
Operability with third-party private branch exchange (PBX) and paging systems is another key benefit to Teams Direct Routing. The on-premises managed SBC can interact with those components and grant businesses more flexibility for existing telephony equipment, including analog phones and legacy paging systems.
Microsoft Teams Operator Connect explained
To achieve a more unified approach to PSTN calling within Teams, Operator Connect may be a better option compared to Direct Routing. With Operator Connect, services are migrated to an externally controlled SBC that is managed by a select group of PSTN carriers, including AT&T, IntelePeer, Orange and Verizon.
An organization's existing PSTN provider must be a participant in the Microsoft Operator Connect program. Thus, there are limitations if the existing PSTN provider is not on that partner list. Participating carrier partners can work on the business's behalf to migrate PSTN calling into Teams, which lightens the workload for unified communications staff.
A second significant difference of Operator Connect is that PSTN calls use the internet to connect to the cloud-based Operator Connect SBC. Thus, quality of service to the SBC cannot be achieved when internet connectivity succumbs to performance issues.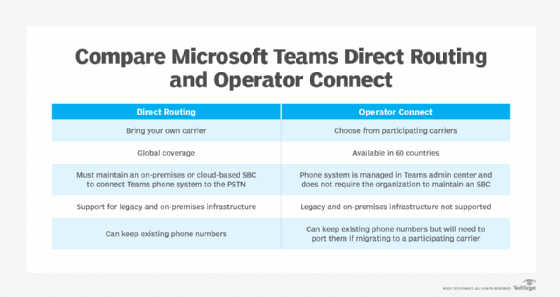 Choosing between Operator Connect and Direct Routing
Organizations choosing between Operator Connect vs. Direct Routing for PSTN connectivity to the Teams Phone system should consider the following factors:
PSTN carrier availability. With Direct Routing, you can integrate virtually any PSTN carrier into teams. Using Operator Connect, the list of certified carriers is somewhat limited.
Internet-based vs. PSTN-based calling. Businesses that have access to reliable, redundant and ample internet throughput are great candidates for Operator Connect. For locations where this is not possible, businesses may suffer from dropped calls or jitter when internet links become congested and thus may instead opt to use Direct Connect.
Legacy telephony connectivity options. Businesses that use complex call routing or need integrations with external PBX or paging systems will gravitate toward Direct Routing as this functionality is not yet possible using Operator Connect.
Ease of management vs. granular control. If the goal is to hand over full control of PSTN calling to Teams by way of Operator Connect, businesses will find that they are no longer required to maintain any on-premises SBC equipment. Businesses also offload the responsibility of managing call routing and phone number ranges to Teams for improved ease of administration and support.
Global availability. Currently, Teams Operator Connect is available in 60 different countries. If a business operates in countries that are not currently supported, Direct Routing is the better option.
Determining the right path to the PSTN for Microsoft Teams calling is a matter of researching each service, as well as weighing cost differences and benefits of the two options. Once an organization completes this evaluation process, the right choice for PSTN connectivity should be clear.