FotolEdhar - Fotolia
Lenovo launches latest video phone for Microsoft Teams
Lenovo has released a tabletop video calling device for Microsoft Teams designed for home offices, personal desks and the smallest meeting rooms.
Lenovo has unveiled a video calling device for Microsoft Teams that uses roughly the same hardware design as its Google Assistant device for consumers.
The new product, called the Lenovo ThinkSmart View, is also similar in design to consumer video devices from Amazon and Facebook.
The release demonstrates how technology vendors are increasingly developing workplace communications products to resemble what users are familiar with at home.
But making video-enabled phones more user-friendly is unlikely to be enough to get businesses to buy the technology, according to Irwin Lazar, analyst at Nemertes Research.
Businesses have struggled to justify the cost of video phones given that users can already make audio and video calls using their PCs. Furthermore, the new Lenovo device's screen is too small to be useful in a small meeting room, Lazar said.
"I don't see a market for this kind of device," he said.
Lenovo's phone currently does not let users interact with the AI voice assistant Microsoft Cortana. But the hardware could support Cortana if Microsoft updated its software in the future. Its microphone can pick up voices as far as roughly 13 feet away.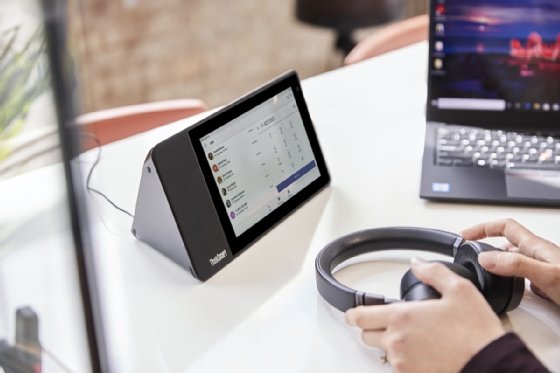 Lenovo designed the device for home offices, personal desks and the smallest meeting spaces, such as one-person phone rooms. It comes pre-loaded with an Android-based Microsoft Teams app. Teams is a cloud-based platform for calling, messaging and video conferencing within Office 365.
With an 8-inch touchscreen display, Lenovo's device lets users make calls, retrieve voicemails, join video meetings and check their calendars. At launch, the product lacked support for Teams messaging.
The ThinkSmart View is simultaneously an IP phone and a video conferencing system. Technology vendors are seeking to blur the line between audio and video calling to boost subscriptions to video-centric collaboration services like Teams and Zoom.
Yealink also makes a similar video calling device for Microsoft Teams, the Yealink VP59. Unlike the Yealink product, Lenovo's video phone has no physical handset or dial pad. It's also cheaper: $349 vs. $699.
Lenovo will also sell a $449 package that includes its ThinkPad X1 wireless headphones. Alternatively, workers can connect their headphones to the device using Bluetooth. The video hardware uses Wi-Fi to connect to the internet.
Lenovo executives said the company might look to load other vendors' software on the device in the future. Lenovo already has a relationship with video conferencing provider Zoom, a Teams competitor.
"We plan to launch multiple solutions across this type of device," said Joseph Mingori, general manager of Lenovo's Smart Office business.
In other Lenovo news, the vendor launched a new video room kit for Zoom. The bundle, called the ThinkSmart Edition Tiny, combines a computer and touchscreen controller by Lenovo with audio and video gear from Logitech. Lenovo said it was working on launching a version of the bundle for Teams.
The vendor already has a video system for Teams called the ThinkSmart Hub 500. The kit combines computer, controller and audio gear into a single device with a Logitech camera mounted separately. The hardware also works with Zoom.
At the end of December, Lenovo launched a console to help businesses manage all its ThinkSmart devices. ThinkSmart Manager will be free for the first year, after which Lenovo plans to charge a subscription fee.