Blue Planet Studio - stock.adobe
Forecasting VDI trends and the future of the market
VDI was once thought to be the future of managing desktops, but at times it can feel like a relic. However, VDI has certain characteristics that ensure it's here to stay.
In 2021, Gartner forecast that the usage of desktop as a service would exceed 150% from 2020 to 2023, so it will be a telling exercise to examine whether these predictions were accurate and what implications this has for the future of VDI.
The evolution of modern VDI and DaaS
VDI has been promoted within the desktop virtualization market for a considerable amount of time, with longstanding champions including VMware and Citrix. Initially, the main challenge associated with VDI was a failure to adequately consider the sizing and performance of underlying hardware, resulting in inadequate user experiences with VDI services. However, moving forward, hyper-converged offerings have become the infrastructure norm, and performance is no longer the major issue it once was.
Furthermore, most VDI vendors now offer extensive integrations with both storage, hypervisor and even with public cloud, greatly simplifying management compared to previously. They also now provide a cloud-based management plane which makes it easier to roll out updates when needed and simplifies the management with fewer moving parts than before.
Desktop as a service (DaaS) has frequently been viewed as an IT cost-saving tactic for organizations, but this approach often proved unsuccessful. However, the pandemic created a clear and urgent necessity: Organizations required a way to maintain operations while employees worked remotely and utilized a variety of devices. DaaS offered a secure and scalable solution to this problem.
Furthermore, the pandemic's disruptions to hardware access made DaaS an even more compelling option, enabling organizations to utilize cloud-based services without investing in their own data centers and allowing for scalable resource allocation. In response to this shift, VDI software vendors such as Citrix were quick to offer their DaaS service, known as Citrix DaaS, which debuted in 2020. In 2021, Microsoft also entered the DaaS space with its Windows 365 service, which provides a dedicated cloud virtual machine and leverages many of the capabilities found in Azure Virtual Desktop.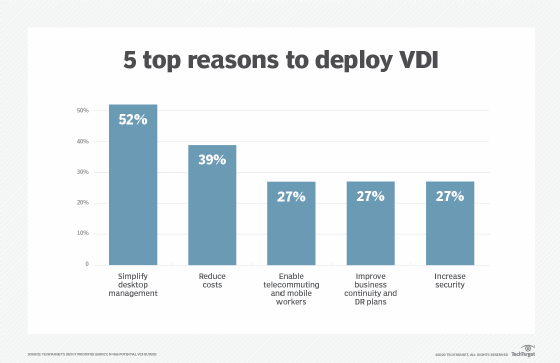 According to the latest DaaS Like a Pro report, which is an annual survey conducted by EUC evangelists in the community, most organizations are expected to increase their usage of DaaS-based services in the coming years. The report also indicates that the majority of these organizations will focus on using Azure Virtual Desktop.
With these new DaaS offerings entering the market, it became easier than ever to access a virtual desktop, allowing even small businesses to enjoy the benefits of a virtual desktop without the need for a large investment into a data center and software. They could opt for a pay-as-you-go model provided by cloud providers, which granted them easy access to a virtual desktop. It is now evident that Microsoft is intensifying its efforts in this area and exploring new opportunities to offer a developer-optimized desktop as a service through a new product called DevBox.
What use cases are there for modern VDI?
Despite the scalability and ease of management provided by DaaS, it comes with some feature-based shortcomings. As such, VDI still retains a plethora of use cases, including the following.
Hybrid workloads
For a long time, most organizations will maintain a hybrid setup, where applications and desktops operate on both existing data centers and the public cloud. Many VDI vendors are now providing a cloud management pane for their VDI service, making it simpler to manage with fewer moving parts but still providing integration into on-premises data centers. All fully managed DaaS offerings are tied to a public cloud platform since much of the key with DaaS is to standardize, which means that on-premises integration is not likely something that will come.
Despite the scalability and ease of management provided by DaaS, it comes with some feature-based shortcomings.
Microsoft has also understood hybrid is important. While Azure Virtual Desktop (AVD) has seen great traction in adoption, Microsoft introduced support for running AVD-based workloads on premises, however only allowing it to run on their own hyper-converged offering called Azure Stack HCI. This is also an important aspect in regard to data gravity, with much of data and back-end services stored within existing data centers. This also means that the applications will need to run there as well to provide an optimized end-user experience.
Flexibility and customization
DaaS offerings are all about providing a standardized service and like other as-a-service offerings, it means there will always be some lost functionality in the process. Still, in some cases, DaaS comes up short on supporting productivity and general business practices.
For example, the public cloud offers support for new hardware and infrastructure, but sometimes, as with Windows 365, it restricts the use of newer hardware by relying on a set of predetermined virtual machine types. Consequently, users may miss out on the benefits of hardware innovation. There are also limitations in the use of data centers across different geographical regions, which can affect the end-user experience due to higher latency -- especially when DaaS is confined to specific regions.
In a large organization, there might be a requirement to inspect or route traffic to a specific network appliance or enable communication between the desktop and other PaaS services or file services. However, most DaaS providers offer limited features to support such integrations, mostly relying on VPN-based integration. This limitation also applies to the support for different storage services. For example, if there is a need for a high-end storage service within the cloud provider, the virtual desktop may not be able to support it.
As with most as-a-service offerings, the service is managed by the vendors, which includes the VM running the desktop. This means that the security configuration of the machine is managed by the vendor. There is the option to include one's own guest-OS agents such as Antivirus and EDR, but there are limited options to change the security configuration of the actual VM. This may be required for UEFI and Secure Boot features, and BitLocker and OS-based encryption. It can also affect the use of OS security features such as Credential Guard and Tamper Protection in Windows.
How will the public cloud affect VDI usage?
According to a Gartner forecast, the total expenditure on public cloud services for IaaS and PaaS combined is projected to exceed $180 billion in 2023. As more organizations transition their workloads and services to the public cloud, it is likely that existing VDI deployments will be replaced with either a DaaS offering or a cloud-based VDI deployment based on the organization's specific requirements. While a DaaS-based desktop virtualization architecture may perfectly suit the needs of many organizations, those that are moving workloads to the public cloud will, in most cases, delay their adoption until their applications and data are fully migrated.
Looking back at Gartner's prediction from the beginning of the article, 2023 isn't necessarily the year of VDI. There has been and will continue to be a rise in DaaS adoption. More organizations will adopt these services and others will expand or replace their use of VDI to capitalize on the added capabilities for managing hybrid workloads. Although DaaS offers convenience and simplified management, VDI offers flexibility and support for hybrid workloads, so both desktop virtualization options will remain necessary for the foreseeable future.
Dig Deeper on Virtual and remote desktop strategies