reborn55 - Fotolia
5 common Citrix printing issues and how to troubleshoot them
Printing is one of the most frustrating areas of IT management, especially as a VDI admin. Troubleshoot five common Citrix printing issues with these tips and tricks.
Printing is one of the biggest sticking points for VDI admins.
Luckily, printing for VDI is getting better. Third-party products such as Tricerat and ThinPrint are making printing easier and simplifying management.
Still, it's common for VDI admins to face Citrix printing issues. When they do, IT pros should find the right troubleshooting process. IT pros should learn about these five common Citrix printing issues and how to address them.
1. Slow printing across the network
Like most Citrix features, printing has its own virtual channel in the independent computing architecture (ICA)/ high definition experience (HDX) protocol stack. Slow printing can occur if IT has a quality of service (QoS) policy in place that limits the amount of bandwidth that is available per session, or if users have enough bandwidth available on the Gateway.
Since printing is also supported in double-hop scenarios, the Gateway can be the root of the Citrix printing issue if it has limited bandwidth or the wrong configuration. IT pros should first access Citrix Director to see if there are any policies in place or to see what kind of latency the connected users are experiencing.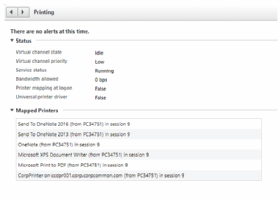 User sessions with high latency and high amount of packet drops will also affect the performance of printing. IT should check the NetScaler to ensure that it is properly configured in terms of using enlightened data transport (EDT) as transport protocol or using the proper transmission control protocol (TCP) profile on the NetScaler.
Admins should also ensure that the print drivers are using printer control language (PCL)6-based drivers, because they have a better compression rate of spooled jobs than PCL5-based drivers.
2. Wrong configuration on the printer
End users often prefer to configure settings on the printer in terms of how the printer should print, such as if it should use double-sided, colors and which drawer it should print from. Citrix Universal Print Driver (UPD), Enhanced Metafile (EMF) or XML Paper Specification (XPS) drivers should support these advanced printing features. These features are available in the session if the native driver makes them available using the Microsoft Print Capabilities technology.
The native driver should use the standardized Print Schema Keywords in the Print Capabilities XML. If the driver does not use nonstandard keywords, the advanced printing features are not available with Citrix Universal print driver. Admins should check if the native drivers have the option to do this or use client printer redirection if possible.
3. No print jobs coming out
If the print jobs from users are spooled but never appear at the printer and the end user is connecting to the Citrix environment using a VPN-based access with force tunneling, this might "timeout" the connection to the local printers.
This can apply to network-based printers, but in most cases, it is an issue with the network communication. Admins should ensure that their print servers and clients can communicate with the printer.
Best practices to avoid Citrix printing issues
Use native Windows drivers or the Citrix Universal Print Driver (UPD).
Avoid updating a driver when troubleshooting. Always attempt to uninstall a driver, restart, and then install the new or replacement driver.
Never install untested printer drivers on a production server or server farm.
Do not install all native printer drivers on the servers.
Use mappings when available.
Verify that a printer is certified with the Citrix Ready product guide website.
4. Printers not appearing in the session
Citrix has a default policy that allows client printer redirection, which means that all printers on the connecting client will be automatically created in the Citrix session. Sometimes there are Citrix printing issues around Citrix Policies and other Group Policies that disable the auto-creation policy or have hardening scripts running on the session hosts, which disable services that allow for client redirecting printing to work properly, such as:
Device Install Service
Device Management Enrollment Service
Device Setup Manager
Again, Citrix Director is the right place to start the troubleshooting process. Through Citrix Director, admins can see which printers are mapped in the session and which policies have applied for the current user.
Citrix uses the HP PostScript driver. Microsoft had previously built the HP PostScript driver into the Windows 7 and Server 2008 R2 operating systems, but no longer includes it with Windows 10, Server 2012 R2 or Server 2016. This missing driver can cause client printers on Mac and Linux endpoints to fail to be created in the XenApp and XenDesktop sessions. Admins should follow a troubleshooting process to fix the error.
5. Printing stops working
If printing suddenly stops working for Citrix users, it may be due to the Print Service -- either the one from Citrix or the built-in one from Microsoft. Citrix Print Manager service is dependent on the Microsoft Print Spooler service. If one of these fails, the other one fails as well. Admins should check if the services are running on the session hosts where the users are not able to print out.