A device mesh is an ad hoc network in the internet of things (IoT). The term, which was coined by research firm Gartner, describes an ever-changing mesh network consisting of the endpoint devices that people use to access applications, information and other people. The goal of a device mesh is to provide the end user with a positive user experience (UX) by allowing each device to take advantage of network resources and data from other nodes in the mesh.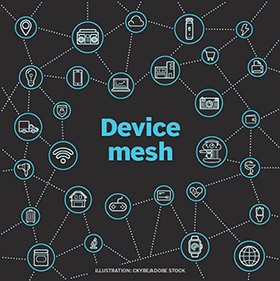 Device meshes are usually wireless and what the mesh looks like will change dramatically depending on what work is being done. For example, a graphic designer's device mesh in the office may consist of a smart phone, a drawing tablet, a laptop and a printer. When the designer leaves the office, however, the mesh will change to reflect the designer's new surroundings. For example, if the designer is driving home, his car will join the mesh to permit hands-free calling.
Gartner expects that as the device mesh evolves, new connection models will be created to facilitate seamless interactions between devices. The research firm also expects that as the internet of things grows and new types of smart devices are introduced, there will be significant digital disruption which will result in new business models as well as different security and management challenges.
This was last updated in
January 2019
Continue Reading About device mesh
Dig Deeper on Internet of things platform