3 real-world IoT edge computing examples
You've heard about the benefits of IoT edge computing, now read three edge computing examples delivering value for real-world companies.
Edge computing is revolutionizing the business landscape, bringing intelligence closer to point of data generation. With AI, machine learning and IoT, edge computing can enable faster data analysis, improve business processes and reduce latency, among other benefits.
The trend toward the edge is growing. Gartner predicted that today only about 10% of enterprise data is created and processed outside traditional data centers and the cloud -- a number the research firm expects to reach 75% by 2025.
Where and why should edge computing be considered? Here, three real-world companies offer insights into their IoT edge computing examples.
Daihen uses edge computing to analyze sensor data faster
Ichiro Yamano, executive officer of the innovation task force team at Daihen Corp., a Japanese industrial electronics company, described his organization's old monitoring and logging system as manual and time-consuming.
"Operations leaders at our Osaka factory were looking for faster ways to analyze sensor data from dozens of devices measuring material condition, and reduce the need for manual monitoring," Yamano said.
The answer? Edge computing.
Using FogHorn's Lightning Edge ML, which allows complex machine learning models to run on highly constrained devices, Daihen automated the monitoring of its industrial transformer manufacturing process.
FogHorn, a developer of edge intelligence for industrial and commercial IoT applications, builds software for real-time data analytics and data operations of its industrial customers, said Yuta Endo, vice president and general manager of business development and head of APAC operation at FogHorn.
"Everything cannot happen in the cloud, so you have to balance it out between edge and cloud," he said. "We're doing a lot of heavy lifting on the edge side, and collaborating with a lot of cloud vendors and on-premises services to do a lot of closed-loop machine learnings and analytics."
Deploying FogHorn's real-time analytics and machine learning at the edge has enabled Daihen to identify production errors immediately, as well as improve collaboration and data accuracy.
Daihen also installed new sensors to monitor temperature, humidity and dust levels throughout the plant via RFID. This produces real-time data that identifies how each part of the electric transformers are assembled and stored, and tracks how long each stage takes to complete, Endo said. This edge intelligence, gathered from a combination of sensors, programmable logic controllers and applications, gives insight into any changes that might affect the quality of the components being produced.
"We knew harnessing the power of our industrial data would enable us to improve efficiency in our factory operations," Yamano said. "FogHorn's solution offered accurate, real-time data processing, allowing us to visually analyze data during the manufacturing process, improving production quality and automating a significant volume of manual processes."
The manufacturing department needed one other key element: a visualization system. For this, it turned to FogHorn partner Energia Communications Co. Ltd.
Takahiro Masuda, IT manager at Energia, said it was necessary to organize, clean and enrich various heterogeneous data from Daihen's networks.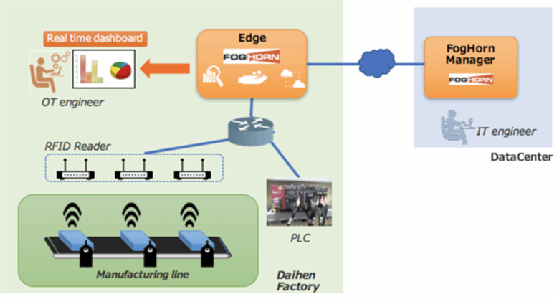 The result was one that exceeded Daihen's expectations. Within six months of deployment, Daihen's Osaka factory achieved 70% coverage with the RFID-based tracking system and expects to save an estimated 1,800 hours annually in manual logging processes, according to Yamano.
In addition, the company is now able to make faster, more accurate business decisions with better intelligence of factory and manufacturing operations with detailed, contextualized manufacturing process data, he added.
"When we roll out the FogHorn solution to all of our factories across Japan, we're expecting to see an annual savings of 5,000 hours," Yamano said.
AeroFarms uses edge computing to improve operational processes
The mission of New Jersey-based vertical farming company AeroFarms is to grow the best plants possible for the betterment of humanity, while conserving natural resources. Vertical farming -- where plants and produce are stacked vertically in layers -- combines horticulture with data science to grow crops indoors.
Founded in 2004, the company cultivates short-stem leafy greens and herbs in tightly controlled indoor environments without sunlight, soil or pesticides -- a process Marc Oshima, AeroFarms' co-founder and chief marketing officer, said is 390 times more productive than field farming while using 95% less water.
"Baby leafy greens out in the field may take 30 to 45 days to grow, as an example; we can grow them in 12 to 14 days," he said.
Stacked from floor to ceiling in AeroFarms' 70,000 square foot Newark facility, each plant is equipped with an IoT-enabled sensor that tracks how much water it consumes, its nutrient density and how ready it is to be harvested -- a prime edge computing example in an updated, yet traditional, industry.
Temperature, water and lighting are adjusted automatically so AeroFarm teams know exactly when to pick the vegetables for maximum flavor, nutrition and freshness, and thus avoid spoilage and waste.
One of the challenges AeroFarms faced when deploying the system was ensuring the integrity and timeliness of the sensor data captured. Pairing the IoT sensors with machine learning and Dell Edge Gateways enabled the company to overcome this challenge and improve the growing environment.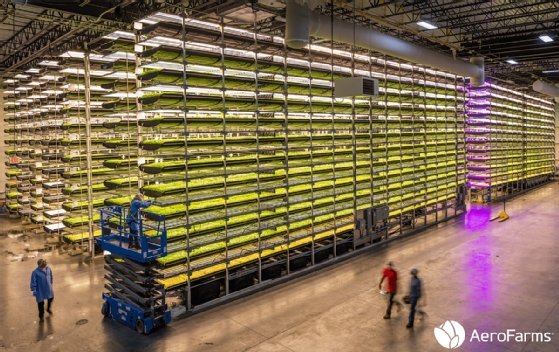 "Using the edge gateways, we're able to wirelessly monitor all the inputs going into an assessment that allows us to understand the levels in terms of any kind of variability, which allows us to marry environmental factors with qualitative factors and to be able to think about how to continually improve our growing algorithms," Oshima said.
Where other customers may use the edge gateway to instrument their control systems and pump that data into the cloud for analytics, AeroFarms placed its gateways upstream of its lighting and irrigation systems, where it collects data and feeds it into the company's back-end system for teams to take action.
"The gateway is basically the bridge to their control systems and all the sensors in their facilities," said Jason Shepherd, CTO of IoT and edge computing at Dell Technologies.
Network Next uses edge computing to reduce latency
Network Next, founded in 2017 by game developers and network professionals, has one goal: to make the internet better for gamers. A key piece of this puzzle is combatting latency -- as few as 5 milliseconds can mean the difference between winning and losing a game. However, today's internet isn't optimized for games; it's made for static and streaming content, not real-time applications, such as online multiplayer games, said Glenn Fiedler, CEO of the startup based in Santa Monica, Calif.
It might not be a typical edge computing example, but it was the answer for Network Next. The company enlisted the help of Limelight Networks Inc.'s edge cloud platform to create an internet fast lane for games to deliver the best multiplayer experiences possible.
"Edge computing is really interesting because it lets us run some computing really close to the players -- and Limelight can do that very well," Fiedler said. "We take all the networks and we find the best route for every player to where they're playing a game. We steer that using the edge compute that Limelight provides us."
Fiedler admits what the company is aiming to do is quite radical compared to traditional edge computing use cases. "We're actually using edge computing to get Limelight's network into a form where we can get game traffic going across it," he said.
Network Next's technology steers game traffic across Limelight's network via Limelight Points of Presence, or edge nodes, throughout the U.S. These edge nodes are directly connected to data centers where the games originate to reduce latency and improve the game-playing experience for users, thanks in large part to LimeLight's private IP backbone with direct connections to more than 900 ISPs.
"We put our nodes in Limelight's Edge Compute, and we're able to take advantage of all of the work that Limelight has done peering with ISPs," Fiedler said. "This gives players a lower-latency experience that's more consistent than the public internet."
Network Next selected Limelight because it has multiple locations across the U.S. and other markets that it's interested in, and because of Limelight's connectivity with last-mile providers, said Neil Glazebrook, director of product management for edge at Limelight.
"So, if a gamer is on Comcast or British Telecom or Deutsche Telekom, we already have a sort of 'superhighway' from that user in their home to the closest Limelight edge location," he said.
Network Next is deploying Limelight's edge compute in around a dozen locations, Glazebrook said. The company offers its service to gaming providers that typically run origin servers either in private networks or the public cloud.
"They're really solving for multigame, low-latency streaming," he said. "Imagine you're a gamer who's using a gaming service that's been enabled by Network Next. You would connect to the closest Network Next edge, which happens to be running in the Limelight network."
For example, a gamer in the Dallas area connects to the Dallas Point of Presence. Then, every few milliseconds, the Network Next server analyzes the different routes from Dallas to the gaming origin server and determines the best path back.
"It could be across the Limelight backbone, it could be across an alternate IP transit provider or it could even be over the internet," Glazebrook said. "It's doing this very detailed analysis and mapping of the internet at multiple times per second just to make sure that that route back is expedited."
Especially in multiuser gaming, this ensures that everybody gets a similar or the same experience while playing the game.
In terms of analytics, Network Next is using its own analytics platform to get the necessary data to improve its operations. "We're feeding the data that we gather from all the players going across the edge network back to Limelight so it can improve its own edge for other customers," Fiedler said.