alphaspirit - Fotolia
7 AI and IoT features create seamless ends in customer journeys
In the commerce and post-commerce phases of the customer journey, AI and IoT applications -- such as biometric payment or loyal customer engagement -- build a seamless customer experience.
AI has the capacity to augment every phase of the customer journey, even after the customer purchases a product.
Organizations that use automation and machine learning harness data in new ways to deliver personalized value-added customer experiences in both the initial phases of awareness, consideration and evaluation and the later stages of commerce and conversion.
Today's consumers expect convenience and utility from their connected devices. According to a recent study by Visa and PYMNTS.com, 41% of connected consumers own at least one connected device. More than 60% said they would like to pay for products more efficiently.
Adding commerce capabilities driven by AI as a feature to a consumer IoT device capitalizes on the customers' desire to pay quickly on whatever channel they're using.
IoT touchpoints throughout the customer journey must harness the power of machine learning to create experiences that are so seamless that they are taken for granted in their intelligent orchestration.
Integrate AI into commerce and post-commerce customer experience
Examining the latter phases of the customer journey, the following are seven examples of common AI applications that create IoT features.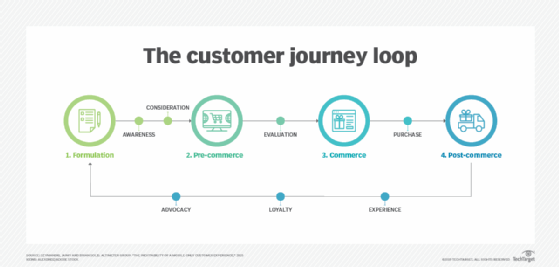 1. Biometric payment. A consumer connects his or her payment preference to the IoT device or virtual assistant to seamlessly make purchases -- such as songs, groceries or in-app rewards -- with biometric data, such as a simple fingerprint scan, palm scan or voice command recognition.
2. Facial recognition. Using computer vision, an IoT device scans the user's facial features and retinas to determine their unique identity to unlock device privacy features or profiles, usage clearance, or payment verification.
IoT touchpoints throughout the customer journey must harness the power of machine learning to create experiences that are so seamless that they are taken for granted in their intelligent orchestration.
3. Chatbots. Whether used during the commerce phase of the journey to ensure conversion is complete or during the product experience phase to field questions or concerns, an AI-driven chatbot with adaptive algorithms can act as a 24/7 customer service agent. Chatbots can also take initial requests and then route to a live human agent to finish handling more involved issues.
4. Inventory management. When manufacturing, retail and other industries meet IoT, industrial IoT is born, giving way to seamless inventory management by connecting sensor equipment, robots and products to a machine learning algorithm that automatically provides supply chain insights, management and stock replenishment.
5. Sentiment analysis. Related to facial recognition and biometric identification technology, IoT devices analyze expressions, vocal pitches and haptic usage patterns to determine satisfaction during the experience phase. Organizations use this data for further product development or customer service resolution.
6. Personalized content recommendations. Take a page from Netflix and Amazon and use AI in combination with usage data and user content preferences to generate recommendations based on user profiles, demographics, sentiment analysis, time of day, room of the home and other individual data points.
7. Loyal customer or influencer identification and engagement. Retailers, restaurants and other heavy-traffic locations use in-store computer vision that connects with a loyalty program and facial scanning opt-in can easily identify the organization's most loyal customers or loyal influencers. Once identified, organizations can route additional customer service efforts and perks their way or simply provide additional product recommendations.
Though many AI and IoT features provide personalization and convenience to customers, one word of caution: Organizations must understand and account for the security challenges associated with on-device data collection and commerce. Be transparent with customers on data collection practices via IoT devices and how they use data to provide specific added value. Ninety percent of consumers already lack confidence in IoT device security, according to a Gemalto survey. Ease their concerns and instill trust by not only clearly stating intent and use of machine learning, but also securely collecting and storing data in compliance with industry regulations and encryption best practices critical to reducing the risk of data breaches.
Dig Deeper on Enterprise internet of things