sp3n - stock.adobe.com
Retail facial recognition and eye tracking the next tech wave, maybe
Biometric data is the last frontier of the shopping experience, as eye-tracking and facial recognition technologies slowly weave their way into the retail tech stack.
Your face tells your story and confirms your identity when you shop. Digitizing all that takes next-generation eye-tracking and facial recognition technology, which retailers and restaurateurs have just begun weaving into the IT mix to improve customer experience.
Stores and restaurants are testing retail facial recognition technology to help speed up checkout and ordering, users and vendors said at the recent NRF 2020 Vision: Retail's Big Show. Eye-tracking software (see sidebar) helps retailers improve user interfaces on e-commerce sites as well as in physical stores, influencing the planograms that map product placement on store shelves.
Customers in several small restaurant chains in California and Illinois can order meals on kiosks from vendor PopID, a company that integrates NEC facial recognition and Brierley Group digital loyalty programs into the kiosks. The goal for many restaurants with self-service kiosks is to eliminate humans taking orders and running payments, said Yale Goldberg, vice president of strategy and business development at PopID, and facial recognition can speed up the process
These are early days for retail facial recognition to connect loyalty program names and credit cards to customers, and so far, the results have been mixed. At restaurants with PopID kiosks, humans at the cash register can punch in orders and take payments in 30 seconds, while on their own, customers take an average of two and a half minutes, even with instantaneous facial ID.
Furthermore, concerns about data privacy Goldberg refers to as the "creep factor" can make some consumers reticent to use the system. So far, about 20% of the restaurants' customers opt in to PopID facial recognition for ordering and checkout.
That said, older customers -- who typically have more reservations about giving up personal data than Millennial-generation and younger customers -- are buying into the company's retail facial recognition systems at about the same rate, Goldberg said.
"People are returning to these restaurants frequently, and they understand they can have a much more frictionless experience when they opt in," Goldberg said. "Once it's explained, people start to trust the brand and can see the benefits."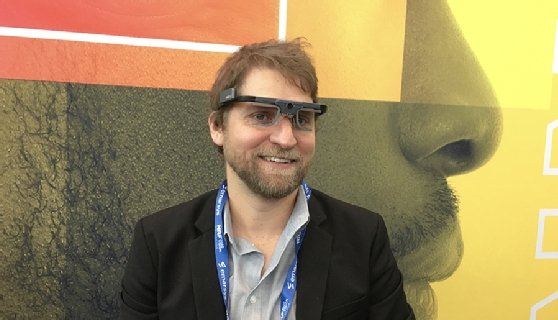 NCR sees biometrics on rise
Customer privacy concerns about opting into retail facial recognition are a barrier to widespread acceptance, said David Wilkinson, senior vice president and general manager of global retail at NCR Corp., which provides cloud application and infrastructure support for retailers. NCR is partnering with biometric ID vendors to offer convenience and grocery stores checkout kiosks using face ID, but Wilkinson characterized adoption as low, or even in the testing phase among the company's retail customers for now.
NCR remains agnostic on new tech such as biometric IDs, Wilkinson said, and supports as many as possible to meet its customer demand if and when it comes. NCR also offers computer vision tools for automated age verification for the purchase of age-restricted items, which the company said can be more accurate than humans.
Biometrics in general have much promise, Wilkinson said, for matching customers to loyalty memberships and enabling quicker checkouts. Facial recognition in particular, however, may have a difficult path to acceptance in retail among consumers. Alternatives such as palm recognition for payment may eventually prove more accurate and less intrusive for payments, he said.
"I think there will be some kind of AI-driven, biometric way that we can identify ourselves at retail," Wilkinson said. "At NCR, we can't bet our business on a winner or a loser; that's not the way we're built."
Integration woes slow progress
I think there's a massive opportunity, but there's a leap of faith needed. Taking that leap of faith is really hard for some organizations, but the technology's there.

Jon HughesEVP, REPL Group
Integration of facial technologies hasn't always been smooth. Customers have to relearn familiar processes like checkout. On the back end, new biometric data feeds must work their way into long-standing payment systems, or in the case of eye-tracking data, into planogram applications.
Many retailers are a few years off from getting their systems and data management working in harmony, said Jon Hughes, executive vice president at retail tech consultant REPL Group. A third have it "well sorted out," a third are just getting started and a third are in what he called "the dark space in the middle."
"The data's the big problem," Hughes said. He added that, in his view, facial recognition comes closer to true AI than many other technologies vendors call AI, but he views as basic automation without intelligence.
"I think there's a massive opportunity, but there's a leap of faith needed," Hughes said. "Taking that leap of faith is really hard for some organizations, but the technology's there."
The eyes have it: Giving retailers an edge
Eye-tracking technology, a staple of software development and assistive technology for the disabled, is finding uses in retail.
Some stores are using it to track what customers look at while shopping to influence planograms. Large brands can use eye tracking to keep tabs on retailer product placement, said Mike Bartels, director of marketing research and user experience at Tobii Pro, one of about a dozen companies offering variations on the technology.
A typical Tobii Pro application involves a retailer conducting a study of about 100 shoppers wearing the company's eye-tracking glasses. An application merges, sorts and dashboards the data collected through the glasses.
"They go about their normal shopping trip while wearing these glasses," Bartels said. "From that, you're capturing everything they look at, everything they ignore, what they consider when they're deciding to buy. It's literally seeing through the customer's eyes."
Moreover, when retailers design e-commerce sites, eye-tracking can be used to improve user experience. Companies can measure eye movement as customers browse and use the data to make shopping online more efficient, Bartels said.
Dig Deeper on Customer experience management