What is a planogram?
A planogram is a diagram that shows how and where specific retail products should be placed on retail shelves or displays to increase customer purchases.
There are six leading types of planograms:
block product placement;
horizontal product placement;
vertical product placement;
product placement based on commercial status;
product placement based on margin; and
product placement based on market share.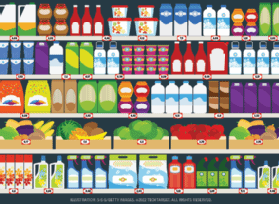 Key benefits of planograms include increased efficiency, maximized retail store space, increased customer satisfaction, visual appeal and increased revenue.
What is planogram merchandising?
Planogramming is a skill used in merchandising and retail space planning. The planogram merchandiser plays a vital role in optimizing retail shop space and creating compelling designs. A merchandiser's primary responsibilities include creating attractive displays and implementing planograms to increase customers' buying experience.
What is a planogram specialist?
A person with this skill is referred to as a planogrammer or planogram specialist. Planogram specialists themselves are also referred to as POGs. By analyzing past and current sales patterns, a planogrammer can make successful recommendations about the number of "facings" a particular product should have on a retail display.
What is planogram compliance?
Planogram compliance refers to the process of making sure that the planogram meets the requirements specified in the diagram. It involves checking the layout of the store against the planogram, verifying whether the planogram has been properly implemented and reviewing the results of this implementation.
The diagram documents how high or low the product should be displayed on a shelf and which products should surround it. The resulting planogram is printed out as a visual, which is then used by the part-time helpers who are often hired to restock retail shelves and displays. This gives the executive management of a retail store or chain more control over how products are displayed and enables them to track and improve on the success of their planograms.
Planogram components are often included in large space planning and retail space management software applications. Sophisticated applications use other information about the product, such as the amount of inventory left for the product, to build the diagram.
What is planogram software?
Planogram software helps retailers manage inventory more efficiently. It enables them to create a visual representation of their store layout so they know where everything is located. The software works by taking into account factors such as customer flow, product placement and shelf space. The result is a visual representation of the ideal layout of the store.
The most common types of planograms include shelf plans, floor plans and aisle plans. Every kind of planogram has its own advantages and disadvantages. For example, an aisle plan might be easier to use than a floor plan because it doesn't require you to draw lines on the ground. However, a floor plan may be harder to read and understand.
How to read a planogram
A planogram contains measurements for your aisles and shelving units. It indicates what kind of product display should be placed in each area, such as coolers or pegboard racks.
It includes details regarding brands, product sizes, packaging specifications and shelving techniques, e.g., flat. For example, if a planogram requires products to face outward, it clearly states that information.
Planograms are usually divided into two sections: The left side lists all the departments that sell general merchandise, such as clothing. In contrast, the right side lists all the departments selling specific categories of merchandise, like toys) The department names are listed vertically down the page, and the category names are listed horizontally across the page.
These rows represent the departments that sell general-merchandise items. For example, if the planogram says clothing is located in the Department A section, then Department A sells clothes.
The bottom row of the planogram represents the departments that sell specific-category merchandise. In this case, the planogram indicates that the Department B section sells toys, for instance.
When dealing with online stores, the first step in reading a planogram is determining whether the item sold is a product or a service. Products include things like food, furniture, electronics, etc., while services include things like haircuts, car repairs, etc.
Explore how customer engagement fuels retail success and why connected devices and shoppers will fuel the future of physical retail. Learn ways 5G in retail will propel change throughout the industry and how reimagined customer experience mobile apps are driving new sales.
This was last updated in
December 2022
Continue Reading About planogram