Definition
logistics management
Logistics management functions
To varying degrees, logistics management functions include customer service, sourcing and procurement, production planning and scheduling, packaging, and assembly. Logistics management is part of all the levels of planning and execution, including strategic, operational and tactical.
Further, it coordinates all the logistics activities, and it integrates logistics activities with other functions, including marketing, sales, manufacturing, finance and information technology.
Importance of logistics management
Effective logistics management is important to companies for a number of reasons, both positive and negative.
Good logistics management ensures that products are shipped in the most economical, safe, efficient and timely manner. This results in cost savings for the company and more satisfied customers.
In contrast, poor logistics management can result in damaged or delayed shipments, which can then lead to dissatisfied customers, returns and scrapped products. The consequences of these problems include higher costs and customer relation problems.
In order to avoid these results, effective logistics management includes careful planning, proper software system selection, proper vetting and selection of outsourced vendors, and adequate resources to handle the processes.
Logistics management process
Logistics management generally consists of processes for inbound and outbound logistics traffic. Inbound logistics is the process of moving goods from suppliers into a warehouse, then into a production facility to make products. Inbound logistics can include raw materials, tools, component parts, office equipment and supplies. Outbound logistics is the process of moving finished products out of warehouse inventory and shipping them to customers.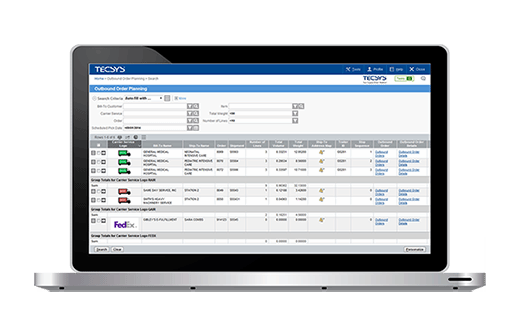 Here are some examples. For a computer manufacturer, inbound logistics might involve electronics parts, computer chips, cables, connectors, molded casings and shipping cartons. Outbound logistics involves the finished computer and associated peripheral devices. Meanwhile, for a furniture manufacturer, inbound logistics could involve wood, glue, fabrics, screws, nails, paint and safety glasses, while outbound logistics would involve the finished furniture.
Logistics processes also include reverse logistics, or the management of all the functions used to return goods and materials. Reverse logistics takes goods from the customer or final destination and returns them to the originating organization, where they can be reused, repaired, remanufactured or recycled.
Logistics management software
Logistics management software includes functions and processes that enable companies to manage and execute product storage and delivery. Logistics management applications run the gamut from large ERP systems that include comprehensive and integrated functions to specialized applications that only handle a few functions.
Logistics management functions that are a part of ERP systems are usually integrated with other business functions in the system, like sales, finance, procurement and human resources. More specialized logistics management applications focus on warehouse management, transportation management, and supply chain planning and supply chain execution.
Some logistics management software is designed to be configurable for various industries, while others are aimed at specific industries. Logistics management software generally began as on-premises systems, but more cloud or hybrid cloud options are now available.
Prominent logistics management software vendors include SAP, Oracle, IBM, Microsoft, Infor, Epicor, Blue Yonder, Manhattan Associates, HighJump, PTC, Coupa, Kinaxis and GEP.
This was last updated in
July 2023
Continue Reading About logistics management
Dig Deeper on Supply chain and manufacturing