ashumskiy - Fotolia
Blockchain loyalty programs building future of customer experience
While blockchain platforms are still under construction and use cases are still being written, Hooters invests in its own. Others -- including employee rewards -- are to come.
Imagine mining rewards at Hooters every time you down a dozen Buffalo wings. That's just one way blockchain loyalty programs can help retailers gain efficiency while satisfying their customers. In other words, loyalty programs can inspire actual customer loyalty -- and target frequent customers with a measure of attention commensurate with their patronage.
Loyalty programs that companies use today are ailing, according to a recent white paper from Deloitte. Problems include account inactivity, low redemption rates, time delays, high costs and low client retention.
Deloitte and others are working with blockchain loyalty programs specialist Loyyal Corp. to develop program models that use distributed ledgers and smart contract capabilities to reduce operating costs, facilitate partnerships and enhance the customer experience.
"Of course, businesses want to reward their most loyal customers, but for years now, the focus for most programs has been on profitability over keeping pace with customer expectations and what keeps them happy and engaged," said Loyyal CEO Greg Simon. "The pace of technological change in loyalty has been almost glacial. Many of these programs painted themselves into a corner where true innovation of the customer experience has been de-prioritized over cost containment."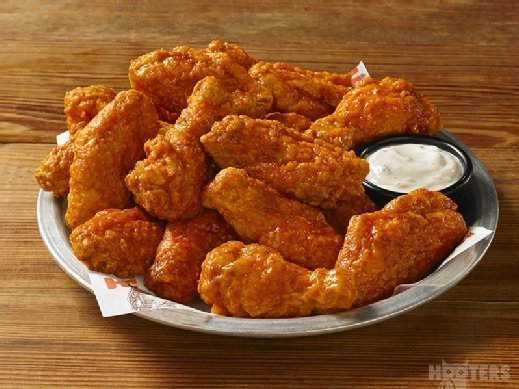 Hooters' parent company, Chanticleer Holdings Inc. -- which also operates and franchises American Burger Co., BGR (Burgers Grilled Right), Little Big Burger and Just Fresh -- announced the blockchain loyalty rewards program in January. Chanticleer plans to roll out the program mid-year with technology vendor Mobivity and its Merit cryptocurrency, which will be usable at any of the restaurants under its brand umbrella.
Blockchain-based platforms offer new features
"Augmenting the legacy systems of these programs with an adaptive blockchain platform provides the ability to share value between earning and redemption partners more easily and efficiently than ever before," Loyyal's Simon said.
Another interesting feature in blockchain loyalty programs that Chanticleer plans to add to its Mobivity-based customer rewards is giving customers the ability to pass rewards among themselves because of its ironclad identity tracking mechanisms.
"Blockchain can even facilitate member-to-member exchanges of program currency in a secure and cost-effective way that program operators have had to avoid in the past," Simon added. "The smart contract layer allows programs to customize value transfer, and loyalty programs can actually afford to have the customer redeem more of their points. A program no longer needs to rely on breakage to be profitable."
Loyyal is conducting pilots with Deloitte, the airline Emirates and other companies. The programs maintain the identity and format during the pilot phase while running a parallel version of the program on blockchain. This gives companies a chance to witness the process efficiency gains before committing to the blockchain-based platform.
Employers rewarding workers, too
Deloitte is piloting blockchain on an internal rewards program known as DCoins, and it is actively promoting a white-label program that it can, in turn, sell to its clients.
Eric Piscini, a principal with Deloitte Consulting's financial services practice, said blockchain-based rewards are suitable for employee programs, as well as customer programs in retail, credit cards, travel and hospitality. Another use case is citizen engagement, where governments can improve citizens' ability to use and receive government services, from parking to food stamps.
Much of the process improvement is delivered by the smart contract functionality that was originally developed for Ethereum. A smart contract is software deployed on a distributed ledger that automates the transfer of digital assets, such as reward points, once predetermined conditions are met.
Smart contracts execute transfers automatically, so they are no longer managed by a centralized server, according to Simon.
"There is more efficient connectivity on a peer-to-peer network that has copies of the distributed ledger, and this allows you to do something you could not before, like award points in near real time and exchange points between partners who are using the same environment," he said.
Blockchain enables participating agents to intersect and interact in one system without intermediaries and without compromising privacy or competitiveness, according to Deloitte's white paper.
"For loyalty rewards program providers, we also believe that blockchain has the potential to streamline execution and administration of their programs with near-real-time transparency, resulting in cost savings that can be realized in the medium term," Simon said.
On Loyyal's network, two companies that want to accept each other's points can agree on the terms of exchange, create smart contracts that build the exchange terms into a programming language, and enable exchanges to occur under customer control with no centralized management or reconciliation.
For example, an airline that partners with a hotel chain could create a smart contract to detect a hotel check-in as a triggering event and prompt the customer in near real time with an option to receive a bonus points allotment and apply it against their hotel bill.
You can create an excellent experience for the customer that truly reinforces their loyalty.

Greg SimonLoyyal
"You can create an excellent experience for the customer that truly reinforces their loyalty," Simon said.
There is no native token cryptocurrency in Loyyal, and companies operate their own branded programs on a permissioned, private blockchain.
"It is an invitation-only controlled environment that ensures you will have high-quality counterparts," Simon said. "They also don't need to replace or subordinate their own branded currency to some speculative new cryptocurrency of the week."
AI coming to blockchain loyalty programs
In the near future, Loyyal plans to enhance the program with machine learning and multi-branded coalitions. Machine learning AI can learn across the entirety of an individual's transactions across multiple programs and help personalize their interaction with any program or redemption partner.
"The program becomes more attractive and specific to your lifestyle, so the customer feels more recognition, is able to extract more value from their participation and, in turn, they become more loyal," Simon said.
In a multi-branded coalition, companies can co-brand their loyalty programs to make them more valuable to customers while reducing their carried liability.
"It is near impossible today for large program partners, say an airline and a hotel company, to easily promote multi-brand behaviors where a customer could, for example, earn a bonus for taking specific flights in combination with stays at a specific hotel property," Simon said.
"The after-the-fact reconciliation and settlement of the kind of promotions have been prohibitively complicated and expensive," he added.
Smart contract functionality overcomes this by building trusted reconciliation and settlement right into the transactions themselves on the network, with strict control over the accounting for every exchange of value.
Loyyal encourages clients to re-evaluate the value proposition of their rewards programs. As blockchain drives down the operating cost, they can focus less on profiting from breakage and more on delivering recognition and driving engagement, ultimately resulting in greater customer loyalty.
Loyyal is currently targeting verticals such as financial services and travel and hospitality, but the platform is equally applicable to employee rewards and healthcare wellness incentive programs.