adimas - Fotolia
Loyalty rewards program fuels convenience store's CX
Since launching a loyalty rewards program last year, convenience store and gas station Yesway has driven 45.2% of loyalty members from the pump to the store.
For gas station convenience stores, it can be a challenge to get customers to come into the store from the pump. Yesway, a convenience store brand with 150 stores across the Midwest, launched a customer loyalty rewards program in summer 2017 to try to counter this problem, and it saw near immediate results.
With the help of its partner Paytronix Systems Inc., a SaaS customer experience management provider for restaurants and convenience store brands, the program has been a success. Within 60 days, 44% of registered members who made at least one visit redeemed a reward. And, one year in, its program has succeeded in driving 45.2% of its loyalty members from the pump to the store.
"Unequivocally, the program has shown us that loyalty is a driving force in terms of customer traffic, customer visits and overall basket size for loyalty customers," said Darrin Samaha, vice president and brand manager of Yesway. "There is tremendous value in this and we will continue to grow the program and make sure that as many customers as possible get into the program."
The loyalty rewards program works using a card, but there is also a loyalty app built on the Paytronix platform. Customers earn Yesway Smile currency by purchasing fuel or items in the store, and then the Smiles can be redeemed for promotional items, such as a free fountain drink, coffee or snack, as well as discounts on fuel.
Unequivocally, the program has shown us that loyalty is a driving force in terms of customer traffic, customer visits and overall basket size for loyalty customers.

Darrin Samahavice president and brand manager, Yesway
On top of that, Yesway runs email marketing campaigns and sends push notifications, and the company is looking to integrate digital coupons, add messaging capability and dig deeper into customer data as the program expands and its customer base grows.
"The more campaigns we can run the more granular you can get with the types of segmentation with the customer data," Samaha said. "That is the next phase. Beyond that, we are looking at really embracing that frictionless loyalty concept where we can offer a full digital wallet for payment for our customer."
Choosing a loyalty rewards program
Yesway chose Paytronix as its loyalty rewards program partner over similar vendors, such as Annex Cloud, Clutch and Belly, because Paytronix provided the right technology, flexibility and people to support Yesway's data-driven marketing approach.
Paytronix, which declined to discuss pricing, charges a monthly fee for its services. One of the services Paytronix offers is big data customer insights, which customers can use to motivate their guests to increase spending and drive revenue.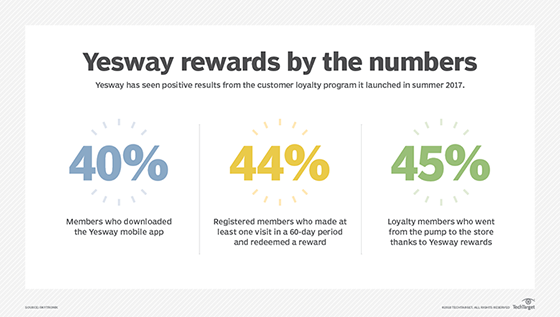 "We are very active in our program in terms of management," Samaha said. He and his team wanted to run AB testing on promotions and get very granular with the data -- something that, according to Samaha, is pretty unique in the convenience store space at the moment -- and the Paytronix platform was well-equipped to support those goals. Yesway was reluctant to discuss the specific challenges of implementing the Paytronix platform, but the company did acknowledge the importance of engaging employees with the rewards program.
Yesway also wanted the flexibility to be forward-thinking with their customer journey map and to pivot to introduce new features to the loyalty rewards program to meet the changing demands of customers. For example, online ordering is down the line on the company's product roadmap.
It is a challenging task to get someone to come from the pump into the store. According to Samaha, a lot of the convenience stores that offer a loyalty rewards program start with fuel rewards, but Yesway decided to start with in-store rewards and then expand to fuel rewards.
"We took a different approach because we believe long term that what moves the needle on the bottom line on a program like this is in-store profits and in-store loyalty," Samaha said. "That is why we are so focused on the data and making sure that we really truly understand what is resonating with the customer."
After all, there is always a gas station across the street that customers can choose instead. But if Yesway can get five more customers into the store each day across 150 stores, that can have a fairly significant impact on the bottom line.
As more businesses implement loyalty rewards programs, Samaha suggests that marketing managers look at how other industries build and roll out these programs for inspiration.
"We looked outside of our space for inspiration on our program," he said. "For example, the hospitality space has been doing loyalty forever -- same with the airline industry -- and they have a wealth of data and metrics and numbers on what it takes to move the needle incrementally for a customer."