Definition
Amazon QuickSight
What is Amazon QuickSight?
Amazon QuickSight is a machine learning-powered business intelligence service built for the cloud under the Amazon Web Services umbrella. It enables firms to make smarter data-driven decisions.
The Amazon QuickSight BI utility enables businesses to create and analyze data visualizations and extract easy-to-understand insights to inform business decision-making. These interactive dashboards can be seamlessly embedded into many applications, portals and websites.
Amazon QuickSight is scalable, so it can support thousands of users without additional infrastructure management or capacity planning. It is also device-agnostic.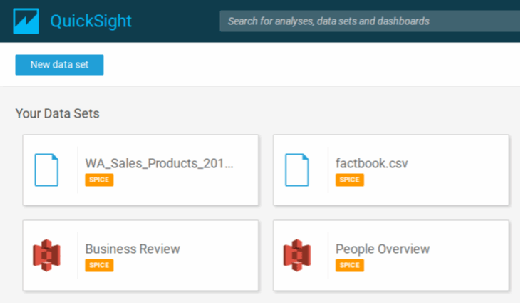 What is Amazon QuickSight used for?
Amazon QuickSight enables companies to access and explore deeper insights in an interactive visual environment. It includes natural language query capability -- dubbed QuickSight Q -- so users can ask questions of their data in plain English. BI teams won't have to pre-build data models on specific data sets. The more users use Q, the better it gets thanks to its built-in dictionary and feedback mechanism.
The BI platform describes these insights in simple language to whoever needs them, even if they lack data science experience. Users can also make predictions about outcomes through features such as anomaly detection or forecasting.
How to visualize data with Amazon QuickSight
Amazon QuickSight delivers interactive dashboards and insights in the following few steps:
1. Collect and load data
Amazon QuickSight pulls and reads data from many Amazon utilities including Aurora, Athena, Redshift, Simple Storage Service (S3) and Elasticsearch Service 7.7. It also integrates with on-premises databases, file uploads and API-based data sources like Salesforce. click streams, sales orders, IoT devices and financial data are also supported. Amazon QuickSight allows end users to upload incremental data in a file or an AWS S3 bucket.
2. Connect to data
Amazon QuickSight connects to data, regardless of location: AWS cloud, corporate data center, SaaS, third-party applications, CSV/XLSX/JSON files, etc. Before analysis, Amazon prepares data by filtering it, renaming fields for easier readability, changing data types (if required), adding calculated fields and creating SQL queries.
3. Analyze data
The BI platform examines the data and uses its Super-fast, Parallel, In-memory Calculation Engine (SPICE) to perform calculations and create graphs quickly. The engine's storage and processing capacity eliminates the need to retrieve data every time an analysis is changed or visually updated.
4. Create visualizations
QuickSight creates visualizations users can arrange and customize. Moreover, it eliminates the need for users to perform manual extract, transform and load operations. The tool shares interactive dashboards, email reports and embedded analytics that business users access to derive insights and take necessary actions. The QuickSight workspace also provides interactive graphs, charts, tables, stories, sheets and many other types of visuals. With embedded analytics, users can both view and author dashboards within their enterprise applications.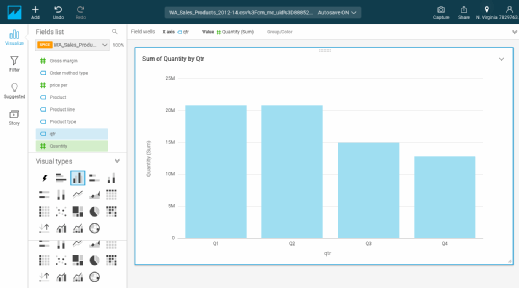 The top 5 things to know about Amazon QuickSight
1. QuickSight's platform is secure and incorporates multiple-region availability and built-in redundancy, so users can distribute dashboards and insights to multiple users.
2. The workspace where users create and interact with visuals is called an analysis. Here, they can view, arrange and calibrate various graphical data presentations, such as interactive graphs, charts and stories.
3. The SPICE engine automatically replicates data while shielding underlying data infrastructure, so multiple users can simultaneously perform fast, interactive analyses.
4. With ML and natural language capabilities, users can:
discover hidden trends;
identify outliers and key business drivers; and
perform what-if analysis and forecasting, even if they lack technical expertise or ML experience.
5. Use the machine learning models built in Amazon SageMaker to build predictive dashboards -- without writing any code.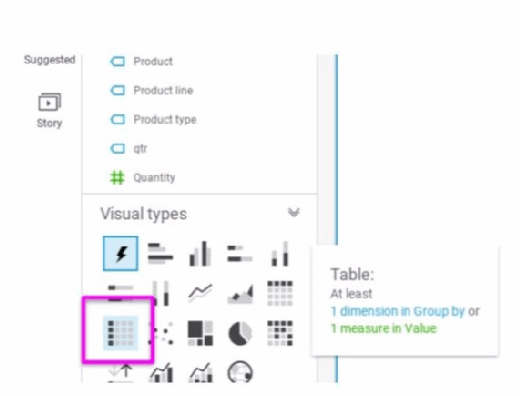 The 7 major benefits of Amazon QuickSight
Amazon QuickSight is a fully managed cloud-based service that can combine data from many different sources accessible in a single dashboard. It offers the following advantages.
Easy to set up and use
QuickSight requires no complex server setups, data models or capacity planning, so users can get going quickly. Roll out new ML-powered BI dashboards at scale for fast insights and improved decision-making.
Fast performance
SPICE, QuickSight's in-memory calculation engine, automatically replicates data for high availability while saving time, money and resources.
With a pay-per-session model for dashboard readers (consumers), users won't incur any upfront costs for licenses.
Ability to create embedded dashboards and APIs
Using single sign-on (SSO) and APIs, users can create interactive visualizations and dashboards and embed them into applications and web portals without writing any code.
Compatible with multiple data sources
QuickSight is compatible with many sources, so users can get insights from SaaS applications, third-party databases, native AWS services, private Amazon virtual private cloud (Amazon VPC) subnets and more.
Security, multi-region availability, built-in redundancy
Distribute dashboards and insights securely to multiple users, and manage users and content with role-based access control and SSO. QuickSight is also compliant with many industry standards including HIPAA, FedRAMP and security operations centers.
Anytime, anywhere access to dashboards and visualizations
With QuickSight Mobile, users can get insights from their data on any device from any location. The mobile-optimized experience includes capabilities like drill-downs, filters, forecasting, email alerts and collaborative viewing and sharing.
How much does Amazon QuickSight cost?
Amazon QuickSight is the first BI service with pay-per-session pricing. Organizations only pay when their users access dashboards or reports. This makes it very cost-effective for large-scale deployments.
QuickSight comes in two flavors:
Standard Edition

Personal data analysis and exploration
Available only for authors at $9 per user per month with an annual subscription ($12 per user per month for month-to-month payments)

Enterprise Edition

Delivers insights at scale
Available for both authors (dashboard publishers) and readers
Readers per user pricing: $5 per user per month
Readers session capacity pricing: $250 per month for 500 sessions
Authors per user pricing: $18 per user per month with an annual subscription ($24 per user per month for month-to-month payments)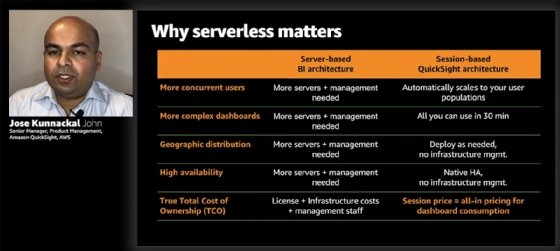 QuickSight also supports alerts and anomaly detection (threshold-based or automatic). The price for this add-on is transparent and based on metrics evaluated.
This was last updated in
June 2021
Continue Reading About Amazon QuickSight