Maksim Kabakou - Fotolia
Tibco Spotfire BI platform gets an AI boost
Tibco Spotfire customers will benefit from AI upgrades.
Tibco Spotfire users will benefit from the enhanced cloud-native and augmented intelligence capabilities the vendor has added across its business intelligence products.
During its recent Tibco Now event in London, Tibco, founded in 1997 and based in Palo Alto, Calif., revealed products, added features to existing products and upgraded connectivity capabilities, all with respect to cloud-native deployment and the credo of AI everywhere.
Tibco Mashery Local Developer Portal is now available as a fully cloud-native tool, and the company is seeking beta users for a new cloud-native metadata management service called Tibco Cloud Metadata. Tibco also support for IoT-based machine-to-machine communication, and it rolled out an open source specification called CatalystML that will capture data transformations in real time.
Most important to customers of the Tibco BI platform, however, is a interactive AI and machine learning capability within Spotfire that will allow users to find out the root causes behind specific data points with one click.
"I think their AI announcements are critical to delivering value and saving time to more folks within the business," said Mike Leone, senior analyst at Enterprise Strategy Group, based in Milford, Mass. "It's about incorporating tools and efficiencies that help everyone utilizing the technology, and it truly is about everyone."
I think their AI announcements are critical to delivering value and saving time to more folks within the business.

Mike LeoneSenior analyst, Enterprise Strategy Group
That includes data scientists, data architects, data stewards and the developers within an organization, according to Leone.
"Providing all of those roles with technology that is infused with AI will make their jobs easier, enabling them to add value to the business faster," he said.
The motivation behind Tibco's recent updates was to further the company's aim of bringing data to insight as quickly and easily as possible, according to a company spokesperson.
Beyond the added AI capabilities, customers of the Tibco Spotfire platform will benefit from an enhancement to Tibco's Data Science offering. Users will be able to call up models developed within Data Science but for Spotfire to help predict likely outcomes based on underlying data.
"The focus is on enabling non-data scientists to create and use predictive models with the assistance of automation features that iteratively test a range of algorithms and recommend best-fit models," said Doug Henschen, vice president and principal analyst at Constellation Research. "[The] 'runner' for Spotfire is designed to simplify the use of machine learning and statistical models."
Henschen added that the AI and machine learning additions to the Tibco BI platform are in line with what customers of other business intelligence vendors are demanding, but noted that Tibco is going about adding the third-generation BI tools in a different way than many of its competitors.
"Leading BI and analytics vendors are broadly pushing from descriptive and diagnostic analytics into predictive methods," he said. "[But] Tibco is doing that internally while other BI and analytics vendors have turned to partnerships. It's the old battle between favored, best-of-breed solutions and all-in-one, end-to-end offerings."
Tibco is opting to try to be an all-in-one, end-to-end provider of analytics.
With respect to the cloud, Tibco Cloud Metadata is a tool that at some point will likely benefit users of the Tibco BI platform. Tibco Cloud Metadata is a data catalog tool that will help users find and manage large amounts of data by centralizing all that data in one location.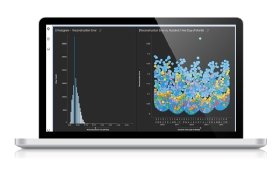 According to Henschen, once available to the general public next year, integrating Tibco Cloud Metadata with Spotfire is part of Tibco's roadmap.
"As with other catalogs, the focus is on making it easier for business and technical users to find, understand and use data," he said. "I'm seeing lots of catalogs being , and they're frequently integrated with BI and analytics offerings. Where some catalogs are point solutions tied to specific products and platforms, Tibco Cloud Metadata ... is an enterprise-level service intended to catalog sources and assets across organizations, whether on premises or running or stored in clouds."
Meanwhile, Leone noted that Tibco's commitment to cloud-based technology gives its users options.
"Hybrid cloud is the way of the future -- if not already here -- and data has gravity based on where it's generated and/or analyzed," he said. "By embracing ... flexibility in how customers consume technology, access critical data and build modern data-centric applications, Tibco is able to deliver value to customers no matter where they fall on their journey to the cloud."
Moving forward, the next major release of Tibco Spotfire will be version 10.6 -- there have already been five updates since Spotfire X was rolled out in November 2018.
Upgrades, according to Bipin Singh, Tibco's senior director of product marketing for analytics, will include the interactive AI functionality along with support for streaming analytics in the web browsers of both authors and consumers of Spotfire's streaming analytics applications.