Getty Images
Cenegenics modernizes with Domo's embedded analytics suite
The performance health specialist has achieved double-digit revenue growth in the year since adopting the BI vendor's suite and embedding data tools in the workflows of end users.
Cenegenics efficiently collects data to develop personalized health programs for its clients, but until recently, the performance health specialist's approach to disseminating data was far from efficient.
Rather than use modern data management and analytics technology to distribute data to its locations in real time, the nearly 25-year-old company did so in quarterly Microsoft Excel documents.
Often, by the time those quarterly Excel reports reached Cenegenics' various locations, they were outdated, explained Roxana Boboescu, director of business intelligence at Cenegenics, during a session at Domopalooza 2023. The virtual conference was hosted this week by analytics vendor Domo.
We really struggled with getting data to our locations that was relevant and aligned with the goals of our leadership team. We realized we needed to do something about it.

Roxana Boboescu Director of business intelligence, Cenegenics
"We really struggled with getting data to our locations that was relevant and aligned with the goals of our leadership team," Boboescu said. "We realized we needed to do something about it."
Cenegenics uses diagnostic testing and lab analysis to develop customized exercise, nutrition and hormone optimization programs to help its clients reach goals such as sharpened mental acuity, increased energy, improved muscle mass, better sleep and weight loss.
Its diagnostic tests produce reams of information used to customize programs for clients, and its lab analysis results in more than 90 biomarkers for each individual, according to Boboescu.
At the core of Cenegenics' personalized programs is data.
Deploying business intelligence
Cenegenics' first step to modernizing its approach to data analysis was to create a dedicated data team -- a BI department.
Boboescu, who became Cenegenics' director of marketing and analytics in 2019, was named the company's first director of BI in 2021. With the guidance of RXA, a consulting firm specializing in data and analytics, Cenegenics evaluated tools. It selected Domo over Tableau and signed a contract to deploy the analytics vendor's platform in March of that year.
Domo's cache of capabilities include application development and embedded analytics, all with the aim of making data consumption and analysis part of as many people's workflows as possible.
Cenegenics' leadership team established a set of key performance indicators (KPIs) to include in Domo dashboards -- first for its sales personnel and then to measure the performance of its individual centers.
Rather than store the dashboards in a centralized location, such as a data catalog, Cenegenics pushed the dashboards to end users. That way, the dashboards became part of users' normal workflow and could lead to insights that employees could act on immediately.
Using Domo Everywhere, the analytics vendor's toolkit for embedding BI, the Cenegenics BI team embedded the dashboards into its Salesforce partner portals.
"It was important that our doctors, health coaches and patient coordinators not have to go out of their way to access data," Boboescu said. "We embedded their dashboard so that it's in the same account where they manage their patients. They can just click a tab, and all their KPIs are right there."
Starting from scratch
Because it had never before used a BI platform, Cenegenics was a blank slate.
There were none of the normal issues organizations face when converting to a new vendor's tools. There were no analytics dashboards or data models built with one platform that had to be re-coded and moved to Domo. And there was no intricately coded data stored in a database that had to be migrated to the cloud.
There were also no pre-existing KPIs. And that made Cenegenics' case complicated in an unusual way, according to Chris Brogan, senior vice president of data strategy and analytics at RXA.
"One of the challenges was starting from scratch," he said. "From a consultant's standpoint, [it's easy] when you come in and the clients know what they want and they know where they want to deliver [their data] and just want some help extracting information and putting it in visuals that will work. This was a green field."
Cenegenics had to build not only the dashboards to embed into end users' workflows, but also the KPIs.
Company executives -- with guidance from RXA -- first decided which metrics were most important and how to define and measure them. Then data had to be curated to inform those metrics.
"It goes back to that definition of what the meaning of is is," Brogan said, noting the complexity of starting from scratch. "It does tend to take up a fair amount of time when you're starting with a green field. But it's also beautiful because people really understand what the metrics are and what's going in to them."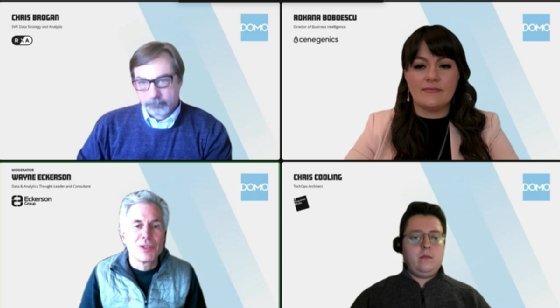 Results
Two years after deploying Domo, Cenegenics sees tangible results.
And that's despite continuing to build new dashboards and develop KPIs throughout the past 24 months, while rolling Domo out to other departments.
Armed with information they can put to use in real time when interacting with existing and potential clients, Cenegenics is growing.
The company's client count grew 16% from 2021 to 2022, and its program sign-up rate rose 11% during the same period, according to Boboescu. The net result was a 10% increase in year-over-year revenue.
"We've seen a culture shift," Boboescu said. "We're no longer just task-oriented. Now, we're very performance and data-driven."
Still, not all employees have been quick to adopt new workflows. Cenegenics created incentives to convince employees stuck in their ways to use the new KPIs.
Every quarter, Cenegenics measures the performance of each location. All employees at the one with the best performance win a trip to Las Vegas. In addition, Cenegenics gives one of its locations a "Center of Excellence" award.
"We couldn't have done that without the KPIs we have in Domo," Boboescu said.
The dashboard developed for the company's sales and marketing department took a matter of weeks. Developing KPIs and building a dashboard for its revenue department involved more back-and-forth discussions that resulted in a longer development period.
Moving forward, Cenegenics plans to use Domo to develop analytics tools for more departments. The Cenegenics BI team is working with RXA to develop a dashboard for Cenegenics' inventory and warehouse team.
"We're getting ready to launch their dashboard and get them into Domo as well," Boboescu said. "That's our next step. We're about halfway through."
Eric Avidon is a senior news writer for TechTarget Editorial and a journalist with more than 25 years of experience. He covers analytics and data management.