Tech integration partnerships can help boost IT productivity
Enterprise Strategy Group's Doug Cahill discusses survey results that show using integrated technologies from multiple vendors can free up IT teams for strategic projects.
Increased complexity of IT environments is pushing organizations to embrace software product options that support technology convergence and platform consolidation, according to Enterprise Strategy Group, TechTarget's research and analysis division. Joint technology offerings from two or more vendors that have formed integration partnerships with each other are one such option for IT buyers to consider.
In a 2023 survey of 352 IT professionals involved in evaluating and purchasing integrated technologies, conducted by Enterprise Strategy Group (ESG), cybersecurity and hybrid cloud offerings tied as the most widely installed types of joint solutions. Both were in use at 62% of the organizations with existing deployments, while SaaS solutions were third on the usage list at 56%. In addition, a combined 67% of survey respondents said their organization's budget for integrated technology purchases had increased somewhat or significantly during the previous 12 months.
Respondents were also asked about the reasons for using integrated solutions and the challenges they've faced in doing so. ESG has published a report on the survey, titled "The Buyer's Journey to Integrated Solutions from Strategic Partners." In this Q&A, Doug Cahill, senior vice president and practice director for analyst services at ESG and one of the report's authors, discusses some of the key survey findings and what they mean for both user organizations and technology vendors.
Editor's note: The following was edited for length and clarity.
Hybrid cloud and cybersecurity were the top technology areas for previous purchases of integrated solutions, as well as planned purchases in the next 12 to 24 months. Does that just reflect what organizations are focused on overall or do those two things lend themselves to integrated solutions?
Doug Cahill: A little bit of both. It is reflective of market trends at large. IT has always been heterogeneous, and now in the cloud era it's similarly heterogeneous. I'm always mindful that old technology has a long tail. Unless you're a digital-native and cloud-native company, you're going to have multiple generations of technology. You'll have on-premises infrastructure, which you increasingly are going to try to transition to an elastic private cloud. But you may have business units that are consuming services from multiple public cloud providers, which is why we land in a hybrid multi-cloud environment -- a distributed cloud environment.
That directly relates to cybersecurity, because we are now expanding our attack surface and our attack surface is becoming more complicated. What organizations need to do is to move from a siloed approach to a unified approach. One of the reasons there's convergence in cybersecurity is, yes, for operational efficiency to address complexity, but it's also very much for efficacy, where a converged solution will provide consistency of policies and visibility across the distributed environment. In a siloed approach, different teams are using separate controls to secure separate environments, and you can have inconsistency.
What are the key business drivers for integrated technology purchases in organizations?
Cahill: The overarching theme in terms of the business drivers is to gain greater operational efficiency, which is a bit of a nebulous concept -- so in our research, we asked a couple of questions to ascertain how IT leaders think about the KPIs associated with operational efficiency. One of the things we learned is it's really about making better use of existing staff: 65% said the top business driver for an integrated partner solution is to increase IT team productivity. The sentiment as to whether or not they would achieve that through an integrated partner solution was very positive. Eighty-eight percent said they agree that a joint solution will help free up staff resources.
When I think about that particular language -- free up staff resources -- it's to go work on more strategic projects. We know there are some critical areas in technology departments where there is an acute shortage of skills: cybersecurity, architecture planning, automation orchestration and more. Those are all highly strategic by definition, and what respondents are telling us is that an integrated partner solution will allow them to free up staff resources to further digitally transform their enterprise so they can capture new market opportunities, new streams of revenue and so forth.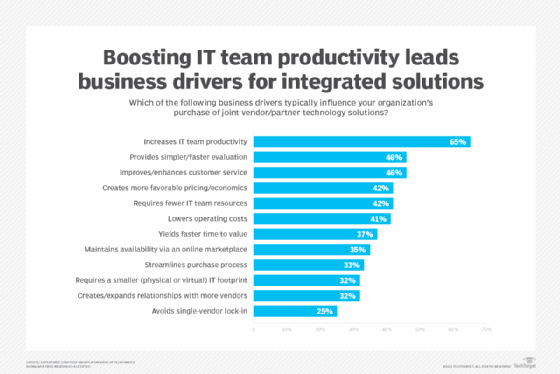 What do you make of the survey data on how integrated solutions have performed relative to business expectations in organizations? More than 90% of respondents said their most recent purchases were meeting or exceeding expectations.
Cahill: The business outcomes for integrated partner solutions were very encouraging. We had a majority of enterprise organizations, especially -- 52% that said their experience was it either far exceeds or exceeds expectations. That's awfully positive. The market at large is similarly bullish that integrated partner solutions were meeting and beating expectations. But the question is, why is it that enterprises had an even more favorable report, and it's in part because they're well resourced. They have staff and skills to be able to effectively implement and gain organizational alignment to realize those business outcomes.
While the research findings are positive almost across the board, the other side of the coin here is, for [vendor] partners who want to expand their addressable market beyond the enterprise to the midmarket, they do need to focus around the design center -- the experience. For the midmarket, that needs to be more streamlined because those organizations are less resourced, less skilled. It really needs to be more tightly integrated, it's got to be delivered as a service, it's got to be available via a marketplace.
Now, if the partners agree that that's not a target market and they're only going to service the enterprise, then they just need to make sure they have good tiger teams for implementations and good support models. That's important to the midmarket as well, but upmarket, those organizations are going to be a little more capable of taking care of themselves. So, part of the partnership model should just be to have clarity on what the target market is for the integrated solution. And the more it's midmarket, the more it's got to be tightly integrated, streamlined, easy to pick your solution.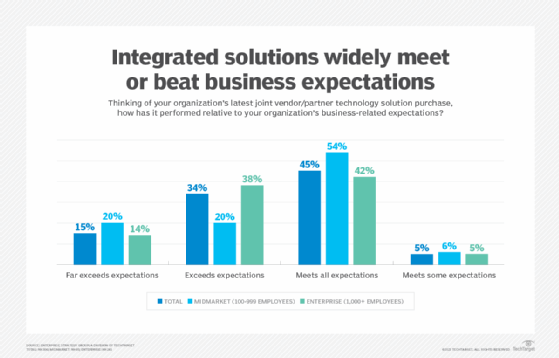 More than one-third of the respondents -- 35% -- cited overall deployment complexity as a challenge. Is that to be expected even with integrated solutions? Or is it a sign that vendors in integration partnerships need to do a better job of making their joint offerings easy to deploy?
Cahill: This is part of the cautionary tale in in the research. It's not surprising because we're talking about disparate technologies that are coming together in a single integrated solution -- and there's very often a good-better-best roadmap for these integrated solutions. Sometimes, the first phase of integration isn't complete, and it leads to a less-than-optimal customer experience at deployment time.
One of the other findings in terms of challenges is around lack of clarity on the product roadmap. It's really important for the partners to have a unified front -- to have a consistent answer for roadmaps. If you know that your first phase isn't complete but you have a second integration coming, you want to make sure that you're on the same page, that you're saying the same thing consistently between the two partners to the market.
The other thing that's worth noting is, because enterprises again are more well-resourced, they still cited overall complexity as an issue, but the midmarket was much more likely to have an issue here. Thirty-five percent of the overall respondents said they had overall deployment complexity, but 43% in the midmarket said it was kind of heavy lifting. Again, it goes back to the design center for the integrated solution: If it's going to be midmarket, it's got to be fairly easy to deploy.
Senior IT executives influenced purchases of integrated solutions in 75% of the surveyed organizations, and they're more involved in the process than with single-vendor purchases in more than one-third of organizations. Why do you think senior execs are so involved in these purchases?
Cahill: Integrated partner solutions are a strategic decision. We also found that one of the main reasons organizations will opt for an integrated partner solution versus one from a single vendor is they deliver more features and functionality. They have more breadth and depth, so they impact and affect more of the infrastructure, more of the environment, more of the stakeholders, more of the lines of business. Integrated partner solutions have a bigger footprint inside an organization, and therefore they're a more strategic purchase; the senior IT leaders are more likely to be involved in the research phase, the evaluation phase and the procurement, purchase and deployment phases.
What are the key takeaways or recommendations for user organizations that you would point to from the survey results?
Cahill: Look for validation, and validation in maybe three forms. One, obviously, is how the vendors are providing technical demos and best practices. Two is third-party validation, so look for either technical validation reports or economic validation reports or some other third-party validation of the integrated solution. And then thirdly, references: We know peers like to learn from their peers, so end user buyers should seek references and case studies from vendors as another proof point. Those three things are really about proof points and validations that the integrated partner solution delivers the value proposition it's purported to deliver.
Were there any findings from the survey that surprised you?
Cahill: One finding that for me was a little surprising, because it's indicative of the shift in the buyer's journey, is the prominent role of the research phase. Fifty-six percent of the respondents did not become aware of the integrated partner solution until during the research phase. And we know that one of the overall dynamics in the technology market in terms of the buyer's journey is a self-directed research stage that's sales-less, where content really becomes your sales rep.
The partners that are delivering an integrated partner solution really need to be thinking about how they get to the watering holes -- how they get to the buyers that are active in that research stage. I expected the research stage to be relevant but not as front and center and as relevant as it is. Very often, the vendors don't even know that prospects are in the market -- they're researching blind to the vendors. So there needs to be the right content out in the market that's going to educate the prospective buyer the way you want.
Read the full report
Enterprise Strategy Group subscribers can click here to access the research report on the survey covered in this Q&A.