Nomad_Soul - Fotolia
Cost of moving to the cloud drops with time and experience
Can IT leaders save money by moving to the cloud? According to the research, some companies are already seeing significant cost savings with UCaaS.
When it comes to cloud migrations in the enterprise, IaaS and PaaS typically show compelling cost savings over on-premises alternatives. But one area that hasn't historically been as clear for savings on cost of moving to the cloud is unified communications as a service.
UCaaS is top-of-mind for many IT and business leaders as they reevaluate their workplace collaboration strategies, especially in light of the COVID-19 pandemic. Today, 90.6% of organizations said they were left with no choice but to try and swiftly move employees to home offices with access to the same collaboration apps as in the office. And doing so can be more seamless with a cloud service vs. an on-premises offering.
As cloud unified communications (UC) services emerged, vendors touted cost savings as a key driver, but Nemertes Research results did not align, as average operational costs for cloud services were more costly than on-premises platforms. That is, until this year for companies with rollouts of fewer than 1,000 licenses.
When companies moved to UCaaS, conventional wisdom said they would save on IT staffing costs because the cloud provider would be managing the day-to-day operations. However, organizations did not lay off their IT staff. Instead, they used them -- and, in some cases, hired additional workers -- for integrations, training, relationship management and strategic IT functions. At the same time, they have new monthly subscription costs that are sometimes offset by the removal of equipment maintenance costs.
Operational cost of moving to the cloud
Now that companies with fewer than 1,000 licenses have been using cloud services for a few years, operational costs have declined. During that time, they've completed integrations, established relationship processes and finished training. As a result, on-premises deployments are now about 57% more costly than UCaaS deployments, according to Nemertes 2020-21 Cost Business Analysis -- Workplace Collaboration research study (see figure below).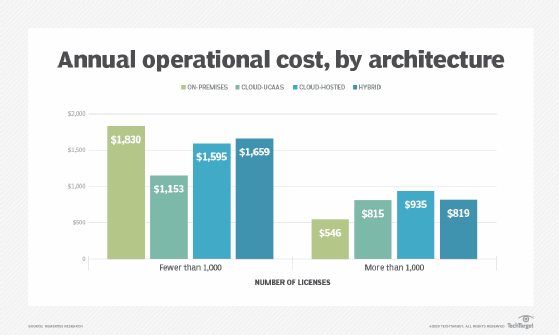 Those using UCaaS spend $1,153 per license annually, while those on premises spend $1,830. The operational costs include IT staff, subscriptions and licensing, equipment maintenance, managed services, user training, IT training, network and power.
Research has shown that the cost of moving to the cloud is not as favorable for UCaaS among larger rollouts. This is because large deployments have lagged, and those moving to UCaaS are still working on their integrations, training and relationship management, among other things. The cost per license for larger deployments is $546 annually for on premises, compared to $815 for UCaaS.
Platform providers are changing pricing structures, so the subscription or licensing costs are the same or similar regardless of architecture. This removes pricing from that piece of the equation as IT leaders evaluate whether to keep UC on premises or move it to the cloud. The primary differences in cost are with the number of IT staff members. Over time, the number required declines and companies either reduce staff through attrition or they move the staff headcount to a different position.
Though any IT decision must consider costs, the cost of moving to the cloud shouldn't be the primary driver of switching over from on premises. The most significant benefit is agility. Cloud services allow companies to scale up and down as business dictates. They also deliver new features faster than on-premises offerings. Integrations, such as those between UC and CRM or contact center, are typically easier when purchasing a cloud service. This is particularly true when buying both UC and contact center services from a single cloud platform provider.