How to create a proof of concept with 6 free templates
What is a proof of concept and how does it help an organization? Here we dive into the importance of writing a POC and provide a list of free templates to help get you started.
To execute on an idea or project, enterprises often develop a set of proofs, or tests, that lay out the criteria required to succeed. This is a critical step in the product development stage that helps project managers determine whether an idea is achievable and worth pursuing. To put it simply, can this concept be turned into a reality?
What is a proof of concept?
A proof of concept, also known as POC or proof of principle, aims to demonstrate the viability of an idea for a project or potential product. It's an approach that is commonly used in organizations to evaluate practicability before moving forward with production.
Leaders in practically any industry can use a proof-of-concept template to assess the business value of a proposed idea or project, identify any issues that could ultimately lead to bottlenecks down the road, solicit feedback from colleagues and present the idea to stakeholders to prove why they should move forward with the idea.
The terms proof of concept and prototype are often used interchangeably but there is a key difference between the two. Whereas a proof of concept demonstrates the idea of a product or concept, a prototype is a working model that can show the actual components such as the layout, design and functions.
Why create a POC?
For project stakeholders, a proof of concept offers the opportunity to explore a concept's potential and identify gaps between the vision and deliverables.
Proof-of-concept templates are used across industries, from filmmaking to drug development to transportation, and the terms and conditions will differ from sector to sector.
For example, a proof-of-concept template for a technology startup would need to demonstrate financial viability. It doesn't, however, typically demonstrate market demand or determine the best means of production.
In application or software development, a proof of concept tests a prototype of the application being developed before it is delivered to the customer. The elements in the software proof of concept should help organizations clarify any technical requirements or logistical issues that would impede its development.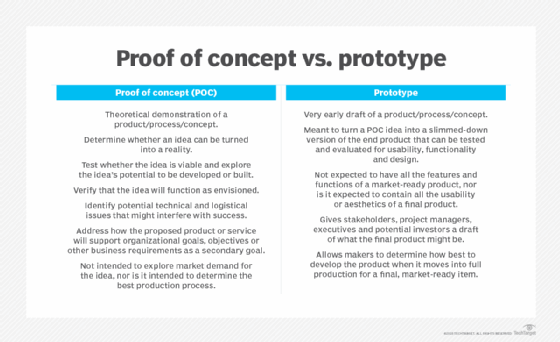 How to write a proof of concept
A proof of concept consists of the following six fundamental steps:
Define the idea and what it is trying to achieve, including objectives, scope and necessary resources.
Identify and organize the team involved in the decision-making and production development process as well as any stakeholders.
Develop and measure the success criteria by creating specific use cases within the scope.
Test the idea in an operational environment to examine its functionality, including the design, deployment plan and success criteria.
Perform test cases with both positive and negative scenarios to examine its durability and document the results.
Gather and evaluate test results with the team and stakeholders to compare outcomes and see if it met the defined success criteria.
Free proof-of-concept templates
We've compiled a list of free proof-of-concept templates and examples found online to help plan and execute forthcoming IT projects. Click on the link in the offering section to access the proof-of-concept document.
Source #1: Intel
Offering: Intel's step-by-step guide provides a useful approach for creating a successful proof of concept for AI software, including image recognition and natural language processing. With the rapid adoption of AI and several other automation technologies in the enterprise, business leaders can use Intel's proof-of-concept template to scale different AI-based capabilities and determine which is the best fit.
Source #2: Toolbox.com
Offering: This sample technology proof-of-concept template provides an in-depth explanation of how to outline a methodology for a POC of any scale and how to assess the necessary technical environment and anticipated requirements for a new system.
Source #3: Designli LLC
Offering: Software firm Designli offers proof-of-concept guidelines for successful software development in five steps: prove the need, map pain points to solutions and get feedback, prototype your solution, test, and create a minimum viable product. However, it must be noted that this advice bucks conventional wisdom for proof of concepts to include prototyping and developing a minimum viable product.
Source #4: Accelerator Research and Innovation for European Science and Society (ARIES)
Offering: ARIES' proof-of-concept proposal chart is a good example of a concise template that can be adapted to other industries. The template lists six criteria, annotated with questions and other information that help explain what is required of each.
Source #5: Mervyn George
Offering: Tech advisor and author Mervyn George takes to LinkedIn to offer up six software proof-of-concept components for success: identifying the team; defining success; aligning expectations; expecting a win-win outcome; clarifying next steps from the beginning; and gathering feedback, learning and evolving.
Source #6: The Ascent
Offering: The Ascent, a personal finance service by the Motley Fool, bills its offering as "your complete guide" to proof of concept. Scroll down to the section, "How to write a proof of concept," for a layout of the basic steps followed by project teams before an idea is presented to investors, including demonstrating the need, ideating the solution, creating a prototype and testing it, getting feedback and finally presenting the concept for approval.
Dig Deeper on CIO strategy