imageteam - Fotolia
Episerver to buy Optimizely, adds to CMS, e-commerce suite
As Episerver evolves into a digital experience platform under new leadership, the company adds native A/B testing functionality by acquiring Optimizely.
Episerver, which is growing a digital experience platform to include e-commerce and marketing automation from its bedrock content management system, said it plans to acquire A/B testing vendor Optimizely in a deal to be completed in the next 30 to 60 days.
Users of Optimizely's A/B testing -- content editors, marketers and developers -- can measure and compare results of how changes, or "experiments," in their Episerver CMS stack will perform among customers. Such changes can include those made to marketing campaigns, e-commerce pricing and page layouts, as well as app features.
Adding Optimizely to the Episerver CMS, marketing and e-commerce suite will allow users to quickly understand how changes in their digital experiences will alter the customer journey for better or worse, said Episerver CEO Alex Atzberger during a call with analysts. As customers become more digitally savvy and often begin their experience with a company with a web search, tools like Optimizely can make it more data-driven and less instinctual.
"We see more and more companies not just being online, but needing to compete digitally," Atzberger said. "So many of the online experiences that we all experience every single day are based on guesses and assumptions about what people want to see ... you should be applying experimentation, real data and a scientific approach to the creation of digital experiences. That's what this acquisition makes possible."
The e-commerce space is quite mature, so you have a lot of the players looking to differentiate -- and get an edge -- through things like personalization and experimentation.

James McCormickAnalyst, Forrester Research
There were numerous A/B testing platforms Episerver could have acquired or closely partnered with, said Forrester Research analyst James McCormick, but most of them integrate with front-end, consumer-facing systems.
Optimizely's deeper integrations to back-end systems can more thoroughly examine and predict the effect of a new experimental promotion, personalization strategy, pricing structure or app feature. That integration can yield better insight into how an experiment may or may not drive revenue after it's tested among a small sample of customers, he said.
"The e-commerce space is quite mature, so you have a lot of the players looking to differentiate -- and get an edge -- through things like personalization and experimentation," McCormick said, citing the example of McDonald's buying Dynamic Yield, an Israeli A/B testing and personalization technology company. No vendor could offer what the company needed, so the fast-food giant bought it. "That's why I can see the logic of Episerver buying Optimizely."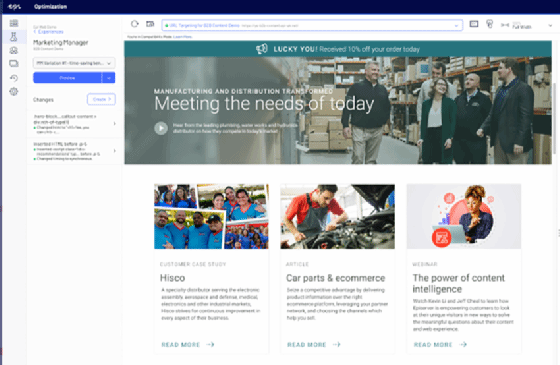 Episerver CMS morphs into DX platform
Episerver had noticed that users deployed A/B testing from a number of different third-party vendors to tweak their digital experiences, said chief product officer Justin Anovick. The tweaks could be basic, such as testing the effect of changing a headline or image on a content page, but customers wanted to run more sophisticated tests, including pricing or launching different site versions for different channels.
That required deeper hooks into other back-office applications than many tools could offer.
"When we did our analysis, we identified that was a really important thing our customers want us to have as part of the platform," Anovick said, which ultimately led to the acquisition of Optimizely.
The COVID-19 pandemic, which caused an e-commerce surge globally, also caused traffic surges upwards of 1,000% for Episerver users' websites. Some customers were already building digital experiences and accelerated the process when businesses and offices closed. Others -- some of them still using fax as their main communication channel -- weren't ready, Anovick said. The company hopes that Optimizely's A/B testing tools will eventually reduce the time for building and refining those experiences.
Episerver has undergone a whirlwind of changes in the last two years, since it was bought by venture capital firm Insight Partners in September 2018 for $1.16 billion. The company hired Atzberger, formerly SAP's customer experience lead, late last year. Soon after, it acquired Insite, a B2B e-commerce platform that both competed with Episerver and brought new features to Episerver's platform, including integrations to many ERP systems.
Terms of the deal were not disclosed. Several outlets reported that Episerver paid about $600 million for the acquisition, but the company did not confirm the amount.
Dig Deeper on Content management software and services