Microsoft releases SharePoint Syntex content AI services
Microsoft Syntex is a bundle of AI services for enterprise content repositories. It signals new attention devoted to SharePoint, which still has hundreds of millions of users.
It's been a long time since anyone's put SharePoint and innovation in the same sentence. On Tuesday, however, SharePoint users got Syntex, a major infusion of Microsoft AI services that promises to modernize the old enterprise content warhorse.
The initial round of Syntex services comprise a broad swath of no-code AI tools for SharePoint users. User-defined or pre-built AI models tag content with metadata to recognize content structure and then classify and extract content, and content ingestion and categorization tools import high volumes of content into SharePoint. The services can also improve enterprise search (long a problem with SharePoint content lakes), process and tag images, and translate document sets into other languages.
Syntex tools can detect content that needs security and access controls and apply them, automating privacy and intellectual property protections. Microsoft AI tools can also monitor data access governance and generate compliance reports.
While SharePoint doesn't regularly grab headlines like other more cutting-edge Microsoft products, it does boast 200 million users worldwide. Alan Pelz-Sharpe, founder of Deep Analysis, called Syntex the biggest thing to happen for SharePoint since its initial release in 2001.
Microsoft's basically saying, 'Here's all the tools, you can do that.' That's going to rock the market.

Alan Pelz-SharpeFounder, Deep Analysis
"Building on the massive market that they have, Microsoft comes along and adds -- pretty much in one fell swoop -- all the tools you actually need to automate document processes. That's huge," Pelz-Sharpe said. "Even things that seemed simple -- time and expense claims forms, accounts payable, contract management -- today you need to go out to multiple vendors to get that done. Microsoft's basically saying, 'Here's all the tools, you can do that.' That's going to rock the market."
Next year, Microsoft will roll out application integration plugins so that SharePoint Syntex can host, process and secure content and databases from Dynamics 365 and third-party applications, according to Seth Patton, Microsoft 365 general manager.
The Syntex services released Tuesday are just the start, Patton said. Microsoft plans to public preview more before the end of the year, and still more in 2023.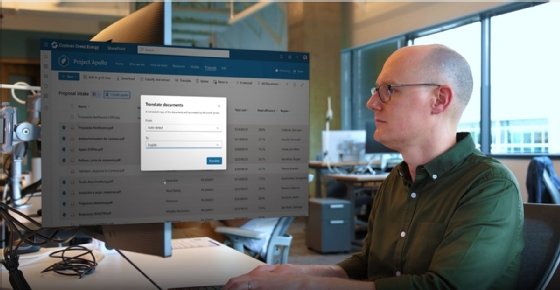 SharePoint's new life
Over the last few years, SharePoint users have fretted that Microsoft would deprecate SharePoint, starting with the on-premises version and then the cloud edition -- and force them to move over to OneDrive, Microsoft's competitor to Box, Dropbox and OpenText Core. That clearly wasn't on the Microsoft roadmap, now that Syntex is out.
SharePoint's original premise was to enable employee intranet portals and websites. Customers rapidly grew their SharePoint instances into lakes of structured and unstructured content for many users -- it was a de facto private document cloud before the term cloud came into general use. Users quickly realized they needed search and security tools to manage content lakes, as well as automations to manage forms content and to organize incoming content.
That gave rise to a now-mature SharePoint partner marketplace, recently buoyed by the emergence of AI and machine learning to tackle more complex processes. Many boutique startups have long provided services that Syntex will replace, and that will cause a shakeup in the SharePoint partner ecosystem.
"SharePoint has an enormous ecosystem of partners; some of them are tiny, some of them are huge," Pelz-Sharpe said. "That's obviously going to be the focus of Syntex this first year: educating them -- and they'll happily be educated. It's great business for them. So they'll be making good money from SharePoint, and an awful lot more money now, potentially."
To that end, Microsoft highlighted partners that are part of Microsoft's Content AI Partner Program. They provide content tools, services and integration to Syntex; the list includes Adobe, Avanade, AvePoint, ClearPeople, Colligo, Content+Cloud, DocuSign, Lighthouse, Protiviti, Rightpoint, Sparkhound, Tata Consultancy Services and others.
Microsoft Syntex is available now. It is priced at $5 per user, per month, for customers who sign up for a yearly subscription. It was released in conjunction with Microsoft's Ignite user conference.
Don Fluckinger covers enterprise content management, CRM, marketing automation, e-commerce, customer service and enabling technologies for TechTarget.
Dig Deeper on Content management software and services