Actifio is a software vendor in Waltham, Mass., that specializes in copy data management (CDM). The company, which released its first product in 2011, is one of the first vendors to enter the CDM market, and also offers data virtualization, data as a service, enterprise backup and disaster recovery (DR), and hybrid and multi-cloud infrastructures.
Operating in more than 37 countries, Actifio claims to have more than 2,700 global enterprise customers. Ash Ashutosh, who founded the company in 2009, previously held the position of chief technologist at HP Storage. Ashutosh joined HP Storage after it acquired his previous company, storage resource management startup AppIQ in 2005. He has been CEO of Actifio since its inception.
Clients of Actifio have included Boston University Medical Campus, Time Warner Cable, the City of South Portland, Unilever, Netflix and IBM. Actifio performs joint research with International Data Corporation on the growing issue of copy data in modern data storage.
Actifio currently has approximately 400 employees, and international offices in Australia, China, Germany, India, Japan, New Zealand, Singapore and the United Kingdom.
Major products
Actifio describes its technology as data as a service, which is an approach to data architecture geared toward delivering data assets on demand through consistent access. Previously identifying as a copy data virtualization company, Actifio has shifted to meet the needs of customers looking for cloud architectures rather than just expanding storage through virtualization. Major Actifio products include the following.
Virtual Data Pipeline (VDP) is the underlying platform architecture of Actifio. It is built on a globally distributed object storage system and can be accessed through the Actifio Desktop, Actifio Global Manager and via a vSphere Web Client plug-in. Functions of VDP include managing the data lifecycle, enabling data use, capturing and virtualizing data at the block level, as well as data deduplication, compression and replication. By virtualizing copy data, VDP creates a single storage platform for customers to protect and access data. VDP uses a golden copy of production data, and captured data is stored for rapid access while being deduplicated and compressed for long-term retention.
Actifio Global Manager (AGM) can be deployed on VMware ESX virtualized servers or in the cloud, and provides centralized management in a virtual appliance. AGM has a simple interface and can be used for end-to-end data protection, cloud mobility and test data management. Through AGM, multiple Actifio instances can be managed simultaneously, whether they are local, remote or in the cloud.
Actifio CDS is an enterprise-class physical appliance that provides Actifio's copy data virtualization system. It can be used for large-scale deployments, and supports a wide range of applications and third-party storage systems. A turnkey product, Actifio CDS comes with Actifio VDP software in a fault tolerant appliance. CDS uses application-centric, service-level agreement-based data management, and can be deployed in a single site or multiple sites. Licensed configurations begin at 15 TB and can expand up to 8 PB.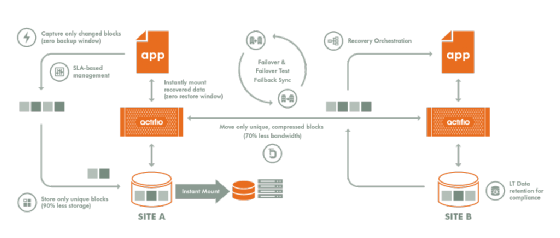 Actifio Resiliency Director. Working with the Actifio platform, Actifio Resiliency Director provides DR in the cloud or at an enterprise DR site. Actifio Resiliency Director reduces restore time for virtual machines (VMs) and provides 1-Click DR Orchestration to eliminate manual DR tasks with no effect on production.
NAS Director reduces backup windows, replicates data to the cloud and allows instant point-in-time access to stored data. NAS Director VM appliances have four cores and 16 GB of RAM, and appliances can be managed and provisioned through a single pane of glass. NAS Director also uses incremental forever backup.
Actifio Sky is a virtual appliance built on the VDP software. Built for data protection and DR, Actifio Sky features include snapshots, backup, deduplication, compression, replication and vaulting. The appliance is infrastructure agnostic, and can support physical servers, databases, VMs, and public, private and hybrid cloud environments.
Flashback. Developed with flash vendor Pure Storage, Flashback is a data management functionality that can extend a storage array. Flashback can capture application-consistent data, store data locally and instantly recover critical servers at scale.
Actifio also partners with Digital Immunity, a company that specializes in endpoint protection against ransomware.
Competitors
Established data protection vendors and smaller companies followed Actifio into CDM and data virtualization. Vendors such as Dell EMC and Hitachi Vantara built the technology into their mainstream data storage products, while others added it as a separate product or feature in their data protection software.
Veeam is a major competitor with its Veeam Backup & Replication software. Among the first vendors to develop backup software for VMs, Veeam provides backup, restore and replication functions similar to those of Actifio. Veeam Backup & Replication is compatible with different backup targets and can create image-based backups on Dell EMC, NetApp, Nimble and Hewlett Packard Enterprise storage arrays.
Catalogic Software provides software-only CDM with its flagship ECX product that offers automated production and use of copies for test and development. ECX is application-aware, and can work with applications such as Oracle Recovery Manager. Catalogic ECX can be deployed within a Docker container or as a virtual appliance.
Originally a scale-out storage appliance vendor, Rubrik has quickly risen in the ranks of CDM vendors. With its latest edition of the Rubrik platform, the vendor has extended its capabilities to the public cloud and as a virtual appliance. Rubrik software also supports physical environments.
Other vendors providing similar data protection and management services include Cohesity, Commvault, Delphix and Veritas.
News and future directions
Actifio released version 8.0 of its Sky Platform in 2017 at its Tech Field Day. This latest iteration of the software is centered on increased cloud capabilities.
In August 2018, Actifio completed its second $100 million dollar funding round in four years, increasing its valuation to $1.3 billion. Funding efforts have pushed Actifio closer to a potential initial public offering, but CEO Ashutosh has said that the more pressing goal is assisting current customers and gaining new ones. Fifty percent to 70% of Actifio's sales each quarter are to members of its existing customer base.
Actifio's future product strategy includes increased focus on the cloud and business-critical applications, two areas in which the vendor has made significant investments.
This was last updated in
August 2018
Continue Reading About Actifio