Sergey Nivens - Fotolia
Top 5 backup and recovery challenges and their remedies
As data backup and recovery reaches new levels of capacity and complexity, learn how to gain the upper hand over common challenges in this important field.
Data backup and recovery has always been a demanding task, requiring meticulous planning and tenacious scheduling. Although cloud technology and storage media improvements make it easier to protect essential data, the arrival of big data -- and various other data-intensive technologies -- complicate and increase the need for frequent, reliable backups.
Consider the five leading backup and recovery challenges and learn how to address and conquer them.
Ensuring reliably scheduled backups
The biggest data backup challenge is ensuring that backups occur on a timely, scheduled basis. This means confirming that backups are actually happening, as well as capturing the correct data, said Aaron Philipp, principal at business advisory firm EY.
"Don't just assume that because the backup software says it's done that it really is," Philipp said.
The best way to address this challenge is to take a cue from the tech giants and to focus on simplification. Rather than having multiple technologies back up your data, streamline it all into a central repository, Philipp advised.
"Besides that," Philipp said, "identify who in your organization is responsible for having a deep understanding on how the backup systems run -- and make sure that's more than one person."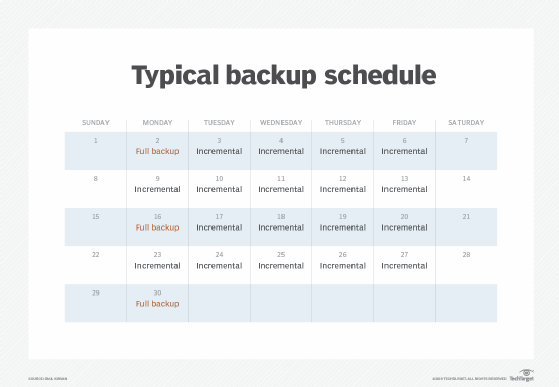 Preventing missing and corrupted data
Imagine the horror: A critical restoration completes only to reveal that essential files are either corrupted or missing. Worse yet, it might be impossible to pinpoint exactly when the corruption occurred, which makes it difficult to know when you created the last accurate backup.
Preparation can save you from these backup and recovery challenges.
"A first step is understanding how much data could be lost in different time periods and what that would mean for the business," Philipp said.
No enterprise wants to lose data, but although some organizations can tolerate losing a few hours or even days of files, others might require more frequent backups.
"Being proactive with protecting data backups cannot be a one-size-fits-all approach," Philipp said. "As a business architects its data recovery and resiliency strategy, it needs to appropriately budget money for backups that at minimum protect against the most damaging losses."
Aligning data backup needs with application architecture requirements
Creating systems with data backup requirements considered from the outset is a must, said Darragh O'Grady, an associate director at business and technology consulting firm Protiviti.
"Being able to leverage and exploit backup solutions tailored to application needs is critical, but hasn't been a practical option in the past due to most data backup solutions being provided on premises," O'Grady said.
For most applications, use API-driven cloud-provided services, O'Grady said.
Accurately prioritizing data
Not all data is equal, and essential data must always take priority. When planning a backup and recovery strategy, identify the data that's most valuable to the organization based on the effect it might have on the organization if it suddenly becomes unavailable.
"This will help define how often the data needs to be backed up and how quickly it needs to be restored," said Scott Miller, managing director of management consulting firm Sendero Consulting.
To accurately meet these requirements, Miller suggested creating a detailed framework that all key business stakeholders can easily understand. Such a framework prioritizes, by business application, which data has the most value and which systems a business must restore first in the event of a system failure.
"A tiered approach usually works best with different values assigned to each tier," Miller said. "I've found this helps the business stakeholders better understand the cost versus value proposition for backup and recovery options."
Protecting against ransomware
The constant threat of ransomware poses one of the most critical backup and recovery challenges to data availability. Ransomware evolves with technology to sustain its effectiveness, said James Jason, chief IT administrator at financial trading firm Mitrade.
"As such, it can never really be eradicated," Jason said.
The front-line defense against ransomware is a frequently updated security infrastructure with the ability to detect and neutralize suspicious activities that threaten to bar access to backup resources. Jason also recommended following the 3-2-1 data backup rule -- three copies of your data in two different formats, with one copy off site.
"Therefore, if a ransomware attack happens, you would still retain your data and not have to part with any ransom," Jason said.