Matthew Bowden - Fotolia
HCI management layer vs. native hypervisor management
See why inherent differences between hyper-converged and native hypervisor management tools tend to make one better suited for managing virtualized HCI resources than the other.
Depending on the vendor, the HCI management layer provides a variety of different elements that native hypervisor management tools do not.
Each hypervisor vendor has its own way of doing things, so management capabilities differ from one to the next. Additionally, some hypervisor vendors offer supplementary management tools. Microsoft, for example, provides Hyper-V Manager with its hypervisor, but also offers customers System Center Virtual Machine Manager, which is a separately licensed but far more capable management tool.
Similarly, hyper-converged infrastructure (HCI) vendors each have their own nuances, so HCI management tools vary as well. Having said that, HCI management tools usually provide a more cohesive monitoring and management experience than what you get with standard hypervisor management tools.
Most hypervisor management tools are linked to individual hosts and are used to create virtual machines on those hosts with most capabilities oriented toward VM management. Not so for the HCI management layer in a hyper-converged platform.
The HCI management layer
In the case of hyper-convergence, an HCI management layer and tool tends to offer broader insight than what you can obtain with a standard hypervisor management tool. An HCI management tool might, for example, provide hardware health and capacity monitoring capabilities. If an HCI platform has been designed around specific hardware components, the management layer will likely deliver deep insight into the health and usage of those components.
At the same time, HCI vendors design many hyper-converged infrastructure platforms for purposes beyond generic server virtualization. An organization might use an HCI platform to host a virtual desktop infrastructure deployment, or it might serve as a backup system, for instance.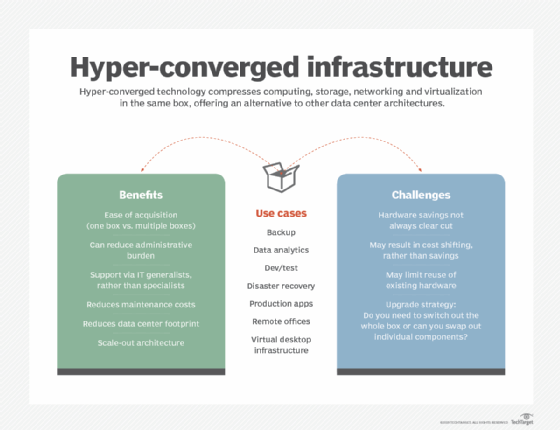 Whatever the larger functionality happens to be, the HCI management layer is a part of the overall HCI package. And, as such, the hyper-converged management platform will usually deliver some degree of application-level insight. A hyper-converged infrastructure designed for backup will likely allow you to monitor backup jobs through its management interface -- not the case with generic native hypervisor management tools.
Dig Deeper on Converged infrastructure management
Without a Windows 11 registry backup, IT risks breaking the OS by making edits. Find out how easy it is to back up the Windows 11 registry. Continue Reading
While Google Cloud Storage has several limitations, these three are among the most prevalent -- but users have straightforward ways to get around ... Continue Reading
Unpredictable user behavior and boot storms can cause VDI resource usage fluctuations throughout the day. IT can take steps to identify and curtail ... Continue Reading