kentoh - Fotolia
Hyper-converged use cases beyond VM stacks: A hardware guide
Explore best hyper-converged appliance and cluster configurations for containers, machine/deep learning, streaming analytics and specific products supporting each of these workloads.
Hyper-converged infrastructure emerged as a convenient way to bundle one or more servers, along with associated storage drives and network interfaces, with a virtualization stack into a high-density, easily deployed appliance. The combination proved to be immensely popular, and as the infrastructure technology matured, the types of hyper-converged use cases expanded well beyond its initial strengths.
Today, the hyper-converged infrastructure market generates $2 billion in sales per quarter, according to IDC, with long-term growth of about 90% annually since 2015. Hyper-converged infrastructure's target enterprise market spans SMBs that like the plug-and-play simplicity and single-vendor accountability, to multinationals drawn to the platform's versatility and the multinode scalability to handle diverse and growing workloads. From its niche as the preferred platform for virtual desktop infrastructure (VDI) and branch office infrastructure, hyper-convergence has ridden rapidly improving performance curves for its key components -- namely CPUs, storage drives (particularly flash) and network interface cards (NICs) -- to become a viable option for most workloads.
While hyper-converged infrastructure started as a virtualization hardware appliance, innovations in software technology have created new use case opportunities suitable for the platform. This includes three key areas in IT significantly changing how organizations understand their growing reservoir of data and how they develop and deploy new applications: container clusters, machine learning and deep learning algorithms, and streaming data analytics.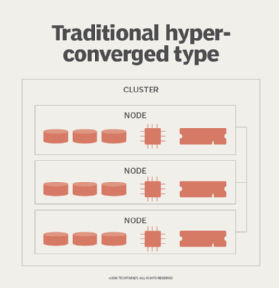 Each of these use cases has somewhat different system requirements than those for the conventional VM server farms hyper-converged infrastructure initially addressed. However, since at their core, hyper-converged hardware boxes are little more than tightly packaged servers with a centralized management console, there's no reason the platform can't evolve to address these new workloads.
The following is an overview of how organizations can use hyper-converged infrastructure for these three environments -- containers, machine/deep learning and streaming data analytics -- that have become increasingly strategic to most businesses and their IT staffs. We include examples of specific hyper-converged hardware products and vendors to help illustrate appliance and cluster configurations that work best for these different use cases.
Dig Deeper on Converged infrastructure management