twixx - Fotolia
How big tech breakup would affect the tech industry
Breaking up the tech giants would be difficult and might create initial chaos in market, help smaller competitors and potentially raise prices for enterprises.
When the U.S. Department of Justice opened a wide-ranging antitrust review of tech giants Amazon, Apple, Facebook and Google, it came as little surprise even though the inquiry was launched under a Republican administration.
The July 23 action followed similar moves by the Federal Trade Commission (FTC) and Congress earlier this summer and shows how the idea of a big tech breakup has gathered bipartisan political and public support. The FTC recently fined Facebook $5 billion for privacy breaches and the chairman proclaimed he was ready to break up the tech giants.
On Sept. 9, 50 attorneys general across the country started a joint antitrust investigation of Google. On Sept. 6, attorneys general in eight states kicked off an antitrust inquiry into Facebook.
Against that backdrop of fast-growing support for a big tech breakup, it's unclear how breaking up big tech would affect the larger tech industry and customers, though it appears likely it could benefit smaller competitors of the tech giants -- and possibly Chinese cloud, AI and e-commerce platforms unhampered by government regulation.
Most of the popular consumer services the big vendors provide are free, but -- in the absence of a national data privacy law such as Europe's GDPR -- in the wake of a breakup, smaller entities could theoretically be easier to regulate in areas such as data privacy while also finding it harder to share data among themselves.
What you're seeing is a consolidation of power and you're giving these companies enormous power over the underlying fabric of our business.

Brian HopkinsAnalyst, Forrester
But a big tech breakup would not necessarily be driven primarily by consumer protection issues, said Brian Hopkins, a Forrester analyst. Rather, such an antitrust move would be consistent with the historical American impulse to whittle down overly dominant corporations, just as the government dismantled steel and telecommunication monoliths of earlier eras, he said.
"It's an antitrust issue. How powerful should a big company be?" Hopkins said. "What you're seeing is a consolidation of power and you're giving these companies enormous power over the underlying fabric of our business.
"And when you do that, you have to then think about the conflicts of interest that arise when these businesses … also run other businesses," Hopkins continued, referring to AWS and Google (and Microsoft) being dominant cloud providers that also compete against their customers with their own marketplace platforms.
Incidentally, Microsoft, which survived a government antitrust suit in the mid-2000s, is now not being targeted by regulators, perhaps because it has such a small consumer data footprint. Even so, Microsoft could benefit if AWS and Google were forced to spin off their cloud businesses and Microsoft was not.
IBM, Oracle, Hewlett Packard Enterprise and other big software vendors are not in regulators' sights, largely because they do not trade in consumer data and don't have the multimarket reach of Amazon, Facebook, Google, and to some extent, Apple.
As for what would happen if tech giants were taken apart, the tech industry would likely see a period of chaos, then reconsolidation as smaller platform vendors establish stronger positions, Hopkins said.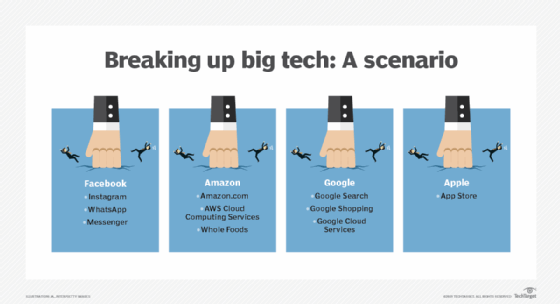 Meanwhile, enterprise customers could end up paying more to AWS and Google in the wake of any big tech breakup, said Alan Pelz-Sharpe, founder of the Deep Analysis consulting firm in Groton, Mass.
That's because Amazon, the dominant cloud provider, to a large extent, subsidizes its cloud services and storage business with revenues from its e-commerce operations, enterprise-oriented products such as G-Suite, YouTube and other businesses, Pelz-Sharpe said.
The same goes for Google, to a lesser extent, but Google's enterprise and cloud footprint have been growing at a fast pace, he said.
"It depends on what a breakup looks like, but the potential is there for prices to go up," Pelz-Sharpe said.
As for Facebook, its main enterprise product, Workplace by Facebook, could also be affected by a breakup by losing access to Facebook data and algorithms from the consumer side.
Other observers have noted that after a big tech breakup, spinoff vendors could quite likely continue to dominate their niches.
For example, Google search would probably remain dominant even if it were untethered from other Google apps. And there is little reason to expect Facebook to lose its position as the dominant social media platform if it were disconnected from Instagram.
The most widely known and detailed proposal for a big tech breakup has come from Democratic presidential candidate Elizabeth Warren, who wants to bust up the tech companies into smaller "platform utilities" with revenue limits of $25 billion.
The Massachusetts senator's plan played a large role in elevating her campaign and injecting tech issues including data privacy into the election, with most Democratic candidates taking public positions on various tech issues and all saying they consider data privacy a top issue.
The bottom line is a tech breakup is not good because we have to scale to compete with China. The battle for AI requires insights and data.

Ray WangFounder, Constellation Research
President Donald Trump has often attacked social media platforms for allegedly being unfair to him personally and excluding conservative voices, and he has said publicly that he supports a big tech breakup.
But he has criticized Warren's plan, claiming the vendors she focuses on -- Amazon, Facebook and Google -- are protective of her. Trump's favorite target is Twitter, ironically his main social media platform, which is not a part of Warren's plan or currently a target of federal regulators.
Meanwhile, as some conservatives have joined in calls for a potential big tech breakup, many in the tech industry and the larger business world are steadfastly opposed to it.
"The bottom line is a tech breakup is not good because we have to scale to compete with China. The battle for AI requires insights and data," said Ray Wang, founder of Constellation Research. "If we break up the tech companies and go too far, China's companies -- Baidu, Alibaba and Tencent -- will achieve a scale we can't compete with."
Wang argued that lawmakers should pass laws that make personal data akin to personal property and attach property rights to it.
"This means that when you use my social data, genomic data or biometric information, you have to ask for my consent," he said. "We do need regulation and controls because these are digital duopolies and monopolies."
In anticipation of antitrust action, the tech giants have amassed small lobbying armies in Washington, D.C. Facebook, in particular, has knitted together the technologies and corporate structure of its apps -- including Instagram, WhatsApp and Messenger -- in an apparent attempt to make them harder to unravel.
Nevertheless, the growing consensus behind a big tech breakup, or at least significant new regulation of the tech giants, includes many in the tech industry who are frustrated by the size and reach of the giants.
Colin Pape, founder of ShopCity.com, a blockchain-based local marketplace network, and Presearch.org, a search vendor, both based in Midland, Ontario, criticized what he said was the lack of transparency of competitor Google's search algorithms.
Pape alleged that it's impossible to know if the algorithms are fairly treating competitors and argued for a breakup, but also at least for an independent auditing authority to oversee Google algorithms.
"It's really most about the barriers to entry for competitors," Pape said. "Google search is the most concentrated area for Google and its most important product as the gateway to all of their other options."
Without any strong regulation of Google search, "you're really asking the fox to guard the henhouse," Pape said.
Should a big tech breakup actually come to pass someday, "I don't think you'll see anyone become that dominant again," he said.
Google responded Sept. 6 to the move by the 50 state attorneys general with a blog post by Kent Walker, its vice president for global affairs.
"Google's services help people, create more choice, and support thousands of jobs and small businesses across the United States," the post said. "We have answered many questions on these issues over many years, in the United States as well as overseas, across many aspects of our business, so this is not new for us.
"The DOJ has asked us to provide information about these past investigations, and we expect state attorneys general will ask similar questions," it said.