buchachon - Fotolia
Google takes a run at enterprise cloud data management
New Google Cloud boss Thomas Kurian is putting databases and data management at the forefront at Google. The vendor has forged key data deals, showing a more mature Google Cloud.
Meeting the needs of enterprise cloud users requires a reset of sorts for Google. It is a consumer-oriented powerhouse and a leader in cutting-edge AI, machine learning and big data, but it has lagged in supporting enterprise cloud data management.
Moving from the cutting edge to the enterprise was a clear goal for Google at its recent Google Cloud Next '19 user conference. It was the such event since enterprise computing veteran Thomas Kurian, former president of product development at Oracle, took over Google Cloud operations late last year.
Kurian made clear to conference attendees that Google will make databases and data management integral to its cloud efforts. He pointed to an upcoming beta release of Cloud Data Fusion integration services, database migration services, AutoML services, and deeper upcoming support for PostgreSQL and SQL Server relational databases as cloud services.
Google intends to broaden its offerings for enterprise cloud data management with these various agreements with third-party software providers -- many of which are glad to align with what is considered a top-notch AI operation.
Digging for data
Like others, Google is exploiting cloud's enhanced scalability and providing computation across availability around the world.
That was a factor last year that led information management giant Iron Mountain to partner with Google to develop services to analyze physical and digital data repositories. Inside those repositories resides what some call dark data -- dormant data yet to be exploited.
"Cloud is important. Today, as needs require, you have to have computation that scales up and scales down," said Fidelma Russo, CTO at Iron Mountain, based in Boston. Google's capabilities in AI and machine learning are a plus when it comes to navigating dark data, she said in a phone interview from the conference floor.
"Google has a large investment in machine learning and AI models," Russo said. "The tools allow us to provide value to combining the physical world and digital world."
At Google Cloud Next, Iron Mountain demonstrated the results of the partnership. The company's InSight platform employs the Google Cloud Platform (GCP) for portions of AI processing to search many kinds of semi-structured data. At the Google event, Iron Mountain demonstrated InSight's ability to delve into archives of video highlighting famous baseball players and plays from the archives of a locally based customer -- the San Francisco Giants.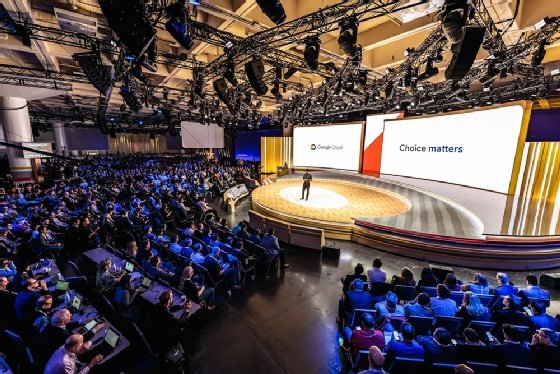 Gateway to the graph
Google's deals last week with open source providers of NoSQL databases show an effort to present an alternative to Amazon Web Services, which some open source database vendors have criticized for its work to commercialize database approaches that sprang up from open source origins.
At Google Cloud Next, the tech giant unveiled strategic partnerships with DataStax, InfluxDB, MongoDB, Neo4j, Redis Labs and others to host data management and analytics on GCP. The deals will enable Google to manage such databases and frameworks via Google Cloud Console and also include unified billing for services.
Cloud is often the step for IT teams looking to try out technology.

Lance WalterChief marketing officer, Neo4j
Google, in some cases, has its own databases to offer for these specialized NoSQL options. But improving the lot of special databases expands what is available to cloud customers. For the makers of NoSQL databases -- still relatively to many people -- tighter Google cloud integration presents a ready path for users.
"Every day, more data management happens on the cloud," said Lance Walter, chief marketing officer at Neo4j, based in San Mateo, Calif. "Cloud is often the step for IT teams looking to try out technology."
There is much to learn when moving to graph databases, and administration is part of that. Google Cloud Platform can ease the transition, Walter indicated.
"When you deploy a database, you have to think about how to make it scale, or how you secure it," he said in a phone interview. "GCP takes that friction away from a developer, administrator and user perspective."
On the maturity curve
While Google long ago gained standing as web moneymaker and an advanced technology house, it has been less notable for supporting ease of migration for existing enterprise data to its cloud.
That could be changing, according to Alok Pareek, founder and executive vice president for products at streaming data integration vendor Striim, based in Palo Alto, Calif.
Google will drive better enterprise targeting by understanding that enterprise users do not terminate all of their on-premises databases in order to move to the cloud, Pareek said.
Striim recently entered a partnership with Google Cloud to offer migration services. Much of what Google is now doing is, in effect, "extending infrastructure for data management on the cloud," Pareek said.
Before founding Striim, Pareek served in technology positions at GoldenGate and Oracle, after GoldenGate's acquisition by the database giant. He worked at Oracle for a time in a Thomas Kurian-led group. He said he was impressed with Kurian's debut at the helm at Google Cloud Next 2019.
"Thomas Kurian understands the maturity curve of IT and data management over the last 30 or 40 years," Pareek said. An early view is that Kurian's moves are paying off.
"Google, as a company, has a lot of energy, but Kurian truly understands you just can't rip and replace. People need to build a bridge," Pareek said by phone from the conference floor.
Now, in terms of enterprise cloud data management, "Google knows you can't just shut down what is already running," he said.
Google Cloud Next '19 was held April 9 to 11 in San Francisco.