NicoElNino - Fotolia
SnapLogic boosts its data integration technology with AI
SnapLogic's latest update for its Intelligent Integration Platform aims to make it easier for users to benefit from data integration.
SnapLogic updated its Intelligent Integration Platform with new artificial intelligence capabilities designed to help improve the data integration technology.
The new update became generally available on Aug. 10 and also adds an API developer portal to expose API endpoints, providing an easier way to handle data integration tasks. The August update also benefits from a new data lineage feature that is already of interest to SnapLogic's customers.
"The data lineage features are of great interest," said Louis Canales, director of data services at SnapLogic user Millennium Health, a drug testing and genetics services lab in San Diego. "This will allow the team to have a visual representation of source-to-target, helping us visually understand source, transformations and targets at a glance."
Canales said the API Developer Portal is another welcome addition to SnapLogic's data integration technology. He added that Millennium Health is developing more and more integrations with systems such as Salesforce and Microsoft Active Directory, and the API feature will help his team catalog APIs for triggered tasks.
As to why Canales is using the San Mateo, Calif., infrastructure-platform-as-a-service vendor, he said SnapLogic afforded his team the flexibility to design Millennium's data pipeline architecture for reusability, which helped to avoid data pipeline sprawl.
"SnapLogic allowed my team to focus less on the administration of servers and more on delivering quality data and analytics," he said.
The Intelligent Integration Platform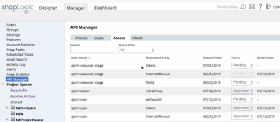 SnapLogic has been expanding its data integration technology in recent years, building out a unified platform that can address a diverse set of use cases. SnapLogic's platform today handles both application and data integration, as well as API management and data engineering functions, said Diby Malakar, vice president of product management.
From a deployment perspective, the SnapLogic platform is cloud-based software as a service. That said, Malakar noted that customers can choose to do the data processing on premises, if they want to.
Data lineage
The data lineage features ... will allow the team to have a visual representation of source-to-target, helping us visually understand source, transformations and targets at a glance.

Louis CanalesDirector of data services, Millennium Health
The data lineage feature in the new SnapLogic Intelligent Integration Platform update provides a graphical representation of how data sources interact with data integration technology pipelines.
Malakar said the data lineage feature can be used for impact analysis, to look at data sources that are affected by a data pipeline. He added that if a user has a certain pipeline, they can use the data lineage feature to find the intricate relationships across different data sources.
"People are looking at compliance use cases, or sometimes they want to decommission certain systems," Malakar said. "And they want to figure out if a data source is going to be decommissioned, what changes that will have on data pipelines."
Data
integration

AI

With the August update, SnapLogic is adding a data integration technology AI capability that provides data pipeline recommendations.

As users are working with the SnapLogic designer for data pipelines, the AI will provide recommendations for new snaps, Malakar said. A snap is essentially a connector and when a set of snaps are stitched together, that is called a pipeline.

"We'll tell you what should be there in between, like, if you're trying to integrate Salesforce and ServiceNow, you just drag those two snaps, and we will tell you, is there an existing pipeline that resembles that pattern, or we could look at our own patterns catalog to figure out if somebody else or we have ourselves with a pattern around Salesforce and ServiceNow integration," Malakar said.

"It's all focused on empowering the less technical person, what we call us a citizen integrator, to be able to build pipelines faster and in a more efficient way," he added.