WavebreakMediaMicro - Fotolia
InfluxDB Cloud 2.0 expands open source time series database
While the core open source InfluxDB 2.0 project is still in alpha, InfluxData has advanced its cloud service to support new features as it grows its time series database service.
InfluxData extended its open source time series database to the cloud with new enhancements and capabilities as part of the InfluxDB 2.0 Cloud.
The San Francisco-based vendor made its new time series database as a service (DBaaS) release generally available on Sept. 10 as a major update to the InfluxDB 1.x cloud service, which was first launched in April 2016. With InfluxDB 2.0 Cloud, the open source time series database service benefits from the addition of the Flux data scripting and query language, which is intended to provide greater insights for users.
While the Flux language is not entirely new, in that it was available in some versions of the product before 2.0, it is now the main language with which to interact with InfluxDB, said Gregg Siegfried, research director for cloud and IT operations at Gartner.
"As a technologist with an interest in languages and language design, I've watched with interest as Flux has evolved and really appreciate the philosophy and nuance behind this powerful, extensible query language," Siegfried said. "SQL and SQL-like languages are not sufficient to interact with time series data for many use cases, and Flux addresses this well."
Siegfried said he sees continued demand for time series databases, even though the need to store, analyze and report on time series data is not new. He noted that the sources, use cases and requirements to manage time series at scale have exploded in the last few years.
"As we consolidate our telemetry from many sources into fewer stores, optimized time series repositories such as InfluxDB become invaluable in enabling analysis at scale of high-cardinality telemetry from infrastructure, applications and IoT sources," Siegfried said. "The simpler consumption models of InfluxDB Cloud 2.0 makes it easier to get started with the product and the common APIs provide consistency and mobility within the platform that will appeal to organizations of any size."
Open source time series DBaaS
SQL and SQL-like languages are not sufficient to interact with time series data for many use cases, and Flux addresses this well.

Gregg SiegfriedResearch director for cloud and IT operations, Gartner
The InfluxDB 2.0 Cloud service is based on the open source InfluxDB 2.0 project, which is in alpha. Because InfluxData is running the service, it can deliver fixes, capabilities, durability guarantees and operational stability in ways that may not be possible through the current InfluxDB open source 2.0 edition, said Tim Hall, vice president of products at InfluxData.
"Our signal for the existing community to more reliably start to move over to the 2.0 line will begin when we signal the shift from alpha to beta," Hall said. "This will mean that we've reached a largely feature-complete status where we provide migration tooling and compatibility layers for our existing customers to take advantage of and explore."
Hall explained that the open source time series database as a service aspect means that the InfluxDB Cloud 2.0 features a usage-based pricing model and the customer does not need to deal with or understand the compute resources allocated to meet their workload requirements.
Flux
The Flux query language that is integrated with InfluxDB 2.0 Cloud works easily with time series data, where the need for dealing with specific rows and columns of data are typically less common than working with the data by filtering and applying one or more functions to yield result, according to Hall.
He noted that with Flux, it's easier to join and analyze data residing in multiple measurements, buckets, data sources and databases. Flux is also able to support complex analytics use cases.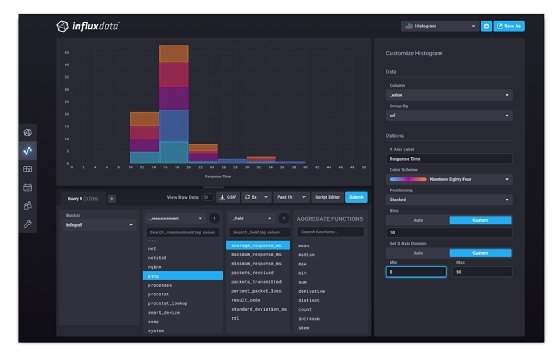 For example, Hall said that the real world is more complex than in, for example, a use case involving a customer's manufacturing process in the oil and gas industry with a simple "alert when the temperature is more than 100 and pressure more than 2,000."
Hall said, "With Flux, you can trigger an alert based on the delta of pressure from five pressure readings, where the rolling average over a time boundary is two sigmas from the norm and the temperature from the surrounding 10 sensors have not gone up by more than 25% above the ambient temperature for the corresponding time period."
What's next
Looking forward, InfluxData and its community are working on multiple new and enhanced capabilities to further improve the InfluxDB Cloud open source time series DBaaS, as well as the core open source project.
Hall said new features under development for InfluxDB Cloud include multiuser support with role-based access controls, which are expected out later this year. InfluxData is also pursuing development across both InfluxDB Cloud and open source editions, for a feature called intelligent rollups, which Hall said will make it easier to downsample data.
In addition, the vendor plans to develop user-defined packages that enable easy collection and distribution of any and all artifacts associated with the platform, including custom Flux functions, dashboards and tasks, he said.
"As an open source company, we have the benefit of a whole community using our products and sharing how they think it could be made better," Hall said.