Getty Images/iStockphoto
Microsoft advances Cosmos DB and previews SQL Server 2022
Microsoft is continuing to build out its cloud data services capabilities, including connecting SQL Service with data governance and analytics functions running in Azure.
Microsoft introduced a series of data services enhancements at its Microsoft Ignite virtual conference on Nov. 2.
Among the new data services is a preview of SQL Server 2022.
SQL Server had its last major milestone update two years ago, with the SQL Server 2019 update. A big focus with the 2022 update for SQL server is a tighter integration with the Microsoft Azure cloud.
Meanwhile, Microsoft is giving the Cosmos DB database a series of incremental updates, including indexing metrics to help optimize query performance and a new Patch API that enables optimized partial document updates in the database.
"Cosmos DB remains a strong multimodel nonrelational DBMS [database management system] offering," said Gartner analyst Adam Ronthal. "In providing a platform with multiple nonrelational APIs, Microsoft positions Cosmos DB as a flexible, modern DBMS for cloud-native applications."
In Ronthal's view, Microsoft is taking a different approach with Cosmos DB than some of its core competitors in providing a multimodel nonrelational platform rather than multiple best-fit engineered systems.
"This provides a unified approach which will be appealing to organizations looking to consolidate their data management landscape," Ronthal said.
SQL Server 2022 set to boost Microsoft cloud data services
While Cosmos DB is a newer multimodel cloud native database, Microsoft is still committed to advancing its more established SQL Server database as well. Cosmos DB was first released in 2017, while SQL Server's history goes back to 1989, predating the modern cloud era.
Cosmos DB remains a strong multimodel nonrelational DBMS [database management system] offering.

Adam RonthalAnalyst, Gartner
With SQL Server 2022, Microsoft's goal is to bring the relational database platform into its Azure cloud ecosystem.
"SQL Server 2022 is the most cloud-enabled release of SQL Server yet," Scott Guthrie, executive vice president at Microsoft, said during an Ignite technical session.
Guthrie noted that SQL Server 2022 adds new business continuity capabilities with a built-in disaster recovery integration within Azure.
The update also adds an integration with Azure Purview, a data governance platform. Guthrie added that it also includes analytics for on-premises operational SQL Server data with Azure Synapse analytics running in the cloud.
Overall, Guthrie said Microsoft is looking to provide bidirectional flexibility between its on-premises and cloud data services.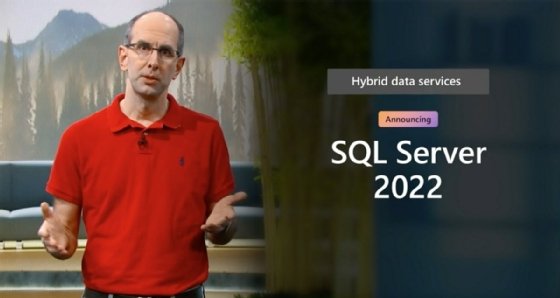 With the direction that Microsoft is taking with SQL Server 2022, Ronthal said it helps to position Azure as a center of gravity for both analytics and business continuity, while providing a holistic approach to both on-premises and cloud components.
"Microsoft continues to invest in deeper integration between on-premises components and cloud components, capitalizing on their strength in both arenas," Ronthal said.