Rob Byron - Fotolia
Acquisition boosts Rave mass notification capabilities
The SwiftReach acquisition not only enhances mass notification capabilities with a wider communication network, but nearly doubles Rave Mobile Safety's number of clients.
Rave Mobile Safety, a software company based out of Framingham, Mass., acquired emergency notification vendor SwiftReach Networks.
The purchase added SwiftReach's FCC-licensed proprietary telephony network to Rave's communications infrastructure. This extends the reach and redundancy of Rave mass notification, one of the key communication services the safety company offers. The acquisition also adds SwiftReach's offerings, such as its K-12 school communication platform, to Rave's product portfolio.
The acquisition adds 35 employees to Rave's team of 130. The company estimates it had between 2,500 and 3,000 customers before the purchase of SwiftReach, and that number is now over 5,000.
Rave Mobile Safety markets to organizations that need to communicate with large numbers of people during emergencies, whether they are personnel or customers, and is most known for its Panic Button application. Industries using mass notification systems through Rave include healthcare, government agencies and education, but the company also has many corporate clients who use its products for disaster recovery scenarios.
Todd Piett, CEO of Rave Mobile Safety, told us the enterprise space is still very new to Rave, but its needs are very similar to college campuses, which the company is familiar with. The two share many of the same use cases calling for Rave mass notification.
Just about any way you can imagine of being contacted in a time-critical event, we will manage for the client.

Todd PiettCEO, Rave Mobile Safety
"Increasingly, we've been selling into the corporation enterprise space," Piett said. "Use cases there range anything from anonymous tipping and data collection about sexual harassment to the ability to notify and collaborate with people around incidents -- sending text messages out and then soliciting location of folks so you can figure out who is at risk."
Establishing lines of communication is the backbone of a good disaster recovery plan. To that end, Piett said that Rave is capable of sending 3,000 text messages per second and has 80,000 phone lines available for voice calls. In addition, the company will post alerts to Facebook and Twitter if the scenario calls for it, and can coordinate government Wireless Emergency Alerts, such as weather emergencies and Amber Alerts.
"Just about any way you can imagine of being contacted in a time-critical event, we will manage for the client," Piett said.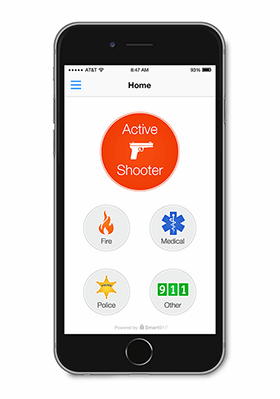 Hartford HealthCare relies on Rave's single pane of glass
Rave Mobile Safety offered a different sort of advantage for Hartford HealthCare, a network of healthcare facilities and services that include multiple hospitals, rehab centers and home care systems. For the past six months, the healthcare network has used Rave mass notification to unify alerts across all of those facilities.
Patrick Turek, director of emergency management at Hartford HealthCare, said before purchasing Rave Alert, Hartford HealthCare had a disjointed system of many different emergency notification systems that didn't necessarily talk to each other. Rave allowed him to move everyone to the same platform and let him set controls and management options to ensure notifications reached the right people.
"Imagine one nerve center and brain that is coordinating and responding to all emergencies across our 200-plus sites, our 20,000 employees," Turek said.
After looking at other vendors, Turek said Rave's customer service and support team stood out. Most of all, he was impressed by how clearly and concisely Rave Alert's interface conveyed information. "It was the cleanest product I have seen in a mass notification system," he said.
Communication is vital to Turek's role, and not just during emergencies. He uses Rave mass notification for simple dissemination of routine notices such as staff schedules or road closures. However, after conducting a number of test exercises, he is convinced it will be able to handle a true, organization-wide emergency.
"As an emergency manager, if you are able to successfully communicate with your staff, patients and other constituents during an emergency, you're really jumping ahead of many other organizations who struggle with emergency notification," Turek said. "To be able to inform people what's happening, you often provide the assurance that someone is handling the emergency."
Dig Deeper on Cloud disaster recovery