Edelweiss - Fotolia
Compliance.ai uses Tibco Cloud Mashery for API mastery
Compliance.ai, a compliance and regulatory management platform vendor, uses Tibco Mashery to help manage and compile many different APIs and data sources.
Startup Compliance.ai pieces together a lot of data from disparate sources to help its clients understand complex regulatory information. To help get that data to its users, the regulatory management platform vendor has turned to Tibco Cloud Mashery for API mastery.
Founded in 2014 and based in San Francisco, Compliance.ai largely works with clients in finance and law -- industries that require intensive regulation. The company sells a compliance and regulatory management platform that uses machine learning algorithms and natural language processing technology to help ensure clients have access to relevant and up-to-date regulatory information.
"One of the big parts of the problem we solve for these compliance teams is the ability to access content that's coming from a set of diverse sources," Kayvan Alikhani, CEO and co-founder of Compliance.ai, said.
Mash 'em up
Those sources include thousands of law organizations and government agencies at both the state and federal levels.
One of the big parts of the problem we solve for these compliance teams is the ability to access content that's coming from a set of diverse sources.

Kayvan AlikhaniCompliance.ai
Many of the groups have different ways of publishing their compliance content and different rules as to who can access them. This, combined with the need to continuously and quickly bring in new information to users, made aggregating the information tricky, Alikhani said.
That's where Tibco Cloud Mashery comes into play.
Tibco Cloud Mashery is an API management tool that enables users to create, package, test and manage APIs.
The tool is a mashup of its own; it's the result of Tibco's 2015 acquisition of API management vendor Mashery from Intel, which had acquired the vendor only a few years before. At the time, Tibco, which also sells business intelligence and analytics software, said the acquisition would strengthen its data and API integration and management offerings.
For Compliance.ai, the organization is "essentially running a full-blown developer platform" on Tibco Cloud Mashery, Alikhani said, even as clients say they feel they're still fully in the Compliance.ai platform.
It enables the organization to "focus on the business value proposition for the users" rather than managing the different data sources and APIs, Alikhani explained. "All of that is handled by the platform."
That's important for organizations like Compliance.ai, Rob Zazueta, director of digital platform strategy at Tibco, said.
"Time is money for finance firms, and response time to regulatory change is no exception," he said.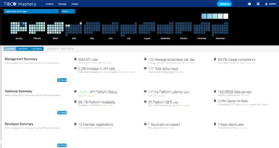 Changing focus
By leaving the management work to Tibco Cloud Mashery, Compliance.ai can spend more time on building what it calls "nuanced, supervised machine learning models" that help automatically fetch and read content and extract relevant information. To help build and train the models, Compliance.ai turns to experts, including compliance professionals, lawyers and law professors. Content is then filtered down by categories like region and industry to ensure that the content is relevant for clients.
Through model training, Compliance.ai said it tries to ensure clients are only provided information that is relevant and accurate -- information that has been identified with high-percentage confidence levels.
"We have content sitting at 85%; we don't even surface our decisions if it's below a certain percent," Alikhani said.
And with Tibco Cloud Mashery, surfacing the information that does eventually pass is relatively simple and quick.
"This kind of opens up all the work that we've done," Alikhani said. "It's great."