putilov_denis - stock.adobe.com
SambaNova makes a mark in the AI hardware realm
The startup says it is innovating AI hardware systems with its data flow architecture that enterprises can use to be more efficient when processing large AI data sets.
As a young startup, SambaNova Systems is already making a mark in the fast-growing AI hardware industry.
The vendor, based in Palo Alto, Calif., started in 2017 with a mission of transforming how enterprises and research labs with high compute power needs deploy AI, and providing high-performance and high-accuracy hardware-software systems that are still easy to use, said Kunle Olukotun, co-founder and chief technologist.
Its technology is being noticed. SambaNova has attracted more than $1.1 billion in venture financing. With a valuation of $5.1 billion, it is one of the most well-funded AI startups and it is already competing with the likes of AI chip giant Nvidia.
What SambaNova offers
SambaNova's hallmark is its Dataflow architecture. Using the extensible machine learning services platform, enterprises can specify various configurations, whether grouping kernels together on a single chip, or on multiple chips, in a rack or on multiple racks in the SambaNova data center.
Essentially, the vendor leases to enterprise clients the processing power of its proprietary AI chips and creates machine learning models based on domain data supplied by the customer, or customers can buy SambaNova chips and run their own AI systems on them.
While other vendors have offered either just chips or just the software, SambaNova provides the entire rack, which will make AI more accessible to a wider range of organizations, said R "Ray" Wang, founder and principal analyst at Constellation Research.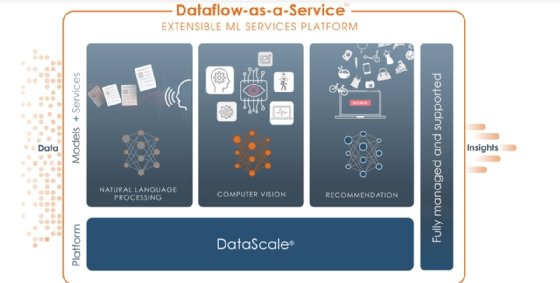 "The irony of AI automation is that it's massively manual today," Wang said. "What [SambaNova is] trying to do is take away a lot of that manual process and a lot of the human error and make it a lot more accessible to get AI."
Wang added that SambaNova offers AI chips that are among the most powerful on the market.
Software-defined approach
While it's known in some ways as an AI hardware specialist, SambaNova prides itself in taking a "software-defined approach" to building its AI technology stack.
"We didn't build some hardware thinking: 'OK, now developers go out and figure it out,'" said Marshall Choy, vice president of product at SambaNova. Instead, he said the vendor focused on the problems of scale, performance, accuracy and ease of use for machine learning data flow computing. Then they built the infrastructure engine to support those needs.
The irony of AI automation is that it's massively manual today.

R 'Ray' WangFounder and principal analyst, Constellation Research
Two different types of customers
SambaNova breaks up its customers into two groups: the Fortune 50 and the "Fortune everybody else." For the first group, SambaNova's data platform enables enterprise data teams to innovate and generate new models, Choy said.
The other group is made up of enterprises that lack the time, resources or desire to become experts in machine learning and AI. For these organizations, SambaNova offers Dataflow as a service.
SambaNova says this approach helps smaller enterprises by reducing the complexities of buying and maintaining hardware infrastructure and selecting, optimizing and maintaining machine learning models.
This creates a "greater AI equity and accessibility of technology than has previously been held in the hands of only the biggest, most wealthy tech companies," Choy said.
SambaNova has already attracted some big-name customers.
One is the U.S. Department of Energy's Argonne National Laboratory in Illinois.
Using SambaNova's DataScale system, Argonne trained a convolutional neural network (CNN) with images beyond 50k x 50k resolution. Previously, when Argonne tried to train the CNN on GPUs, they found that the images were too large and had to be resized to 50% resolution, according to SambaNova.
"We're seeing new ways of computing," Wang said. "This approach to getting to AI is going to be one of many. I think other people are going to try different approaches, but this one seems very promising."