Getty Images/iStockphoto
SambaNova aims to meet generative AI challenges
The vendor's new platform enables enterprises to build generative models with their own data. The approach aims to resolve privacy and data ownership problems with generative AI.
AI software and hardware provider SambaNova Systems has targeted some challenges in the generative AI market.
Last week, the startup, based in Palo Alto, Calif., introduced SambaNova Suite for generative AI, a platform optimized explicitly for enterprises and government organizations.
As SambaNova -- which has raised more than $1 billion in venture capital since its founding in 2017 -- jumps into this market, generative AI tools and products that use large language models (LLMs) to enable users to prompt AI systems to create detailed answers to questions, write code and create illustrations have stormed onto the tech scene.
From OpenAI's introduction of text-to-image system Dall-E in 2021 to Stable Diffusion's LLM for images to the Lensa AI avatar-creating app and the market's dominant interactive AI chatbot, ChatGPT, the tools have introduced new ways for consumers to generate content.
However, enterprises and government organizations concerned about privacy and some of the negative implications of these generative AI tools -- such as factual inaccuracy, racist and other prejudiced responses to prompts, and possible theft of intellectual property -- have been cautious about how they can use these tools.
The issue of data
For example, in the U.K., civil servants were told not to use ChatGPT to write or generate government policies. Also, finance giant JPMorgan Chase restricted its employees from using the generative AI tool last month. And some tech industry observers say that in their current state, generative AI tools such as ChatGPT are not ready for enterprise use due to privacy and compliance concerns.
SambaNova said its suite for generative AI works with customer data to tackle some of these problems.
The vendor provides the customer with the AI chips and software to support the customer's data. SambaNova then fine-tunes the customer's data based on SambaNova's GPT-powered AI language model. The GPT model then interprets and captures the company data. The organization owns the trained model. This enables anyone within the company to engage with the model in a question-and-answer, chatlike experience that's familiar to business users and consumers.
"Most businesses, their most critical information is kept behind the firewalls," SambaNova co-founder and CEO Rodrigo Liang said. "They're not going to let their secrets be out in the public domain, and yet they need to know what is that information. They need to know: What was our pricing for this customer?"
SambaNova Suite for generative AI brings enterprises the technology and allows them to train and own models without compromising their data, Liang said.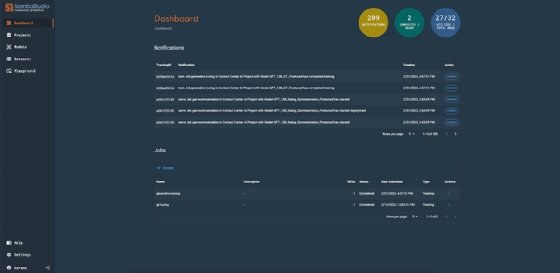 The issue of control
SambaNova's generative AI platform is appealing because it gives enterprises and organizations a suite that enables them to manage their data and AI modeling all in one place, said Ray Wang, founder and analyst at Constellation Research.
"They want to be able to make sure everything feeds into one location, so they have some control," Wang said.
This approach enables access to language models so that users can test them and make sure they're producing the correct information.
We are seeing more enterprises willing and able to get further into managing their own models.

Bern ElliotAnalyst, Gartner
But, Wang added, "you have to figure out where you insert the human aspect into the process."
Being able to run a model in house is another reason enterprises and government agencies might find SambaNova Suite for generative AI appealing, Gartner analyst Bern Elliot said. However, working with a product like this means enterprises perform much of the model building and testing work themselves instead of leaving it to the AI vendor.
"We are seeing more enterprises willing and able to get further into managing their own models," Elliot said. "We're seeing tools come along. This is an example of where vendors are starting to make it easier for enterprises to do it on their own."
He added that enterprises with a particular data problem or security problem might benefit from a suite that gives them control of their own models.
As the generative AI market expands, vendors will continue to provide specialized tools such as these, Elliot said.
SambaNova Suite for generative AI is now generally available. Customers using the product can deploy their models on the cloud or on premises.
Esther Ajao is a news writer covering artificial intelligence software and systems.