Fotolia
Text search tool makes finding documents easier
Using a visually appealing approach, Keeper.fyi enables users to search text documents, images, and graphs and charts quickly and efficiently.
Alex Lee, a business development executive at smart proximity lock vendor Untethered Labs, Inc., also known as GateKeeper, was skeptical when he first heard about Keeper.
The platform, a product of startup Grafiti, at which Lee volunteered in its early days, claimed to integrate images and documents into a single easily searchable, visually appealing database -- something Lee had seen other vendors advertise as well. But, Grafiti.io offered Lee a free beta version, so he tried it.
He liked the text search tool, and when his free trial ended in February, he started using the platform and paying a monthly subscription fee.
"They have a tool that's very unique in finding a needle in a haystack situation," Lee said.
Text search
Based in New York, Grafiti was co-founded by former journalist Farhan Mustafa and venture advisor Akbar Dawood. Dawood is an advisor to Untethered Labs.
They have a tool that's very unique in finding a needle in a haystack situation.

Alex LeeGateKeeper
Mustafa, who also has a background in data analytics, said he came up with the idea for Grafiti.io while working as a consultant and producer for the Al Jazeera Media Network.
Frustrated by the drudgery of combing through news stories looking for charts and graphs while reporting for Al Jazeera in the Middle East, Mustafa wanted a tool that would surface visual information onto a single page, instead of having to go into each story to see the visuals.
Grafiti has a platform that does that. Using OCR (optical character recognition) and basic machine learning, Grafiti can comb through websites or a user's documents to find charts and graphs based on keywords. Type in "coronavirus," for example, and the platform surfaces charts that relate to the coronavirus or taken from news articles about the coronavirus.
The charts are presented in neat boxes on a single, scrollable page, enabling the user to review them quickly.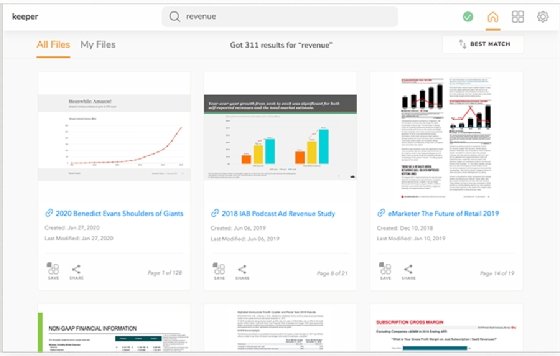 Keeper is based on Grafiti's original platform, but it expands its capabilities to include text documents and images in addition to charts and graphs. Keeper, instead of browsing the web, integrates with users' cloud storage accounts, bringing all their documents into a single platform..
Currently the Keeper platform only integrates with Google Drive, although Mustafa said Grafiti plans to add integrations with other storage platforms when Keeper comes out of beta this summer.
Generally, Keeper takes a few hours to set up, Mustafa said. Using OCR, the platform extracts text, charts and images from documents and puts them into a single database.
The database automatically encrypts all the integrated files. Only relevant metadata, not the documents themselves, is stored on Keeper servers, Mustafa said.
Technically, the platform isn't unique. OCR and natural language processing technologies have existed for decades, as have text search tools, and just about every database incorporates some form of text search. And, many platforms, including Salesforce, have taken search capabilities further than Keeper, using AI to automatically summarize text documents or automatically extract important pieces of information.
Previous approaches to text search
Before Keeper, Lee used Google Drive, which has powerful search tools that include the ability to automatically identify the content of images and tag them to make them searchable. Yet, Lee said, Google Drive has some limitations.
Before turning to Keeper, Lee said some of Untethered Labs' engineers mentioned to him they had trouble finding text in an old product guide, and Google Drive was making that tricky.
"If you ever use Google Drive to look for very specific things across documents, you need to look at each document separately," Lee explained. It's a time-consuming process to try to find a specific document within a sea of similar files.
A search with Keeper returns all the relevant files together in a Pinterest-style vision board format, enabling GateKeeper's engineers to find the documents they need faster.
Lee said that Keeper needs some work, however. Its strength lies in the way it surfaces files, but there's a problem with the UI.
"It's a little hard to see which pages belong to which documents," he said. "I'd like to see it be a little easier to understand."
Still, Lee said he plans to continue using Keeper as it makes its way out of beta.
Dig Deeper on AI technologies