adimas - Fotolia
Formula E technology driven by data analytics and AI
Formula E racing team EVR hopes to drive wins and innovation with a new partnership with Genpact, a professional services firm that offers an AI and analytics platform.
Winning a Formula E race comes down to a few things. First, there's the car -- how well it's made, how fast it drives, how easily it handles. Then there's the talent of the driver, and the speed in which that driver can react to blisteringly fast-paced situations. There's the skill level of a team's crew, the enthusiasm and dedication of its fan base, and the amount of luck that is on its side the day of the race.
Lift up the hood on each one of those factors and you'll discover a shared element -- underneath all the possible external factors, what may ultimately decide the winner of a race is data, and how well one team is able to process and distill that data and use it to make strategic decisions and boost its Formula E technology.
With that in mind, the Envision Virgin Racing (EVR) Formula E team revealed Dec. 5 that it is turning to professional service firm and BI vendor Genpact to drive innovation and enhance race performance.
An AI, analytics formula
Formula E, officially the ABB FIA Formula E Championship, is a class of auto racing that blends together some new ideas with some old ones. Featuring lapped racing along temporary street circuits, it's a lot like the long-standing and popular Formula One racing, but with a twist -- all the cars in Formula E are electric-powered.
While its first championship was held in 2014, Formula E technology has seen massive advancements that have changed how races play out.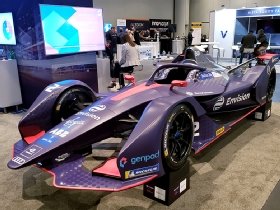 Speaking in an interview at the AI Summit in New York City, where the Genpact-EVR partnership was revealed, Genpact chief science officer Armen Kherlopian explained that in the championship's early stages, the electric cars, due to limited battery optimization and technology, were unable to actually make it through an entire hour-long race, and had to be switched out partway through.
They were slower, too, he said, with Formula E technology enabling cars to hit speeds in the vicinity of 150 mph, compared to about 200 mph, which they reach now.
"The evolution of the sport is fascinating," Kherlopian said.
Data and AI have played large roles in that evolution, he added.
Race to the data
The amount of data a team like EVR, one of the 10 professional teams currently participating in Formula E, constantly pulls in is staggering.
In a keynote at the AI Summit, Sylvain Filippi, managing director and chief technology officer at EVR, explained that data comes from a number of sources, including internal and external sensors on the cars, race video feeds, racing simulator performances, audio between drivers and team members during races and more.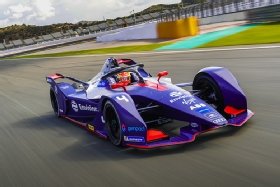 "We always have to find ways to go into the data," he said, "and one of the secrets will be around data analyzing."
Already partnered with Envision, an AI and deep learning vendor and a majority owner of the team, EVR's new partnership with Genpact looks to now also make use of Genpact Cora, an AI and analytics platform launched by the organization in 2017.
"We're using a large fraction of Cora to enable Virgin to get to the next level," Kherlopian explained.
Better, easier driving
With Genpact Cora, which offers a suite of AI-powered technologies ranging from machine learning to computer vision to natural language processing (NLP), as well as analytic capabilities, EVR will be able to capture data and distill from it useful information -- information that is expected to help enhance its racing strategies, models and simulations and energy management for potentially better speeds.
Safety, too, is expected to improve, as better racing plans might reduce accidents and technology like computer vision could potentially come into play in identifying hazards.
The evolution of the sport is fascinating.

Armen Kherlopianchief science officer, Genpact
For drivers in particular, these tools can provide major benefits.
While racing, drivers are bombarded with steady streams of information, both audibly and visually, on potential strategies, the wear-and-tear on the car and the likely battery levels of their own vehicle and their opponents'.
The information is useful, but as Sanjay Srivastava, Genpact's chief digital officer, put it in an interview, realistically, "you can't throw 600 inputs at him or her when they're driving 200 miles an hour."
Formula E technology, team members and Genpact tools like Genpact Cora will help distill that information, to offer EVR drivers the necessary information but in a way that can be easily comprehended and acted upon.
Distilling the information is also of benefit to Formula E fans, who already, perhaps unknowingly, rely on a bevy of analytic tools that help break down in real time car positions and stats.
The AI Summit was held Dec. 5 to 6 in New York City.