sp3n - stock.adobe.com
Anaheim PD explores facial recognition for law enforcement
Using a facial recognition platform from Veritone, the Anaheim Police Department can more quickly identify suspects captured on camera by comparing photos with booking photos.
The use of facial recognition for law enforcement technology is controversial.
While police departments have touted its ability to help them catch criminals, activists have raised concerns over privacy rights.
Concerns around facial recognition technology, including alleged problems with Amazon's Rekognition platform, which activists and researchers have said produce biased results based on gender and race, have over the past several months led some to call for bans on facial recognition for law enforcement.
Julian Harvey, deputy chief at the Anaheim Police Department in California, said that while he understands that sentiment, a complete ban on facial recognition technology would ultimately prove damaging to the public.
"The quicker we can take individuals committing crimes off the streets, out of the community -- everyone is better off," Harvey said. Facial recognition for law enforcement technology, he maintained, helps the Anaheim Police Department catch criminals more quickly.
The facial recognition platform
The police department relies on a facial recognition for law enforcement platform developed by Veritone, a 2014 AI startup that sells AI-driven platforms for media, legal, government and law enforcement organizations.
Using Veritone IDentify, a platform built for law enforcement, the Anaheim Police Department can compare photos captured by a security system of a suspect committing a crime with its database of booking photos, or mugshots.
The quicker we can take individuals committing crimes off the streets, out of the community -- everyone is better off.

Julian HarveyDeputy chief, Anaheim Police Department
Comparing the crime scene photos with only booking shots ensures the privacy of the general public, Harvey said. Certain types of criminals have high recidivism rates, he added, making the likelihood that the department has arrested certain suspects before relatively high.
Users feed crime images into Veritone IDentify, which analyzes certain facial features and creates a list of comparable booking photos. Police department employees then comb through that list, immediately discarding suggestions that obviously don't match -- such as suspects who are of a different gender or possible suspects who are known to have been somewhere else when the crime occurred.
"Often, what you're left with is a group of certain, potential individuals," Harvey said.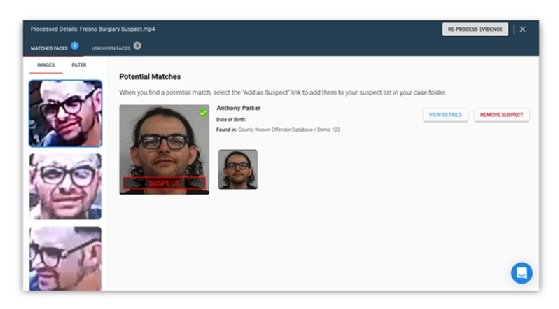 At that point, detectives can begin doing investigating the traditional way -- interviewing potential suspects, doing a line-up and combing through other records, such as GPS signals.
Harvey stressed that getting identified on the platform "isn't an arrest warrant," as the department still does a lot of follow-up work. Instead, the facial recognition for law enforcement technology helps save time, as detectives would otherwise have to comb through each booking photo one at a time, he said.
"We only have so many resources to bring to bear on these cases, and you work the ones that have the greatest likelihood of solving," Harvey said.
Solving crimes
So far, the Anaheim Police Department has found matches in about 150 cases using the Veritone platform. That number includes requests from neighboring agencies that do not currently have similar technology available to them.
Recently, for example, Harvey said, a sex crime occurred in a different county. The victim had seen the suspect's face, and the local police department brought in a sketch artist. The artist created a life-like sketch of the suspect and shared it with Anaheim, which ran it through the Veritone platform.
The sketch got some hits, and police investigators narrowed those down to about five booking photos, which they shared with the other department. After doing some follow-up work, the department arrested the suspect, who was later successfully prosecuted.
Veritone, Harvey said, is the only facial recognition platform the Anaheim Police Department has tried. So far, it has been a success.
There have been some challenges, however. There's no quick way to eliminate suggestions that don't work, for example, and the user interface could be easier to navigate, the deputy chief said.
"It was a bit cumbersome at first," he said. So the department, working with Veritone, created small workarounds to address the UI shortcomings.
Still, Harvey said, Veritone has "been far more successful than I imagined."
Earlier this year, MuckRock, a nonprofit collaborative news site, and Open the Government, a nonpartisan coalition that advocates for more transparent government, sent Freedom of Information Act (FOIA) requests to obtain documents from the Anaheim Police Department on its use of facial recognition technology. The two organizations sent a total of 112 FOIA requests with the largest police departments in the country in an effort to help the public understand how facial recognition technology is used by police departments.