What IT admins and office workers get in MS 365 Copilot
Microsoft 365's Copilot assistive AI features come with a big price tag, but experts are bullish that they could return the investment to users -- and more.
Listen to this article. This audio was generated by AI.
Passenger jets fly with heavily automated computer assistance, and it's time that office workers get their own automated copilots. At least that is Microsoft's logic, as it previewed scores of Copilot AI features today for the rank and file as well as for enterprise content administrators.
Microsoft previewed some Copilot features earlier this year and set up an early adopter Copilot preview program. On Nov. 1, licenses became available. Today at Ignite, users could see many features in Microsoft 365 Copilot on display for the first time and decide for themselves whether the generative AI assistant justifies the extra $30 per user, per month, license on top of premium prices that many IT shops pay for MS 365 enterprise suites.
Copilot's price tag might be steep, especially in a U.S. economy teetering on the edge of a recession. But there is reason for enterprise IT buyers to give Copilot serious consideration, said Alan Pelz-Sharpe, founder of Deep Analysis. Simple things such as summarizing documents and video calls bring business value to Copilot, along with mobile app integrations that better capture contributions from workers' phones when they're in the field or on the go.
"Those are known business problems, and those are the kinds of things that address a real need," Pelz-Sharpe said. "And there's not much of a battle in the world of generative AI. You know, for all the gazillions of people playing with OpenAI and ChatGPT, what are they doing? Faking their essays? That's not business value."
Microsoft 365 Copilot unveiled
While some of the Copilot features shown today are available, many remain in preview until later this year or early 2024.
Copilot for Microsoft Outlook aggregates data for an employee's upcoming meetings, summarizing invites, emails and attachments to prepare an attendee and to suggest scheduled follow-ups. In Word, "Catch up" shows users what has changed since they last read a document. In PowerPoint, Copilot makes a company's brand assets more readily available -- and findable -- for presentations.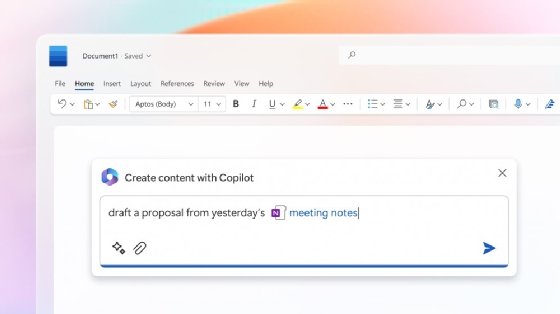 It takes some back-end work to set up custom chatbots for organizations to integrate their knowledge bases and proprietary contact information. Copilot Studio, a user-friendly custom chatbot assistant design platform, enables admins to plug a company's data from business applications into the OpenAI engine to answer employee queries. Previously, only data in Microsoft Graph could be fed into chatbot systems; Copilot Studio opens up data from business applications such as ERP and CRM. It also gives admins a place to manage all an organization's Copilots.
A separate product in preview, Copilot for Microsoft 365 Admin, promises to help admins find which "tools, controls and configurations" in the expansive MS 365 universe can be used to solve particular employee problems. Graph users are not left out of the party -- new connectors activate and commingle data from Microsoft and third-party apps as well.
"What AWS is in cloud, Microsoft is very quickly becoming for AI -- the AWS of AI," said Adnan Masood, chief AI and machine learning architect at consulting firm UST, as well as a Microsoft regional director.
SharePoint gets face-lift
Tucked among the 100-plus Copilot features Microsoft discussed today was a major SharePoint product, SharePoint Premium. While many might think of SharePoint as a sleepy document warren of years gone by, it remains an active product with more than 100 million users. It continues to grow as companies spin up new SharePoint sites daily, as it is the personal file repository behind every OneDrive user.
"Some companies are not managing thousands of SharePoint installs, they're managing hundreds of thousands," Pelz-Sharpe said. "The Copilot stuff is going to get the headlines, but there's a recognition that to get this to work at the enterprise level, we've got to bring some order to the chaos at the back end."
SharePoint Premium adds AI organization to unsorted enterprise content. Microsoft said customers who use it will be able to simplify content management and content experiences, and "get content ready for Copilot" and "build structure" to content -- which implies tagging capabilities. Security and automation workflow features also come with SharePoint Premium, which Microsoft said will be released in the first half of 2024.
Copilot represents a larger AI revolution
Longtime observers of the enterprise software market might be quick to dismiss Copilot as a fad -- a way for Microsoft to dust off its old productivity apps one more time with a new timesaving assistant. After all, Generation X witnessed this twice before, with rudimentary rules-based virtual assistants named Microsoft Bob and Clippy. These friendly would-be "guides" helped new users and non-techie types navigate the feature sprawl of Microsoft apps in the 1990s and 2000s.
It's a copilot. It's not autopilot. It's helping you do your job.

Adnan MasoodChief AI and machine learning architect, UST
Masood believes Copilot has staying power far beyond that. He predicts that generative AI will make software development as we know it today obsolete. Robotics will advance far faster than the field can today as AI takes over the work of humans iterating motion and instructions. ChatGPT will improve and give us more insights about how we interact with our world as devices such as Humane's Ai Pin become more popular. Copilot is just one facet of a larger AI revolution.
"AI is going to change our industry so fundamentally that it's going to be astronomical," Masood said. "ChatGPT has kind of grabbed our consciousness right now, in terms of the general public, but imagine how it is impacting the future of work. ...
"Now there's definitely going to be fear among people that AI will replace them. I think that is unfounded," he said. "It's a copilot. It's not autopilot. It's helping you do your job."
Don Fluckinger covers digital experience management, end-user computing, CPUs and assorted other topics for TechTarget Editorial. Got a tip? Email him.