ltstudiooo - Fotolia
Get to know data synchronization tools for the enterprise
Users who work with multiple devices will want their data to transfer across endpoints. IT can ease the syncing process by working with the right tools.
Syncing data between devices of any type is almost always a challenge, and the problem is exacerbated by organizational security policies and power users who want to sync data their way.
In terms of managing data across devices in the enterprise, it is important for IT professionals to identify the demand for data transfer and sync among their users. They should also determine if their organization can live with one-off transfer methods for basic data or if they require data synchronization tools to sync a wide variety of data. In addition, they should find the most efficient data synchronization method to minimize calls to the help desk.
Once IT pros understand the demand for data synchronization, they must define the data and files users can access on mobile devices and control them. Typically, data on mobile devices includes:
Files
Photos
Music
Contacts
Text messages
Calendars
Apps -- especially email
Data associated with apps
If IT has strict control over what users put on their company phones, the data will be limited, especially for photos and apps. If IT doesn't regulate the phones' contents, it might be a good idea to clamp down.
Cloud storage options
Using cloud storage options reduces the local device footprint; makes it easier to sync data between devices, such as phones, tablets and laptops; and reduces the problems users run into when they purchase new devices.
Google, for instance, offers an impressive array of services, including Google Drive, Google Docs and Google Calendar. A Google account gives users access to a host of services that are available on any device -- phones, tablets and laptops -- by just logging into an account.
Storing files and other data on cloud services such as Google Drive may be convenient, but it is not secure, and it requires an internet connection. If a sales rep is on the road and does not have cell service, for example, then he will be unable to access the documents he needs. Keeping the data local resolves this issue.
Are all data synchronization tools enterprise ready?
Keeping files synchronized between devices running Apple macOS and Google Android with manual processes is a headache and isn't practical. There are plenty of data synchronization tools out there, but each comes with some limitations.
TunesGo is a phone manager that can transfer and back up contacts, photos, music, text messages and more, but it is not really a synchronization tool.
Some data syncing options are pretty complex and not what IT would want for many users.
DoubleTwist offers an application for Mac and Android devices, but the app only syncs iTunes playlists, ratings and play count files, so it is not particularly useful in the enterprise.
Android File Transfer is a Google tool that enables simple file transfers between Android and Mac devices, but it is outdated and transfers only one file at a time.
Droid NAS allows a user to mount his Android device on his Mac, but it only works for file transfers and requires a Wi-Fi network.
Above all, be careful when searching the internet for data synchronization tools. Vendors have many different ways to transfer data. Some data syncing options are pretty complex and not what IT would want for many users. Stick with simple options and tools.
SyncMate to the rescue
SyncMate offers a Free and Expert version of its app. The Free edition syncs calendars, as well as contacts, and performs a background sync. The Expert edition syncs folders, call history, text messages, bookmarks, reminders, photos and music. It performs AutoSync, backup operations and mounts disks. IT can use both versions on multiple devices.
SyncMate works on Android and Apple iOS devices, macOS, mounted devices, Google accounts, Dropbox, Apple iCloud, Media Transfer Protocol devices, Microsoft Outlook accounts, Microsoft Office 365 Home and Microsoft Office 365 Business. No other data synchronization tools or processes cover this many data types and devices.
Figure A shows how IT can add devices and the wide range of devices SyncMate can synchronize.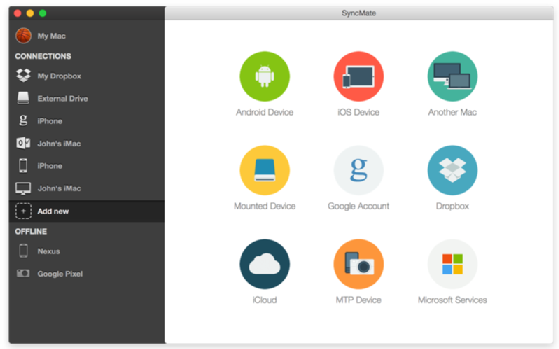 Figure B shows how to synchronize a second Mac. A tool of this caliber makes this task much easier for enterprise admins.