kjekol - Fotolia
What IT can do when Microsoft 365 is not working
IT professionals who manage Microsoft 365 should be aware of common issues that administrators face. They can solve many of these problems with the right policy or PowerShell scripts.
IT administrators should be aware of and learn from the history of issues that leave Microsoft 365 not working for end users.
Microsoft 365 is Microsoft's cloud-hosted productivity suite -- a rebranded Office 365 with new features -- and there are a range of issues that lack of appropriate planning can cause. To help prepare for Microsoft 365 not working for users in different ways, IT administrators must consider a number of these common issues they are likely to face.
Public folder migration
For years, organizations have used public folders to provide email users with a common place to store emails, calendars and contacts that one or more users can access in the Microsoft Outlook email client. HR staff can manage company events in the public folder calendars.
For example, manufacturing companies use public folders to manage shipping and receiving schedules, and some accounting departments use them to receive bills via email. However, migrating public folders can be tricky and requires a different set of tools to get the content moved over to Microsoft 365.
Many IT departments either decide to move away from public folders completely or they do not realize that the public folders aren't functional until too late. One way IT can migrate public folders is with PowerShell scripts that help with the migration.
OneDrive rolls out without proper file storage policies
When IT administrators roll out Microsoft 365, most users with a Microsoft 365 license are typically given 1 TB of cloud storage as part of their subscriptions. Once IT installs Microsoft Office software, many users begin to see the OneDrive folder shortcut in the Microsoft Windows Explorer. They can use those folders to store files, which will stay in sync with Microsoft cloud storage.
However, one area that is easy to overlook during this process is a lack of folder redirection policy on the devices. This policy is crucial because it ensures that folders such as 'documents' and 'desktop' are backed up by the OneDrive service. Failing to define and apply this storage policy can result in data loss and a false sense of data protection if the computer drive fails.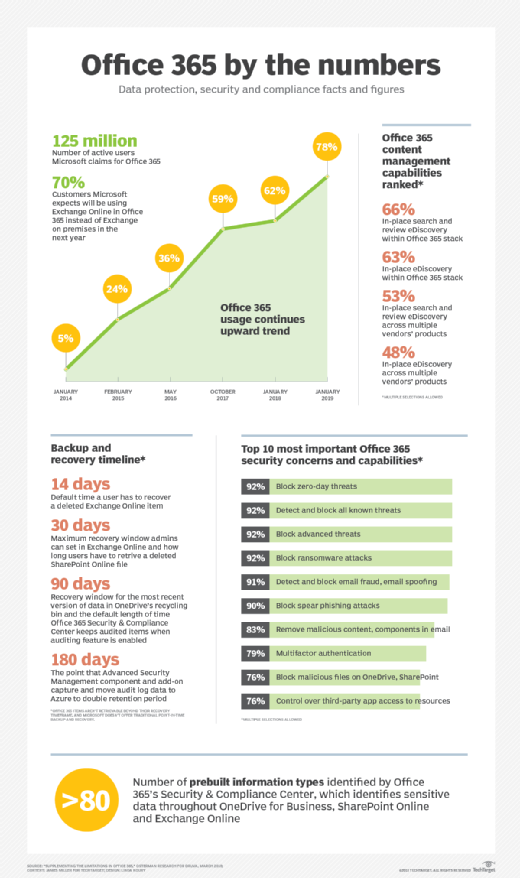 Email relays issues
Another situation where Microsoft 365 may not work properly is configuration errors with printer, scanner and copier features of Microsoft Exchange. IT administrators may need to reconfigure the printers and other devices when they migrate its email service to Microsoft 365. These configurations focus on email relays that allow certain devices to send emails out by communicating with an email server.
If admins do not update settings in some of those devices to reflect the new server addresses in Microsoft 365, then emails from different applications and devices may stop working. To better prepare for this situation where Microsoft 365 is not working, IT administrators must identify all the devices and clients that use the legacy exchange server as an email relay. Then, they need to update each individual endpoint to ensure they are operational and compatible with Microsoft 365. One easy way to find out which devices are actively connecting to the legacy server is by running PowerShell commands.
Microsoft 365 email limits
There are several enhancements that are now included in Microsoft 365's email service. One of the enhancements that seems to catch IT administrators and end users off guard is around locking accounts out after they have exceeded Microsoft's limit on emails being sent. This results in Microsoft 365 emails not working for that user.
When IT administrators roll out Microsoft 365, most users with a Microsoft 365 license are typically given 1 TB of cloud storage as part of their subscriptions.
Typically, this is not a limit that IT administrators imposed on their end users when they are running Exchange on premises. Rather, it is a security measure that Microsoft implements in its Exchange Online service designed to block potential bots and infected user accounts from sending large numbers of emails as part of spam or phishing attempts.
This could massively hinder productivity, especially for users at large organizations that send out newsletters or other large-scale emails to their clients. Some of the limits that some users may run into include 30 emails sent per minute, 10,000 emails per day and up to 500 email recipients per single email.
Microsoft 365 training for users
While it isn't a technical issue, training end users and ensuring their buy-in is critical during a transition to a new technology. Microsoft 365 introduces a lot more features and capabilities, including Power Apps, Power Automate, Modern SharePoint sites, Teams, OneDrive, Microsoft Forms and Power BI. These new features can overwhelm users where they find themselves facing too many changes all at once.
To ensure proper use of Microsoft 365, the IT team must deliver training material and educational sessions so all users can learn how to maximize the software. IT can offer users existing resources that Microsoft provides as well. Failure to prepare end users for the change will result in their frustration and dissatisfaction with the Microsoft 365 platform.