Sergey Nivens - Fotolia
Hyatt transforms employee training with Saba online learning software
Hyatt Hotels uses Saba Cloud to train employees with short videos, collaboration and mobile, but finds it a challenge to drive new users to the system.
Hyatt Hotels Corp. is using a mobile application from Saba to improve training for 100,000 employees in 54 countries.
The cloud-based learning management system, Saba Cloud, includes videos, PDFs, flip decks, online courses, social networks and other learning and development opportunities for Hyatt employees. Implementation began in January of 2015 and the online learning software went live in April of that year.
With the online learning software, employees can use their smartphones to view short training videos that include only images, no voices, said Christy Sinnott, vice president of learning at Hyatt Hotels' Global Operations Center. These "wordless videos" help overcome roadblocks for employees, many of whom speak different languages.
"If it is how to make the bed, I can watch how to do that on a phone and I can do it right in the guest room," Sinnott said. "It helps us take away any language barriers. Everybody gets the same learning opportunities. It was important that we created that consistent opportunity for everybody."
Training software replaces documents
After seeking bids for a new learning management system, Hyatt eventually narrowed the field to three finalists, Sinnott said. Forty employees who would be using the system, including managers and learning professionals, sat through extensive demonstrations before agreeing on Saba.
Based on feedback from employees during the selection of the new learning platform, Hyatt sought to remove script from the content wherever possible to allow employees to be more authentic and nimble when helping guests.
Instead of step-by-step written instructions for core tasks, learning was redesigned and delivered via a series of still shots with captions, mini-videos or flip decks. Employees can also access "core tasks," and click on any of seven icons with content on how to deal with guests during different stages, from arrival to departure.
Click on "Drinking and dining," for example, and videos show you how to carry a beverage tray and a large tray or plates. Others demonstrate how to clear a table, open and serve a bottle of wine and handle dishes, glassware and cutlery.
Robo-mentor suggests training at Hyatt
If you stay at Hyatt Hotels, your room could be cleaned by an attendant using an algorithm-based mentor.
At Hyatt, the Saba Cloud learning system provides a set of machine learning algorithms called The Intelligent Mentor (TIM). The automated mentor observes employees' behavior on the system and accepts their contributions to deliver personalized recommendations on content, connections and courses, according to Didi D'Errico, vice president of brand advocacy at Saba.
The software becomes smarter and more predictive as users engage with it, D'Errico said. The more an employee uses the system, the more recommendations are provided.
"In the predictive layer of Saba, there is a set of questions that ask you things like 'What is your role? Who is your manager?' TIM is making connections and recommendations for you based on the profile that you build."
The system shows the top five recommendations at a time, including people to meet, skills to develop, courses to take and articles or blogs to read. As employees accept or decline the recommendations, the system automatically populates the next five, and the next five after that.
Of all of Saba's users of collaborative, mobile and analytics, Hyatt is one of the most advanced, D'Errico said.
Hyatt ended many requirements for employees to check a box when learning was complete and replaced 2,500 training documents, Sinnott said.
"It is about interaction with the guest, not written words on a paper."
Hyatt brands online learning software
The Saba software allows the hotel giant to integrate its multiple brands in two ways.
First, the user interface is branded for employees depending on where they work. Second, content can sometimes be specific to the brand, meaning only employees of that brand can see it.
"If I am working at a Hyatt Regency hotel and I log in, I am having an experience that represents the brand in which I work," Sinnott said. "Down the street, I might be at Park Hyatt, and I log in and I see something different."
Reporting and analytics measure use of learning
Through reporting and analytics provided by the Saba online learning software, executives can examine courses to see who is taking them and how many people are taking them, said Kirsten Petrich, manager of learning at Hyatt.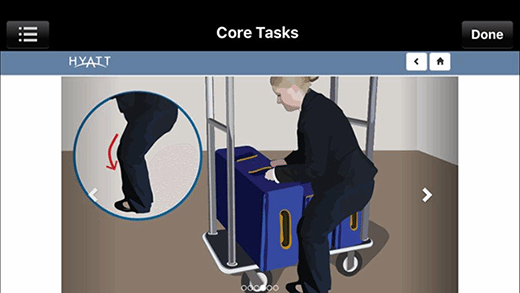 The system provides numbers on mobile sessions, new and returning users and video use. The system also shows the languages of users, for example, and which content they are accessing so Hyatt knows which languages to support and how employees are using the system, Petrich said.
Hyatt can determine the most popular courses through use and through a five-star rating system for content, Petrich said. Reports also count the number of people who completed a course. Petrich said statistics show that a lot of the system's use is by regular employees, not managers.
While most people access the system from a desktop, mobile use recently jumped by more than 100% from one quarter to the next and continues to rise, she said, adding that about 2,000 administrators around the world attended quarterly training via their phones.
"We are trying to look at who is using the system and engaging with the system, and then we are trying to adjust to make sure we are meeting their needs."
Sinnott noted that in a busy, 24/7 environment with a lot of competing interests, it can be difficult to ensure employees get the time to access learning opportunities, adding that executives need to continue to focus on driving more use by providing people with what they need, where they need it.
"It is a challenge for everybody."
Dig Deeper on ERP products and vendors